Posted by
William A. Jacobson
Thursday, March 3, 2016 at 8:45pm
| 3/3/2016 - 8:45pm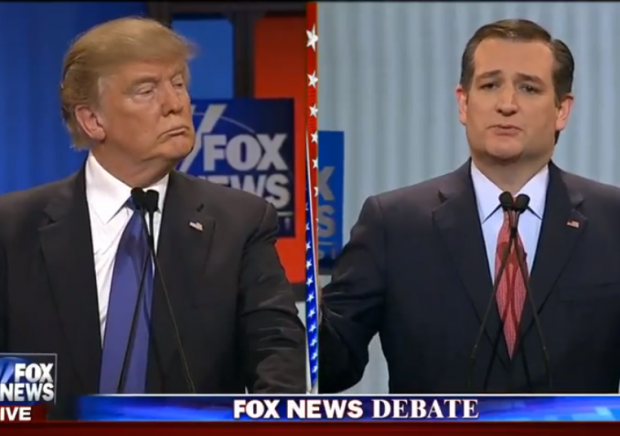 This should be fun.
As usual, we have live Twitter feeds below, and will post updates.
This is now basically "Stop Trump" time for the others. But can it be done?
Watch below and react in the comment section. If we can find a live video feed, we'll add that.
WATCH: Trump had a cutting response to Mitt Romney's critical comments. #TTT16 #GOPDebate pic.twitter.com/QYi0hn1ugu

— MRCTV.org (@mrctv) March 4, 2016
"I totally disavow the Ku Klux Klan. I totally disavow David Duke," @realDonaldTrump said at tonight's #GOPDebate.https://t.co/SXvDlncSoM

— Fox News (@FoxNews) March 4, 2016
Trump: "If [my hands are] small, something else must be small. I guarantee you there's no problem" #GOPDebate pic.twitter.com/NFEQrHzGoU

— New York Post (@nypost) March 4, 2016
WATCH @realDonaldTrump defend his hands after @marcorubio called them "small." #GOPDebatehttps://t.co/5OVrh8mauQ

— Fox News (@FoxNews) March 4, 2016
Dick jokes lol #GOPDebate https://t.co/m2ZImgaei0

— Free Beacon (@FreeBeacon) March 4, 2016
Trump: "Don't worry about it little Marco"

— Zeke Miller (@ZekeJMiller) March 4, 2016
"Little Marco" and "Big Don" continue the #GOPDebate Tom and Jerry portion of the evening pic.twitter.com/gC5iJeeA0l

— ForAmerica (@ForAmerica) March 4, 2016
.@tedcruz: For 40 years, Trump has been part of the corruption in Washington that you're angry about. #GOPDebate pic.twitter.com/IXyY89yV8q

— FOX Business (@FoxBusiness) March 4, 2016
Trump won't release NYT audio of what he said about immigration

— Legal Insurrection (@LegInsurrection) March 4, 2016
Hey @AnnCoulter how does it feel to have @realDonaldTrump sell you out on immigration already #ChooseCruz #GOPDebate

— Logan (@TheLibertyLogan) March 4, 2016
JUST IN: Trump: I'm "changing" my position on immigrant visas https://t.co/FSNxhkDCvc #GOPdebate pic.twitter.com/iAO7ujPb6H

— The Hill (@thehill) March 4, 2016
Good point. We don't need NYTimes' tapes. Trump definitively exposed himself tonight on radical H-1B reversal. https://t.co/M0shFi1ipq

— Michelle Malkin (@michellemalkin) March 4, 2016
WATCH: Trumps says he won't release NY Times off the record transcript. #TTT16 #GOPDebate pic.twitter.com/0CO0QKqBOf

— MRCTV.org (@mrctv) March 4, 2016
Release the Tape, @realDonaldTrump #GOPDebate https://t.co/4AyLrb3wjU

— JoeySkins #CRUZILLA! (@JosephEach) March 4, 2016
Trump: Trump U got A ratings.
Rubio: That's false.
Trump: You're a liar. And Insults and stuff.
Kelly: We looked it up. It was a D-

— Mollie (@MZHemingway) March 4, 2016
Marco: Trump University Exposes The Real Con Artist. #GOPDebatehttps://t.co/cvRcPU69JW via @YouTube

— Suze (@suze109) March 4, 2016
WATCH: Sen. Cruz slams media for not covering how left wing policies destroyed Detroit. #TTT16 #GOPDebate pic.twitter.com/vvIxSHqtwO

— MRCTV.org (@mrctv) March 4, 2016
(added post debate)
Trump campaign disputing Fox News info on Better Business Bureau rating. One of them is wrong, or maybe talking about different time periods or entities:
As @realDonaldTrump stated at the #GOPDebate– via the Better Business Bureau. Grade: Ahttps://t.co/9wtYXULt4A pic.twitter.com/LK6U5ybZ3o

— Dan Scavino (@DanScavino) March 4, 2016
That's for a different business @DanScavino @RealDonaldTrump – a successor company to #TrumpUniversity with D- ? https://t.co/D1Yn38nBqI

— Louise Mensch (@LouiseMensch) March 4, 2016
@realDonaldTrump Different times, different grades. Last was D-. https://t.co/qVmrkFsCxJ pic.twitter.com/yyZNkdGz8h

— Tom Maguire (@Tom_Maguire) March 4, 2016
Political media reaction:
Tweets from https://twitter.com/LegInsurrection/lists/elections
Hashtag #GOPdebate
Legal Insurrection Authors:
Tweets from https://twitter.com/KemberleeKaye/lists/li-authors