Posted by
Kemberlee Kaye
Monday, November 9, 2015 at 6:35pm
| 11/9/2015 - 6:35pm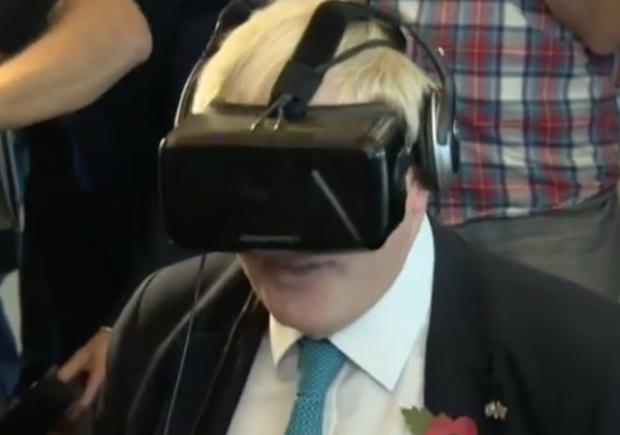 Visiting Google's Tel Aviv campus, London Mayor Boris Johnson seemed to enjoy the opportunity to experience life from a dog's point of view.
Visiting Israel on a three-day trip, Johnson stressed the importance of a strong trade relationship between the two "natural partners."
The Telegraph reports:
The Mayor of London is calling for stronger technology trade links with Israel, after new research revealed that London has become the leading European destination for Israeli technology companies looking to expand overseas.

Israel boasts one of the world's leading tech sectors, and London has become the first choice for Israeli tech businesses looking to list on the stock market, according to the research compiled by London & Partners, the Mayor's promotional company and IVC Research Center.

Technology companies make up over three quarters of all Israeli companies listed on the London Stock Exchange and, over the last five years, they have raised over £240m through those listings. There are currently 16 Israeli tech firms listed across the London Stock Exchange's markets with a combined market value of £3.7bn.

Speaking at the beginning of a three-day trade mission to Israel, Boris Johnson said that London was the "natural tech partner" for Israeli firms looking to expand.
The capital currently houses 141 Israeli tech firms, representing over half of the 239 Israeli companies with an office in the UK, according to data collected by IVC, and Mr Johnson urged more of these companies to locate in London.

"With access to a world class talent pool and a booming digital economy it is no surprise that Israeli tech companies are making London their home and choosing the London Stock Exchange as their international market for expansion," he said.
Johnson strongly opposes the boycott, divestment and sanctions (BDS) campaign against Israel calling the movements instigators lefty, "corduroy-jacketed academics."
Boris on the boycott of Israel

"The supporters of this so-called boycott are a bunch of corduroy-jacketed lefty academics" Boris Johnson gives his view on the boycott, divestment and sanctions campaign against Israel during his trip to build economic ties with Tel Aviv.

Posted by Channel 4 News on Monday, November 9, 2015
"I cannot think of anything more foolish than to say that you want to have any kind of divestment or sanctions or whatever or boycott, against a country that when all is said and done, is the only democracy in the region, is the only place that has, in my view, a pluralist, open society, why boycott Israel? And by the way, I think there's some misunderstanding over here about it. The supporters of this so-called boycott are really just a bunch of corduroy-jacketed academics from lefty, not that there's anything wrong with wearing a corduroy jacket I hasten to say, but they are by and large lefty academics who have no real standing in the matter and I think are highly unlikely to be influential on Britain and this is a very, very small minority in our country who are calling for this, so bear that in mind, folks."
Follow Kemberlee on Twitter @kemberleekaye