Posted by
Amy Miller
Saturday, November 14, 2015 at 8:45pm
| 11/14/2015 - 8:45pm
Clinton vs. Sanders vs. O'Malley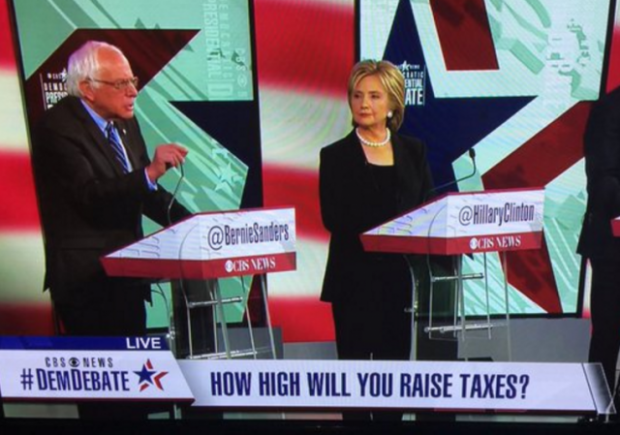 Earlier this week, fellow LI contributor Kemberlee Kaye remarked, "[o]nly a terrible party would hold a debate on a Saturday night."
Too true. Tonight, Hillary Clinton, Bernie Sanders, and Martin O'Malley will come together for a two hour debate at 9 pm EST—ensuring that almost no one will bear immediate witness to whatever insanity and moral inversion flows from the mouths of the three most high-profile Democrats in America.
"Face the Nation" anchor John Dickerson will act as moderator for the CBS News-sponsored debate alongside CBS News Congressional Correspondent Nancy Cordes, KCCI anchor Kevin Cooney and the Des Moines Register's political columnist, Kathie Obradovich. Dickerson has a reputation for asking tough questions, but don't worry—he met privately with each campaign this week for a pre-debate "informational" huddle.
Authenticity!
You can watch the debate live here:
LIVE FEED OVER – Highlight clips and tweets below.

.

.

Our own updates (by WAJ):
A presidential debate scheduled at 9pm on a Saturday for minimum viewership is definitely one way of symbolizing freedom

— Alex Burns (@alexburnsNYT) November 15, 2015
Clinton responds: "we abided by the agreement made by George W Bush" in Iraq. Says she wanted to arm moderates in Syria.

— Daily Intelligencer (@intelligencer) November 15, 2015
It's all Bush's Fault. Chug! #DemDebate

— Leslie Eastman (@Mutnodjmet) November 15, 2015
.@SenSanders stands behind his claim that climate change is biggest national security threat #DemDebate #ParisAttacks

— Ed Henry (@edhenry) November 15, 2015
Doubling down on stupid #DemDebate #TTT16 pic.twitter.com/2esoXvOfoJ

— NewsBusters (@newsbusters) November 15, 2015
Hillary is doing the impossible — defending regime change in Libya.

— Max Abrahms (@MaxAbrahms) November 15, 2015
Hillary will not say "radical Islam" #demdebate

— Sarah Rumpf (@rumpfshaker) November 15, 2015
Hillary asked if she'd use "radical Islam": "You can talk about Islamists who are clearly also jihadists" #DemDebate

— Bridget Johnson (@Bridget_PJM) November 15, 2015
Hillary used "nihilism" and "lust" in same sentence – pop quiz – who was she talking about? #DemDebate

— Legal Insurrection (@LegInsurrection) November 15, 2015
You realize that nobody voting in the Dem primary will care that Hillary won't say "Radical Islam" right? #DemDebate They don't care.

— Jazz Shaw (@JazzShaw) November 15, 2015
Dems stressing they want really rigorous screening for the 65,000 Syrian refugees they want US to accept. So why accept 65,000?

— Byron York (@ByronYork) November 15, 2015
All three candidates promise to raise taxes to pay for their domestic programs #DemDebate #TTT16

— MRCTV.org (@mrctv) November 15, 2015
Last Democratic debate there were 800 credential reporters. This time, not so much. pic.twitter.com/YwZUroTllN

— Anita Kumar (@anitakumar01) November 14, 2015
Bernie: read my lips–top rate will be below 90%

— Rich Lowry (@RichLowry) November 15, 2015
This sums it up perfectly. Hold on to your wallets, America… #DemDebate pic.twitter.com/Tsk2Jikhd1

— Gov. Mike Huckabee (@GovMikeHuckabee) November 15, 2015
Martin O'Malley refers to Donald Trump as an "immigrant bashing, carnival barker."

— Oliver Darcy (@oliverdarcy) November 15, 2015
So Hillary took money from Wall Street to help it recover from 9/11? Most shameless answer this century

— Legal Insurrection (@LegInsurrection) November 15, 2015
Hillary defends Wall Street ties by invoking 9/11? Blergh.

— Chris Stirewalt (@ChrisStirewalt) November 15, 2015
Hillary Clinton: I allied with Wall Street because they were hit on 9/11 (?)

— Aaron Blake (@AaronBlakeWP) November 15, 2015
now that we've spent 20 minutes on your crazy views on foreign policy, let's spend an 70 minutes on your crazy views on the economy

— TheModernMan (@AceofSpadesHQ) November 15, 2015
Twitter calls out Hillary on her misuse of 9/11 to justify Wall Street donations

— Legal Insurrection (@LegInsurrection) November 15, 2015
Bernie still runs away from email issue – he doesn't really want the nomination

— Legal Insurrection (@LegInsurrection) November 15, 2015
Sanders: "We've gotten off of Hillary's emails. Good. Let's go to the major issues." Clinton: "I agree completely."

— Sabrina Siddiqui (@SabrinaSiddiqui) November 15, 2015
More back-scratching over emails between @BernieSanders and @HillaryClinton. Maybe he thinks she's going to prison regardless #DemDebate

— Joel Pollak (@joelpollak) November 15, 2015
Here comes the obligatory pandering to #BlackLivesMatter #DemDebate

— Aleister (@AmericanGlob) November 15, 2015
Amazing quote. pic.twitter.com/NQ18xmYjzV

— Chris Cillizza (@TheFix) November 15, 2015
Hillary Clinton: "I come from the 60s. A long time ago." Bet this bite will be used in a GOP ad

— Josh Kraushaar (@HotlineJosh) November 15, 2015
shorter debate now: I'LL GIVE AWAY TEH MOST FREE COLLEGE!

— Razor (@hale_razor) November 15, 2015
Biggest crisis in her life? @HillaryClinton says the bin Laden raid. I nominate her for the "stolen valor" award for that answer #DemDebate

— Joel Pollak (@joelpollak) November 15, 2015