Posted by
William A. Jacobson
Thursday, October 1, 2015 at 2:40pm
| 10/1/2015 - 2:40pm
"Israel will do whatever it must do to defend our state and to defend our people."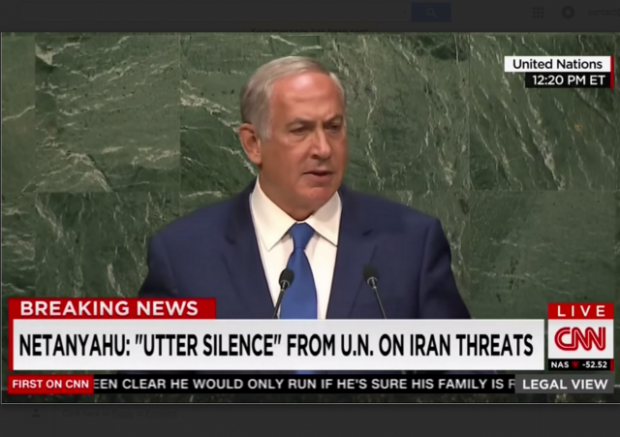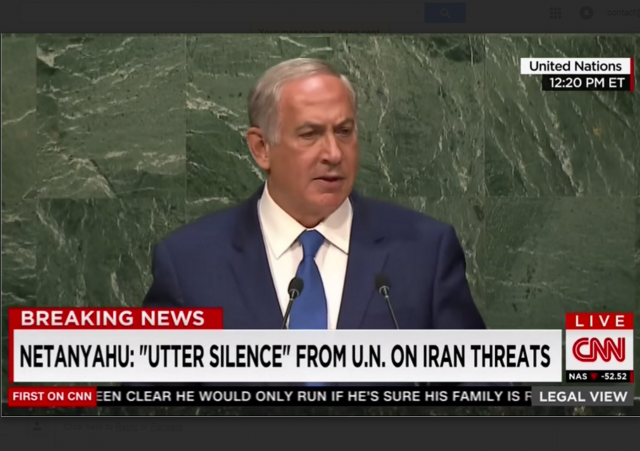 Israeli Prime Minister Benjamin Netanyahu spoke before the U.N. General Assembly today.
It was a powerful speech — one of, if not his best. The full speech is at the bottom of the post. The full text is here.
Here are some highlights.
Too bad neither John Kerry nor Amb. Samantha Power were present to hear it, and as a show of solidarity.
Netanyahu had a powerful 45 seconds of silence shaming the U.N. for its silence on Iran's threats to destroy Israel.
In the face of repeated Iranian threats and U.N. anti-Israel resolutions, Netanyahu declared "Israel will do whatever it must do to defend our state and to defend our people."
Netanyahu also called out the U.N. for its obsession with bashing Israel:
Netanyahu slams UN at the #UNGA for obsession with Israel, then proves it pic.twitter.com/8VbJLWpgu5

— StandWithUs (@StandWithUs) October 1, 2015
Netanyahu also took on false claims of Israeli interfering with religious holy sites and incitement by Mahmoud Abbass and the Palestinian Authority:
Far from endangering the holy sites, it is Israel that ensures the safety of the sacred sites pic.twitter.com/c8vOpetLIc

— PM of Israel (@IsraeliPM) October 1, 2015
He ended the speech with a memorable line, and one that is the truth — In standing against Islamist fanaticism, Israeli isn't just defending itself, it's defending civilized society.
PM Netanyahu: When will the UN finally stop slandering Israel as a threat to peace and actually start helping Israel advance peace? #UNGA

— PM of Israel (@IsraeliPM) October 1, 2015
The same question should be posed to Palestinian leaders. When will you start working with Israel to advance peace and reconciliation?

— PM of Israel (@IsraeliPM) October 1, 2015
President Abbas, here's a good place to begin: Stop spreading lies about Israel's alleged intentions on the Temple Mount.

— PM of Israel (@IsraeliPM) October 1, 2015
PM Netanyahu: Israel is committed to maintaining the status quo on the Temple Mount

— PM of Israel (@IsraeliPM) October 1, 2015
"More than ever, Israel is defending YOU" – PM Netanyahu at #UNGA pic.twitter.com/WeLt0Nckm6

— StandWithUs (@StandWithUs) October 1, 2015
Here is the full speech: