Posted by
Kemberlee Kaye
Tuesday, September 29, 2015 at 7:30pm
| 9/29/2015 - 7:30pm
Commence Campaign Death Watch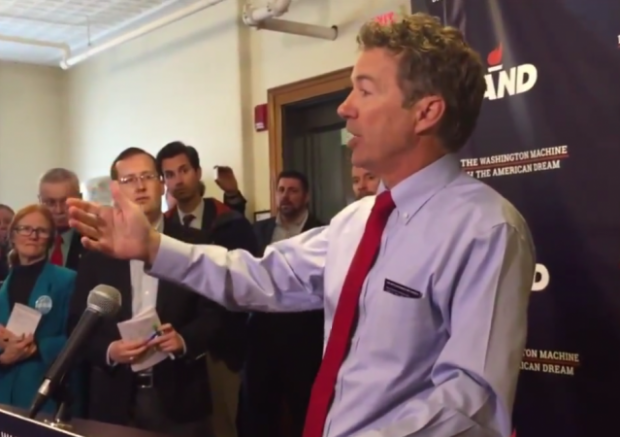 Insider speculation pegged Paul as the next to drop out of the crowded Republican primary weeks ago. Today, one of three Paul-supporting SuperPACs has stopped raising money until they see, "the campaign correct its problems."
Politico reports:
One of the three super PACs supporting Rand Paul's presidential campaign has stopped raising money, dealing a damaging blow to an already cash-starved campaign.

In a Tuesday telephone interview, Ed Crane, who oversees the group, PurplePAC, accused Paul of abandoning his libertarian views — and suggested it was a primary reason the Kentucky senator had plummeted in the polls.

"I have stopped raising money for him until I see the campaign correct its problems," said Crane, who co-founded the Cato Institute think tank and serves as its president emeritus. "I wasn't going to raise money to spend on a futile crusade."

"I don't see the point in it right now," he added.

PurplePAC has been in existence for around two years, but over the summer Crane transformed it into a Paul-focused vehicle. It joined two other super PACs, America's Liberty and Concerned American Voters, that were expressly designed to support Paul.

In July, PurplePAC announced that it had raised around $1.2 million – the vast majority of it coming from Jeff Yass, a Philadelphia options trader.

Crane said the organization currently had over $1 million cash on hand, but no longer wanted to ask for contributions. "I just don't want to do that to my friends," he said.

The libertarian views that catapulted Paul to national prominence had "disappeared," Crane said, leaving many of Paul's longtime backers miffed.
Poor fundraising isn't helping Paul's cause. His campaign and three supporting SuperPACs have only been able to cable together a measly $13 million. His poll numbers aren't much better than his fundraising either.
Last week, the Lexington Herald-Leader reported that the slow demise of Paul's campaign has been a "death of a thousand cuts."
"Walker's departure from the race means that the senator from Kentucky is no longer the front-runner for the most disappointing campaign of 2016," the Post wrote. "So, congrats on that. But Paul appears to have dropped entirely off the radar of most Republican voters."

Politico's weekly poll of political insiders from early-voting states put Paul right behind Louisiana Gov. Bobby Jindal and former New York Gov. George Pataki as the next to drop out, with 22 percent saying Paul would be next.

One unnamed New Hampshire Republican told the Beltway publication that Paul's "campaign (reeks) of the same stench of death that surrounded the Perry and Walker efforts before their demise."
As Allah Pundit pointed out yesterday, Paul's favorability ratings are headed the wrong direction. The Huffington Post's election tracker charts the change: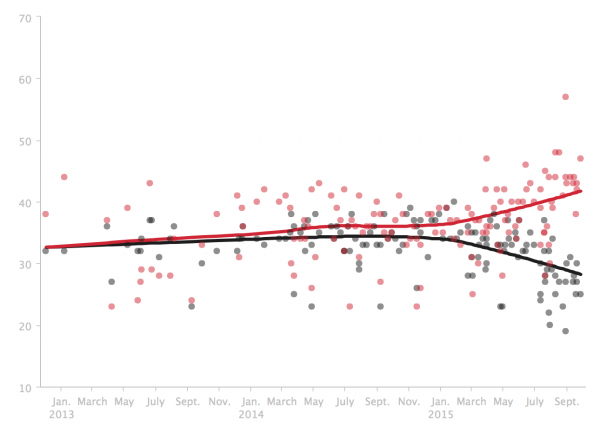 Currently, Paul's unfavorability rating is at a whopping 41.7%.
Paul's strategy required winning New Hampshire, but as the Lexington Herald-Leader reported, polling their is looking grim for the Kentucky Senator.
The day after Paul announced his presidential campaign in April, the senator told reporters in New Hampshire that winning the Granite State was crucial to his chances of winning the nomination.

"I will say that I think New Hampshire is incredibly important to me," Paul said. "We will try very hard. We are going to do everything to win in New Hampshire. I do think we do need to win New Hampshire."

But the summer months were not kind to Paul, in New Hampshire or elsewhere.

In a poll conducted in June for CNN and WMUR in Manchester, N.H., Paul was polling at 9 percent, with 43 percent of New Hampshire voters holding a favorable opinion of him and 32 percent an unfavorable opinion.

On Thursday, the same poll showed Paul slipping to 3 percent support, with 48 percent of respondents holding an unfavorable view and 31 percent favorable.

He hasn't fared any better in national polls, with a RealClearPolitics average showing the senator at 2.3 percent.

It has been death by a thousand cuts for Paul's campaign: reports of staff infighting, the federal indictments of two longtime aides, lackluster fundraising, the improbable and unpredictable rise of Donald Trump, and a Republican Party that appears to be returning to its roots on foreign policy.

Next week, we might just learn how much longer Paul can keep going.

The third-quarter fundraising period ends Wednesday, and one of the biggest questions will be whether Paul has raised enough money to continue his quest.

Paul's campaign has spent the last few days feverishly sending fundraising emails, begging for contributions to keep Paul's leaky ship afloat.
And the watch begins.
UPDATE: WaPo refutes Politico SuperPAC claims:

The news broke Tuesday afternoon: A Super PAC that had been built to help Sen. Rand Paul (R-Ky.) win the Republican nomination was effectively finished. According to Politico, Cato Institute co-founder Ed Crane had "stopped raising money" for the Purple PAC, "dealing a damaging blow to an already cash-starved" Paul operation.

Among the people surprised by this news was Ed Crane.

"This reporter from Politico called and said, 'I heard you haven't been raising money,'" Crane said in an interview. "I haven't been raising money all summer! Nothing has changed. The PAC is still operating — I'm not shutting it down."

In a story that sounded fairly close to what had been reported, Crane said he was "about to send out a piece of direct mail" to high-dollar libertarian donors, the sort he spent decades cultivating.

"But this was just at the time when Rand started fading into the background," said Crane. "This is supposed to be the year of the outsider. He's the consummate outsider candidate, and he was perceived as yet another one of the guys. I've got $1.4 million, I could get a lot more, but I didn't want to ask my wealthy friends to chip in at that juncture."
Follow Kemberlee on Twitter @kemberleekaye