Posted by
William A. Jacobson
Wednesday, September 30, 2015 at 1:00pm
| 9/30/2015 - 1:00pm
Does it make me a bad person to enjoy watching reaction to Pope secretly meeting with Kim Davis?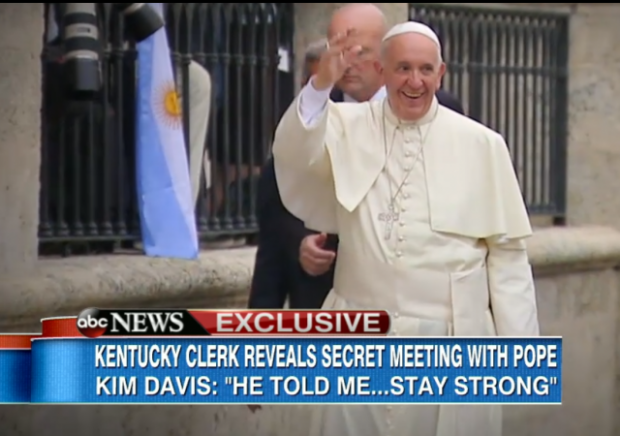 Pope Francis' tour of the U.S. turned normal alignments upside down.
Liberals — who spare no effort to denigrate the Catholic Church — all of the sudden found the Pope's progressive economic and immigration pronouncements to be just dreamy.
At brunch on the Upper West Side of Manhattan and in Brooklyn, kind words were spoken in the same sentence as "Pope" and "Catholic." Eyes did not roll.
We can now return to the prior alignment of the political universe. The Pope met secretly with Kim Davis, via NY Times:
Pope Francis met privately in Washington last week with Kim Davis, the county clerk in Kentucky who defied a court order to issue marriage licenses to same-sex couples, a Vatican spokesman confirmed on Wednesday.

Ms. Davis, the clerk in Rowan County, has been at the center of a nationwide controversy over whether government employees and private businesses have a legal right to refuse to serve same-sex couples. She spent five days in jail for disobeying a federal court order to issue the licenses.

On Tuesday night, her lawyer, Mathew D. Staver, said in a telephone interview that Ms. Davis and her husband, Joe, were sneaked into the Vatican Embassy by car on Thursday afternoon. Francis gave her rosaries and told her to "stay strong," the lawyer said. The couple met for about 15 minutes with the pope, who was accompanied by security guards, aides and photographers. Mr. Staver said he expected to receive photographs of the meeting from the Vatican soon.

On Wednesday, the Vatican spokesman, the Rev. Federico Lombardi, confirmed that the meeting took place, but he declined to elaborate. "I do not deny that the meeting took place, but I have no other comments to add," he said.

Ms. Davis described the meeting in an interview on Wednesday with ABC News.

"I put my hand out and he reached and he grabbed it, and I hugged him and he hugged me," Ms. Davis said. "And he said, 'Thank you for your courage.' "

"I was crying. I had tears coming out of my eyes," she said. "I'm just a nobody, so it was really humbling to think he would want to meet or know me."
Davis' lawyers released an image of the Rosariers blessed by the Pope and given to Davis (via L.A. Times)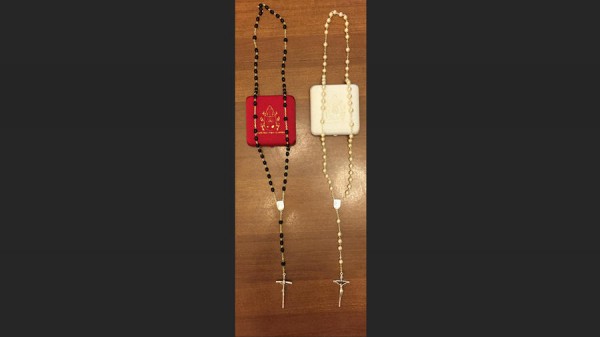 That sound in the distance? It's leftie heads exploding.
Is it wrong for me to be enjoying watching this? Does it make me a bad person?
Nooooooo!!!!!! This makes me so angry! So everything he's preaching is a lie!!! http://t.co/F68KAvWDfs

— Alyssa Milano (@Alyssa_Milano) September 30, 2015
pope francis has made it a part of his holy mission to meet with the dregs of society so the kim davis meetup was on message. no big.

— Oliver Willis (@owillis) September 30, 2015
How I feel after learning the Pope met with Kim Davis #PopeinUS http://t.co/XHT3UjI57L pic.twitter.com/oE4J3IGU4e

— Anne Bowersox (@annebowersox) September 30, 2015
This is how a @voxdotcom employee (are they supposed to be objective?) tweets out their pope article: pic.twitter.com/6H0BkudlMO

— Ashe Schow (@AsheSchow) September 30, 2015
@Pontifex's meeting with Kim Davis should end our #popecrush. He's only progressive for a pope, which isn't much. http://t.co/IWesBmKu5d

— Diana Adams, Esq (@DianaAdamsEsq) September 30, 2015
Wait. What? The pope didn't have time for Black Lives but he made time for bigots like Kansas homophobe Kim Davis??? @pontifex #blacktwitter

— Rachel Décoste (@RachelDecoste) September 30, 2015
#LunchtimeRead: Kentucky clerk Kim Davis said to have secretly met Pope over gay marriage. http://t.co/rSUcxSJIGz New boss; same as the old

— Toronto Lawyers Assn (@TLAvoice) September 30, 2015
Pope Francis is a bigoted piece of shit #KimDavis

— ben jammin' (@ben2810) September 30, 2015
SRSLY. What a reality check of the values of the church. Gross.

Vatican confirms pope met with Kim Davis http://t.co/Prj2h4lFD5

— Ashlee Richards (@Ashlee_withanE) September 30, 2015
All respect for that guy is now utterly and completely gone! http://t.co/OBpphKr05Z

— Sean Trace (@seantrace) September 30, 2015
Breaking: Chill Pope loses all chill cred by meeting with most #nochill twat Kim Davis

— katlyncarlson (@katlyncarlson) September 30, 2015
aww man i liked this pope. why did he have to go and visit kim davis…cmon maaaan

— Matt Tracy (@mtracy492) September 30, 2015