Posted by
William A. Jacobson
Wednesday, September 16, 2015 at 8:21pm
| 9/16/2015 - 8:21pm
My favorite tweets from the Main Event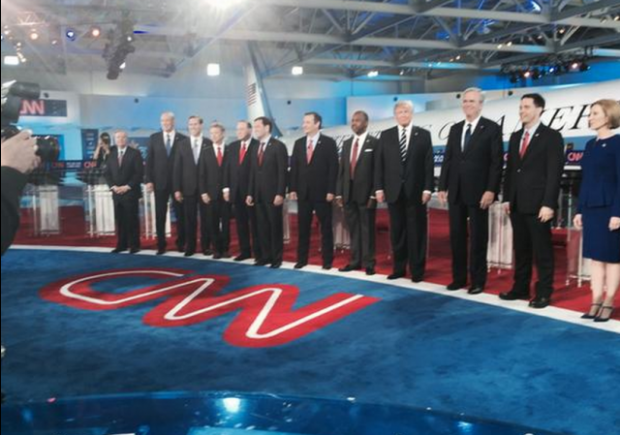 It was a night when Ted Cruz referred to this A.F. Branco cartoon (though he referred to the Hamas guy as the Ayatollah — but the intend was right).
.@tedcruz just referred to our @afbranco cartoon (psst, it was Hamas) http://t.co/oqfIqwox6s #GOPdebate pic.twitter.com/bfcNuWzTp9

— Legal Insurrection (@LegInsurrection) September 17, 2015
This was the moment of the night. I don't know if anything can stop The Donald, but he was humuliated by Fiorina's response, which surely was planned at some level but made good use of Trump's preceding harangue of Jeb Bush:
Fiorina was on fire all night. The clear "Winner."
Scott Walker started strong, but then didn't get any questions for what seemed like forever. He managed to insert himself into the coverage by jumping in even when not asked a question. I don't know if he did enough to reverse his slide. Or at least enough to keep his campaign alive.
I thought Trump's performance was weak, but I've been so wrong about his popularity and what drives his support that I hesitate to predict anything. There just didn't seem to be much there to excite, though his completely gratuitous slams on Rand Paul were pretty funny.
Jeb Bush melted into the woodwork for the most part, as did most of the candidates (Carson, Kasich, Rand, Huck). I can't imagine this helped any of them. (Rethinking Cruz) Cruz was forceful, but didn't seem to be a big part of the debate.
I thought Marco Rubio did well, and Chris Christie at least established a presence.
In reverse chronological order:
Huge disparity in talking times. Amazing Carly got the third most time considering CNN was ready to leave her out. pic.twitter.com/UZ8ili3SaX

— Josh Jordan (@NumbersMuncher) September 17, 2015
Fun fact: I watched CNN more tonight than I have in the last seven years. #CNNDebate #GOPDebate

— Aleister (@AmericanGlob) September 17, 2015
Fiorina says she wouldn't put any woman on a bill, women are not a special interest group. Love it. #CNNdebate

— Cassy Fiano Chesser (@casachess) September 17, 2015
.@CarlyFiorina stands out in answer to $10 bill — I wouldn't change the $10 or $20 bill.

— Jason Howerton (@jason_howerton) September 17, 2015
There's something of Mrs. Thatcher about Carly Fiorina.

— Charles C. W. Cooke (@charlescwcooke) September 17, 2015
.@tedcruz says it was a "mistake" to support appointment of John Roberts for Supreme Court #GOPDebate

— Jason Howerton (@jason_howerton) September 17, 2015
Wasn't that Mike Dukakis's line? https://t.co/yQGgb7fxwe

— Legal Insurrection (@LegInsurrection) September 17, 2015
White people. #smh #GOPDebate pic.twitter.com/vfpx55DTSj

— jon gabriel (@exjon) September 17, 2015
Walker: "If I am commander-in-chief, I will only send you into harm's way when our national security is at risk." pic.twitter.com/bgqyAw7xCn

— BuzzFeed News (@BuzzFeedNews) September 17, 2015
Whoa….Jeb gets a big round of applause for saying GWB kept us safe. Hmmmm…. #CNNDebate

— L.N. Smithee (@LNSmithee) September 17, 2015
Just a reminder for people all excited about Rubio….when these ads hit…. #Amnesty pic.twitter.com/eCzWszZXxK

— Drew McCoy (@DrewMTips) September 17, 2015
I think Trump just did all the emoji faces in 7 seconds. pic.twitter.com/hC18pVxKgh

— Jason Mustian (@jasonmustian) September 17, 2015
Rubio: "Obama has more respect for the Ayatollah in Iran than the Prime Minister of Israel." #GOPdebate

— Razor (@hale_razor) September 17, 2015
.@CarlyFiorina going after @HillaryClinton like a pro

— Legal Insurrection (@LegInsurrection) September 17, 2015
.@jaketapper the people demand that you ask @ScottWalker more questions

— Legal Insurrection (@LegInsurrection) September 17, 2015
And why did @CNN even bother inviting @ScottWalker. An hour and 44 minutes in before they asked Walker one.single.question. #CNNDebate

— Kemberlee Kaye (@KemberleeKaye) September 17, 2015
"You were forced to file for bankruptcy not once, not twice, but four times." – @CarlyFiorina on Trump's business leadership #GOPDebate

— Frank Luntz (@FrankLuntz) September 17, 2015
Christie: "Carly, listen, you can interrupt everyone else on the stage, but you can't interrupt me:"

— Zeke Miller (@ZekeJMiller) September 17, 2015
Carly seems…shall we say…prepared for HP question. #GOPDebate

— Guy Benson (@guypbenson) September 17, 2015
Great line from Rubio: "I want [Spanish speakers] to hear that news from me, not from a translator at Univision."

— Charles C. W. Cooke (@charlescwcooke) September 17, 2015
Not a Jeb Bush fan, but his challenging Trump to apologize to Jeb's wife was a nice little jab. #CNNDebate #GOPDebate

— Bill Hobbs (@billhobbs) September 17, 2015
Jeb repeatedly challenging Trump to apologize to his wife. "No, I did nothing wrong," says Trump.

— McKay Coppins (@mckaycoppins) September 17, 2015
@GayPatriot @realDonaldTrump my 16 year old says she Carly has "girl balls" . And my daughter is a lib!

— Kathy Weiss (@Nursemamacita) September 17, 2015
.@CarlyFiorina's thumping of Trump on face comment may be the moment the rise of The Donald began to ease #GOPDebate

— Legal Insurrection (@LegInsurrection) September 17, 2015
OH YES CARLY FIORINA YESSSSSSSSSSSS! #CNNdebate

— Amy Miller (@ThatAmyMiller) September 17, 2015
"Women all over this country heard very clearly what Mr. Trump said." – Fiorina on Trump's "Look at her face" comment. #CNNDebate

— Kemberlee Kaye (@KemberleeKaye) September 17, 2015
Carly just bitchslapped Trump. Trump conceded. #GOPDebate #winning

— TheCagedLioness (@CagedLioness4) September 17, 2015
Carly on the face comment. " I think women heard Mr Trump" pic.twitter.com/o6mxlkAnXs

— Amy (@AmyOtto8) September 17, 2015
Oh shit, Carly just destroyed Trump.

— JWF (@JammieWF) September 17, 2015
Carly knocks it out of park- Women all over country heard what Trump said

— Jennifer Rubin (@JRubinBlogger) September 17, 2015
Carly Fiorina just burned down the stage guys. #GOPDebate

— Dana Loesch (@DLoesch) September 17, 2015
Carly just knocked that out of the park. Biggest applause of the night.

— Stephen Gutowski (@StephenGutowski) September 17, 2015
I am not a big Fiorina fan, but she just gave a very powerful description of #plannedbutcherhood vids. BEST answer on topic of the night.

— Michelle Malkin (@michellemalkin) September 17, 2015
Here's @CarlyFiorina daring @HillaryClinton and @POTUS to watch the Planned Parenthood videos https://t.co/hQLzdhJha3

— Oliver Darcy (@oliverdarcy) September 17, 2015
In both debates, Obama gets high p;raise for fighting for his principles, socialist and degenerate as they are

— Chemi Shalev (@ChemiShalev) September 17, 2015
Kasich supports Iran deal and doesn't want to take defund PP to a shutdown. For the record.

— Amanda Carpenter (@amandacarpenter) September 17, 2015
There's no way anyone would be able to transcribe @JebBush 's speech just there. uh, uh,uhm, uh, and, uh

— Jen Kuznicki (@JenKuznicki) September 17, 2015
I don't think we're watching the same debate https://t.co/NVSFqoMDrC

— Kemberlee Kaye (@KemberleeKaye) September 17, 2015
Mario Rubio: Blow shit up, all the time. Crowd loves it. #cnndebate #gopdebate

— Donna Gratehouse (@DonnaDiva) September 17, 2015
Get a room. https://t.co/lUqcNwra5o

— Liz S. (@StarChamberMaid) September 17, 2015
Superb pic.twitter.com/W8xtuNqjng #GOPDebate

— Brandon Morse (@TheBrandonMorse) September 17, 2015
And Trump sticks a rhetorical spear through Bush. Crowd laughs.

— Jazz Shaw (@JazzShaw) September 17, 2015
This. Is. Amazing. TV.

— Betsy Woodruff (@woodruffbets) September 17, 2015
Thank you, John Kasich, for interrupting to say what Scott Walker already just said. #CNNDebate

— Leon Wolf (@LeonHWolf) September 17, 2015
Tonight, the circle of jerks in the press will talk about how John Kasich was dad. They like Republicans who hold the base in contempt.

— Erick Erickson (@EWErickson) September 17, 2015
Politifact analysis: Trump's claim about Walker budget "mostly false": http://t.co/sD3tCKhsbi #GOPDebate

— Maxim Lott (@maximlott) September 17, 2015
Scott Walker actually seems to be the rare person who has gotten into a fight with Donald Trump and soundly thrashed the crap out of him.

— Jeff [email protected] (@EsotericCD) September 17, 2015
Video: Shot fr @ScottWalker: "We don't need an apprentice in the White House. We have one right now" #CNNDebate pic.twitter.com/PGaJfA1GuY

— Brent Baker (@BrentHBaker) September 17, 2015
Wow Walker is back! On Trump. "Just because for says it doesn't mean it's true"

— Tammy Bruce (@HeyTammyBruce) September 17, 2015
.@ScottWalker on Trump: "Just because he says it doesn't make it true."

— Oliver Darcy (@oliverdarcy) September 17, 2015
Walker: "We don't need an Apprentice in the White House, we have one right now." pic.twitter.com/bGimHyKHwu

— jimgeraghty (@jimgeraghty) September 17, 2015
#GOPDebate has "exceeded" all expectations in the first 10 minutes

— Legal Insurrection (@LegInsurrection) September 17, 2015
Shots fired…. #GOPDebate #CNNDebate http://t.co/06Gt1MLvH4 https://t.co/HFaHYrLcLh

— Free Beacon (@FreeBeacon) September 17, 2015
Donald Trump says he has never attacked Rand Paul on his looks, but there is "plenty of subject matter" pic.twitter.com/dmeV0JAt6U

— Oliver Darcy (@oliverdarcy) September 17, 2015
Whoa. A sucker punch for Rand Paul out of nowhere.

— jimgeraghty (@jimgeraghty) September 17, 2015
SHOTS FIRED: @realDonaldTrump: "@RandPaul shouldn't even be on this stage"

— Jason Howerton (@jason_howerton) September 17, 2015
"Carly Fiorina, what do you think of what Bobby Jindal said about Donald Trump?" Urgh.

— jimgeraghty (@jimgeraghty) September 17, 2015
.@ScottWalker says he took on the status quo in Wisconsin, says the White House needs someone who is ready to go "big and bold"

— Jason Howerton (@jason_howerton) September 17, 2015
Trump: I made billions and billions and I say that in not a braggadocious way. #GOPDebate

— mulanrulz (@mulanrulz) September 17, 2015
Wow. Dr. Carson so gracious. Well done.

— Gabriel Malor (@gabrielmalor) September 17, 2015
The view from the desk pic.twitter.com/dnNMSOtCMK

— Hugh Hewitt (@hughhewitt) September 17, 2015