Posted by
Kemberlee Kaye
Wednesday, September 16, 2015 at 7:53pm
| 9/16/2015 - 7:53pm
Round 2: Fight! The main event.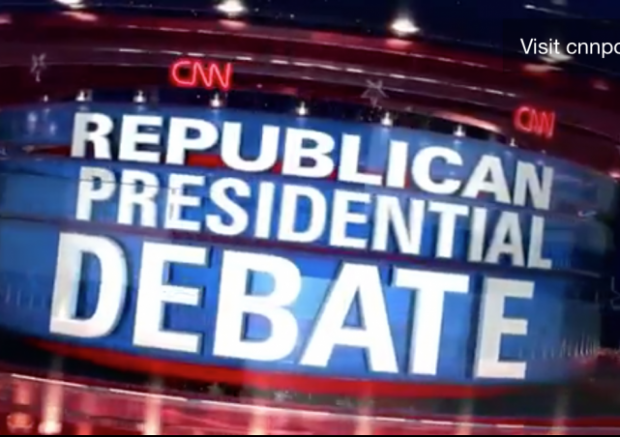 Howdy and thanks so much for joining us tonight! This is the second of two debate posts this evening.
First of all, cable or no cable, you can watch the debate if you have an internet connection. CNN is streaming both debates for free, but it will only work if you are in the United States:
If you don't have cable, you'll still be able to watch CNN's Republican primary debate on Wednesday night, because the network is live streaming it for free on the web.

The live stream will be front and center on CNN.com between 6 p.m. and 11 p.m. ET. It'll also be available through the news organization's apps and the CNNgo web site.
In tonight's main stage debate, we have:
Scott Walker
Carly Fiorina
Jeb Bush
Donald Trump
Chris Christie
Ben Carson
Ted Cruz
Rand Paul
Mike Huckabee
John Kasich
Watch real time debate reaction:
To providing a wide array of real time reactions, we've included a few different Twitter feeds for your entertainment. You'll find those beneath.
Join the conversation:
But here's the fun part. We want to hear from YOU. Questions, observations, thoughts, ideas? Share them in the comments section beneath. Amy and I will address them directly on the blog. Please keep them civil, appropriate, and debate-focused. We can't promise we will get to every single one, but we will do our best.
Are you ready? Let the games begin!
Legal Insurrection Authors:
Tweets from https://twitter.com/KemberleeKaye/lists/li-authors
Political media reaction:
Tweets from https://twitter.com/LegInsurrection/lists/elections

Candidates:
Tweets from https://twitter.com/KemberleeKaye/lists/candidate-accounts
Some of the night's best moments:
#CNNDebate reactions, captured in GIFs http://t.co/nYY5hekJT2 via @caseycapachi pic.twitter.com/R59UAGQqqn

— CNN Politics (@CNNPolitics) September 17, 2015
The most awkward moments in the #CNNDebate http://t.co/x6xaADcccP via @JDiamond1 #GOPDebate http://t.co/ZIWBaPMBG0

— CNN Politics (@CNNPolitics) September 17, 2015
#CNNdebate in reaction GIFs @CNNPolitics @caseycapachi http://t.co/h21AItulhN pic.twitter.com/qs5dF3nNas

— Brenna Williams (@brennawilliams) September 17, 2015
.@marcorubio explains why he misses votes in the Senate http://t.co/jcEf6bW9ja #CNNDebate #GOPdebate http://t.co/lgI7NL7dOp

— CNN Politics (@CNNPolitics) September 17, 2015
.@RealBenCarson on taxes: "It's all about America" http://t.co/jcEf6bW9ja #CNNDebate http://t.co/GFVUcJOpCu

— CNN Politics (@CNNPolitics) September 17, 2015
.@realDonaldTrump: @CarlyFiorina "can't run any of my companies" http://t.co/jcEf6bW9ja #CNNDebate #GOPDebate http://t.co/cyGROrSxsp

— CNN Politics (@CNNPolitics) September 17, 2015
.@marcorubio: "We have a legal immigration system that no longer works" http://t.co/jcEf6bW9ja #CNNDebate #GOPDebate http://t.co/9GrahISPZ8

— CNN Politics (@CNNPolitics) September 17, 2015
Follow Kemberlee on Twitter @kemberleekaye