Posted by
William A. Jacobson
Friday, August 21, 2015 at 7:14pm
| 8/21/2015 - 7:14pm
Will he or won't he (fill the stadium in Mobile, AL)?
Watch Live:
[Live Feed Closed, will add videos when available]
FULL SPEECH: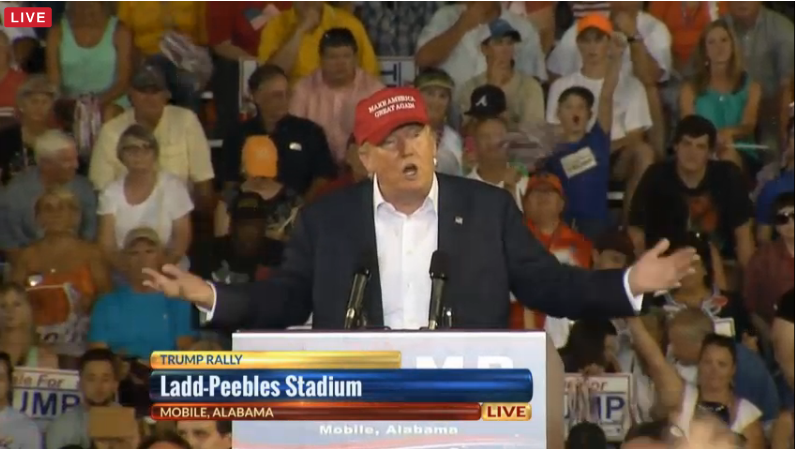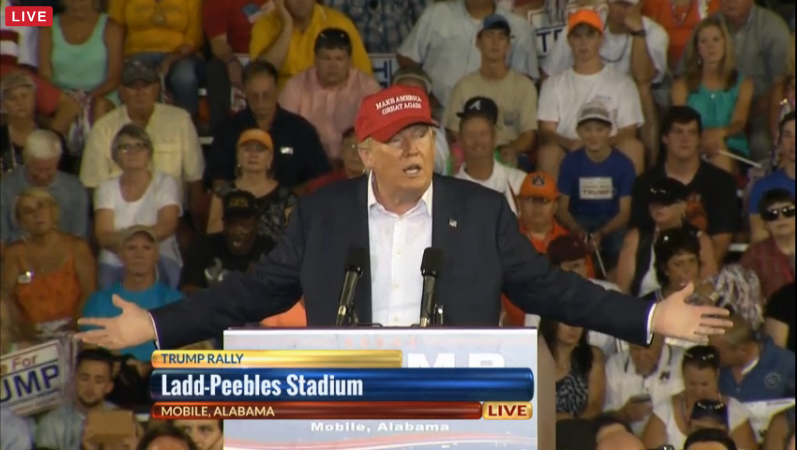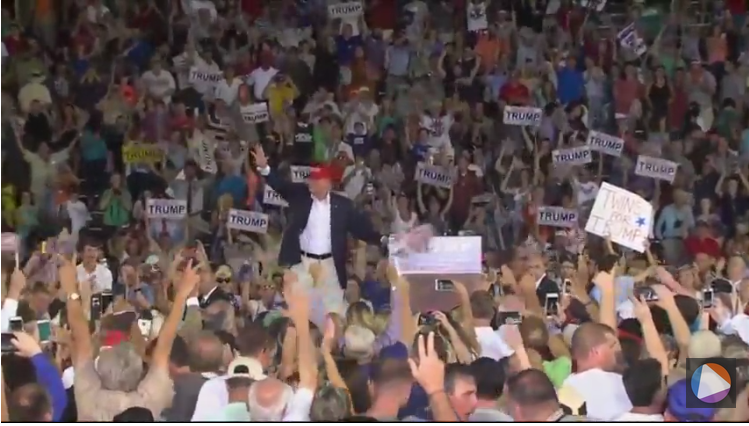 Live Twitter Feed below:
Stadium of people waiting for Trump pic.twitter.com/BZeKPFrVOG

— Greta Van Susteren (@greta) August 21, 2015
Hah!! @realDonaldTrump circles stadium in Trump plane before landing in Mobile pic.twitter.com/3B1EUIQv3h

— Jim Hoft (@gatewaypundit) August 21, 2015
It's filling up. #Trump2016 #TrumpInMobile pic.twitter.com/svD8LkPZJZ

— Eileen V (@sMiLeeN1111) August 21, 2015
Looking for most creative sign. #RIP Politically incorrect" is a contender. Anyone else have pics? #TrumpinMobile pic.twitter.com/J9auWs3flW

— Rebekah Hoeger (@RebekahHoeger) August 21, 2015
Counting the stand and people on the field, maybe 20k at 7 pm local time pic.twitter.com/yPkM2ZQFEj

— Jeff Poor (@jeff_poor) August 22, 2015
And, we're off!
#trump2016 mobile Alabama. "I took a lot of heat for immigration. But we gotta do something. We must do something". #trump #MobileAL

— FL-Conservative (@flconservative3) August 22, 2015
Trump moved from immigration, to hitting Jeb Bush, to bringing Jeff Sessions on the stage. Love him or hate him, you have to admit that he knows what conservatives—at least those who would consider themselves part of "the base"—want to hear. They're excited about him, and he's doing a great job playing off that energy with his messaging.
.@realDonaldTrump on illegal immigration: "We've got to stop it. We're going to build a wall." pic.twitter.com/jBzoZ9OMth

— Fox News (@FoxNews) August 22, 2015
.@SenatorSessions: "The American people want somebody who stands up for them." #Trump2016 pic.twitter.com/UQvSuwAkZP

— Trump for America (@ArtoftheDealPAC) August 22, 2015
Jeff Sessions shows up and supports #trump in immigration. Crowd stands and cheers. #trump2016 rally in mobile Alabama

— FL-Conservative (@flconservative3) August 22, 2015
Alabama Sen. Jeff Sessions speaks at Trump event. Runs onstage. Comes out to thunderous applause. #Trump2016

— Casey Toner (@ctoner) August 22, 2015
Beth Kenny voted Dem for all her life until now. Obama led the country into the ground, she said #Trump2016 pic.twitter.com/DXynughFCt

— Casey Toner (@ctoner) August 21, 2015
"I want to make this country rich and I want to make this country great." #trumprally

— Jennie McKeon (@JennieMnwfdn) August 22, 2015
"I love our vets. For 35 years these people in Washington are not taking care of them. Not getting it done. #trump2016 rally in Mobile AL

— FL-Conservative (@flconservative3) August 22, 2015
Of course, You-Know-Who made a cameo…
#trump2016 in Mobile Alabama. "when you have free trade; you need exceptional competent negotiators. We don't have that now."

— FL-Conservative (@flconservative3) August 22, 2015
Trump says "Jeb" and the crowd in Alabama boos. #RollTrump #Trump2016

— Andrea Katherine (@STL_Blonde) August 22, 2015
#TrumpRally "Who would you rather have negotiating with China, Japan, and Mexico? Trump or Bush?" Crowd goes absolutely bonkers for #Trump

— Charles Adler (@charlesadler) August 22, 2015
.@realDonaldTrump: "I love Israel." #Dobbs #LouDobbsTonight pic.twitter.com/5Eu0lDTCR4

— FOX Business (@FoxBusiness) August 22, 2015
.@ggreenwald live tweeting @realDonaldTrump speech https://t.co/Px1OwXg7xh

— Legal Insurrection (@LegInsurrection) August 22, 2015