Posted by
Fuzzy Slippers
Tuesday, August 11, 2015 at 7:00am
| 8/11/2015 - 7:00am
States that he is not an "election conservative"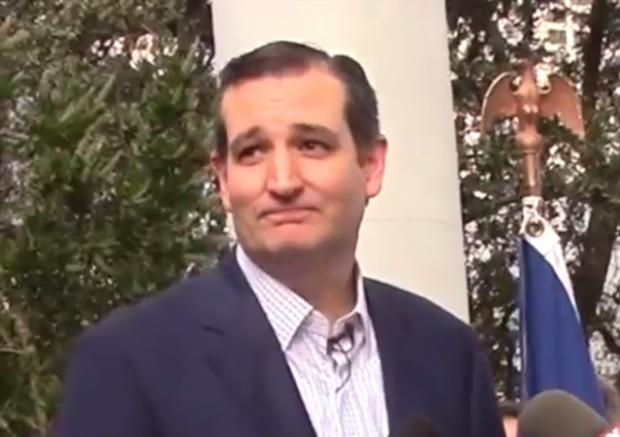 Following last Thursday's debate, Ted Cruz's support has more than doubled according to an NBC poll.  Matthew Burke reports:
In a new NBC News/Survey Monkey poll released on Sunday, Texas Senator Ted Cruz, a constitutional conservative, catapulted into second place overall, increasing by a whopping 7% over the prior poll, putting him at 13% overall, more than doubling his prior support of 6%, according to the poll.

Cruz, a former national collegiate debate champion, soared despite having his debate performance largely put on mute mode by major media outlets, including FOX News.
Although Trump still leads in this poll, this is a very nice bump for Cruz.  This news comes on the tail of a debate performance, particularly involving ISIS, that Frank Luntz calls "great news for Cruz."
Watch:
On Saturday, Cruz gave a great speech at RedState Gathering in which he was clearly relaxed and confident, displaying humor and taking jabs at what he calls "election conservatives."  Election conservatives are those we know all too well: they go on the campaign trail pandering to conservatives, promising to remain conservative once elected . . .  only to break  their word, sometimes doing the exact opposite of what they promised.
Watch the full speech below (an impromptu and brief Q & A begins at around the 30 minute mark):
(h/t Maggie's Notebook)
During this speech, Cruz laid out five actions that he would take on his first day in office.  The Daily Signal reports:
The first action would be to "rescind every illegal executive action taken by Barack Obama," including his "executive amnesty."

Next, he would "instruct the Department of Justice to open an investigation into Planned Parenthood" and to prosecute any criminal conduct uncovered.

Then he would instruct the Department of Justice and the Internal Revenue Service to "cease persecuting" individuals seeking to practice their faith in their workplace.

The Little Sisters of the Poor, he said, "would receive a letter in the mail that their case has been dismissed." He said they would also receive "an invitation to the White House to tell their story to the world."

Then he would "end the catastrophic Iranian nuclear deal."

Cruz argued that by lifting economic sanctions on Iran, the Obama administration had become "the leading global financier of radical Islamic terrorism."

Finally, he would "begin the process to move the U.S. embassy in Israel to Jerusalem."

Moving the embassy to Israel's "eternal capital," he said, would send "a message to the world that we stand with our allies."
Unlike promises to stop the oceans from rising and to heal the planet, these promises seem reasonable and in line with Cruz's campaign message.  Cruz assured the RedState audience, and by extension all of us, that he's the one GOP presidential candidate who will keep his word.  He doubled down on this message via Twitter:
The key difference between me & other candidates running for POTUS is I'll ACTUALLY DO what I promised! #CruzCountry pic.twitter.com/CIAJiVu741

— Ted Cruz (@tedcruz) August 9, 2015