Posted by
Kemberlee Kaye
Monday, August 17, 2015 at 11:45am
| 8/17/2015 - 11:45am
"I am not intimidated by you, sir."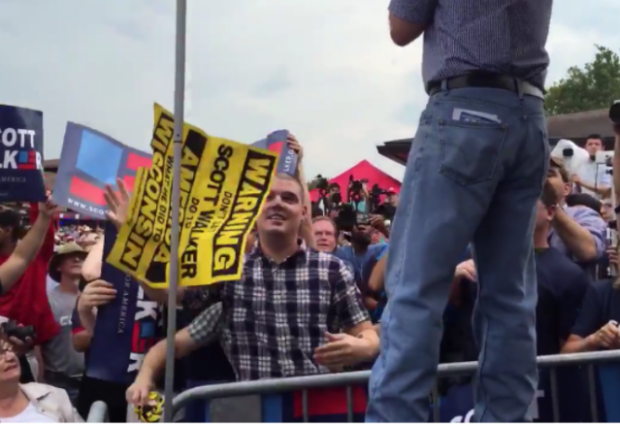 Speaking on the soap box at the Iowa State Fair Monday morning, Governor Scott Walker was welcomed by an all too familiar crowd — union hecklers.
Rather than ignoring the front row rabble-rousers, Governor Walker confronted them directly.
"I am not intimidated by you, sir, or anyone else out there. I will fight for the American people over, and over, and over, again. You want someone who's tested? I'm right here. You can see it. This is what happened in Wisconsin. We will not back down. We will do what is necessary to defend the American people going forward," said Walker.
Scott Walker fired up: "I'm the only one who stood up to 100K protesters!" And to protester: "I'm not intimidated by you, sir!"

— Jenna Johnson (@wpjenna) August 17, 2015
Scott Walker getting heckled, shouts at the man and says he will not be intimidated.

— Francesca Chambers (@fran_chambers) August 17, 2015
Scott Walker facing boos as union workers from Wisconsin wearing cheese heads came to his soapbox #IowaStateFair pic.twitter.com/EF7ap4W52N

— Jeremy Diamond (@JDiamond1) August 17, 2015
Scott Walker off the soapbox. I've never seen him get so angry and fired up before a crowd. Yelled back at protesters instead of ignoring.

— Jenna Johnson (@wpjenna) August 17, 2015
"…I will not be intimidated just like I was not intimidated here or anywhere else." @ScottWalker #ISF2015
https://t.co/FXNqsmMmme

— CSPAN (@cspan) August 17, 2015
"There's a lot of people that talk tough. I'm the only one who stood up to 100,000 protesters" @ScottWalker #ISF2015
https://t.co/fnqdlaXXE4

— CSPAN (@cspan) August 17, 2015
Walker just confronted by Black lives matter protester, he didn't answer her

— Francesca Chambers (@fran_chambers) August 17, 2015
Scott, why do you hate teachers? Shouts a heckler at Walker as he greets fairgoers

— Francesca Chambers (@fran_chambers) August 17, 2015
Protest pics pic.twitter.com/ecjIm9Paml

— Francesca Chambers (@fran_chambers) August 17, 2015
Follow Kemberlee Kaye on Twitter @kemberleekaye