Posted by
William A. Jacobson
Thursday, July 2, 2015 at 3:13pm
| 7/2/2015 - 3:13pm
Two defeats for BDS after a victory at the United Church of Christ.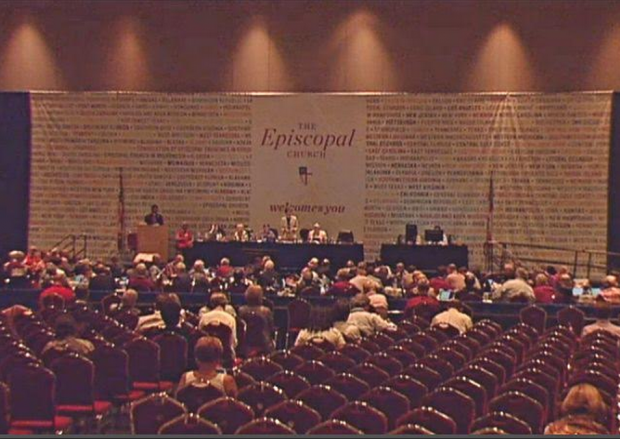 After the United Church of Christ passed an Israel divestment resolution on June 30, 2015, there was concern that the Boycott, Divestment and Sanctions movement might score three victories at church annual meetings this week.
But that did not happen. The Mennonite Church USA tabled the divestment resolution, and the Episcopal Church House of Bishops voted it down overwhelmingly on a voice vote (I listened, and there were almost zero people shouting "yes" and a loud chorus of "No").
AP reported on the Mennonite vote:
A leading Mennonite group has delayed a decision on divesting from companies with business tied to Israel's occupation of the Palestinian territories.

The Mennonite Church USA was set to vote this week on whether they should sell off stock in companies "known to be profiting from the occupation" and from "destruction of life and property" in the territories. A church spokeswoman said delegates at a national meeting in Kansas City, Missouri, voted 418-336 to table the resolution until their next assembly two years from now. Twenty-eight delegates abstained.
Just announced at @MennCon that this resolution has been tabled for 2 years #mennocon15 pic.twitter.com/lI1jt33hCc

— 3rd Way Collective (@3rdWayCo) July 2, 2015
speaking truth and calling it like it is @sauloapadilla #mennocon15 …it wasn't #OurKairosMoment

— CharissaZ (@zehrnandez) July 2, 2015
Here are tweets reflecting the Episcopal vote on this resolution (D016):
.@iamepiscopalian Church to consider resolution to "avoid profiting from occupation of Gaza and West Bank" #GC78 http://t.co/EHliIHgUOu

— Ron Skolnik (@Ron_Skolnik) July 1, 2015
D016 calling for a no buy list in the Holy Land is getting hammered by the House of Bishops. #gc78 #ifnotnowwhen

— EPF National (@EPFNational) July 2, 2015
@LegInsurrection @EpiscopalRI Yes, only one. Even CoE has divested from occupation, plus PCUSA, Methodists, UCC (this week, 80% vote). #GC78

— Sarah Lawton (@sarahelawton) July 2, 2015
HoB defeats D016, which asked church to "work earnestly & w/h haste to avoid profiting" from "illegal occupation" of Gaza, W Bank" #gc78

— HoD News (@DeputyNews) July 2, 2015
D016 fails in HoB. No divestment from Israel. #gc78

— Dan JoslynSiematoski (@danjoslynsiem) July 2, 2015
These defeats will be used against divestment resolutions at other churches, such as at the United Methodist Church which passed divestment from a single company that provides prison services worldwide (including in the U.S. and Israel) but has not had a church-wide divestment:
It's official: for #gc2016 to pursue anti- #Israel divestment would put #umc 2 Far Left of not only liberal Democrats but Episcopal Church

— John Lomperis (@JohnLomperis) July 2, 2015