Posted by
William A. Jacobson
Saturday, June 27, 2015 at 12:00pm
| 6/27/2015 - 12:00pm
A hint at what the post-SCOTUS SSM culture war looks like.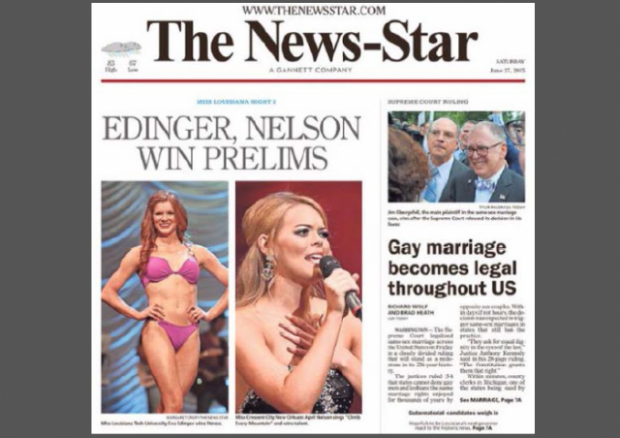 Today, The NY Times turned its entire front page above the fold to celebrating yesterday's Supreme Court decision on gay marriage: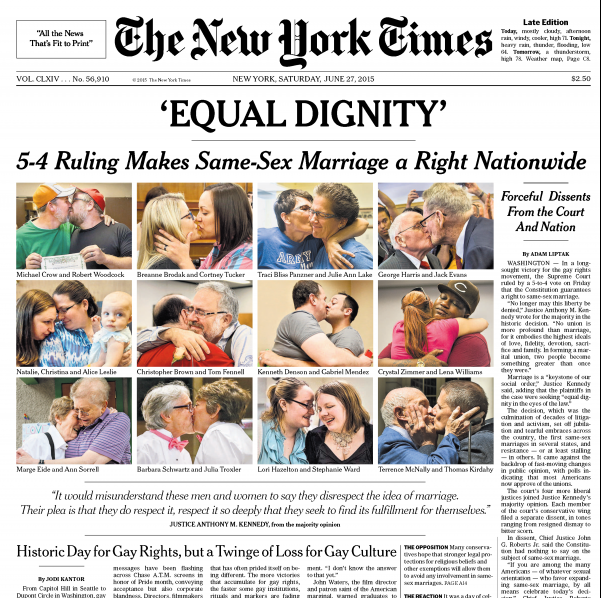 Many national and major regional papers did the same.
But is any diversity of news coverage permitted on such a huge cultural victory?
If you want to know what the future of the post-SCOTUS SSM culture war looks like, take a look at this tweet by former MSM exec. Betsy Fischer Martin (h/t @bryanjacoutot) complaining that a north Louisiana paper had a larger headline about a local pageant than the Supreme Court's gay marriage decision.
The Supreme Court decision was front page, above the fold, right hand side, double column, and was followed just below it with another report about the impact of the decision.
But that a local pageant story had more column space apparently was unacceptable:
In which the preliminary competition of Miss LA pageant gets the biggest headline in Monroe's @thenewsstar today #?? pic.twitter.com/jfAsnPjW7T

— Betsy Fischer Martin (@BFischerMartin) June 27, 2015
Seriously, how high must a newspaper jump in reporting this story?
(added)
Y'all are so full of yourselves, you're now witch hunting local newspapers to publicly shame? https://t.co/HW5XUw2hPV

— John Nolte (@NolteNC) June 27, 2015
How high must we all jump?
Bryan suggests what comes next, given the history of the debate: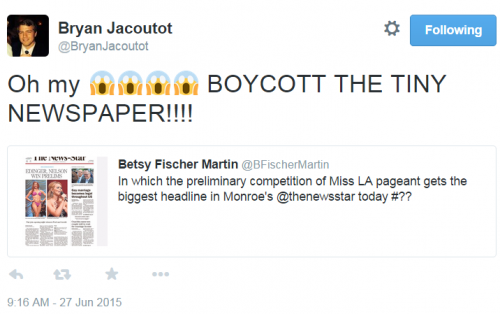 In post-SCOTUS SSM decision America, you will be made to care.