Posted by
William A. Jacobson
Wednesday, January 7, 2015 at 11:11am
| 1/7/2015 - 11:11am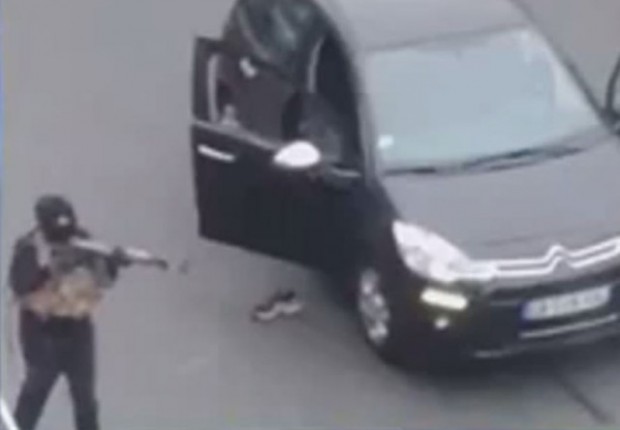 There was an attack on a French satirical publication, Charlie Hebdo, using automatic weapons and a rocket-propelled grenade, killing 12. The killers are at large as of this writing.
The NY Times reports:
Masked gunmen with automatic weapons opened fire in the offices of a French satirical newspaper on Wednesday in Paris, the police said, killing 12 people and then escaping in a car.

President François Hollande said the attack on the weekly, Charlie Hebdo, was "without a doubt" an act of terrorism and raised the nationwide terror alert to its highest status. He said that several terrorist attacks had been thwarted in recent weeks….

A senior French prosecutor said the victims included two police officers, including one assigned to guard the newspaper's offices and its top editor. The second officer was shot and killed as he lay on the ground, the police said….

[A] United States official noted that, according to social media reports, the attackers did refer to the Prophet Muhammad, saying he was "avenged."
(More video and Twitter updates later in post)
Charlie Hebdo had a long history of conflict with Islamists, as The National Post reports:
Charlie Hebdo first attracted the attention of Islamists in February 2006 when it reprinted 12 cartoons depicting the prophet Mohammed that had initially been published in the Danish newspaper Jyllands-Posten.

The Charlie Hebdo cover read "Mohamed overwhelmed by fundamentalists" and featured a cartoon of Mohamed covering his face and saying, "It's hard being loved by idiots."

That edition led to an unsuccessful lawsuit against the magazine by two French Muslim organizations under the country's anti-racism law.

In 2011, Charlie Hebdo's offices were destroyed in a firebombing after it announced a special "Charia Hebdo" edition with Mohammed as guest editor. The cover featured a cartoon of the prophet saying, "100 lashes if you don't die laughing."

In 2012, as violent protests flared around the world over a low-budget Internet film mocking Mohammed, Charlie Hebdo announced its intention to publish more images depicting the prophet. The French prime minister at the time issued a statement calling for "everyone to behave responsibly," but the editor of Charlie Hebdo, Stéphane Charbonnier, was adamant.

"We publish caricatures every week, but people only describe them as declarations of war when it's about the person of the prophet or radical Islam," Mr. Charbonnier told Der Spiegel. "When you start saying that you can't create such drawings, then the same thing will soon apply to other, more harmless representations."
LIVE VIDEO from Sky News:
Selected Tweets and updates to follow, you also can follow developments in the two Twitter feeds at the bottom of the post.
Meilleurs vœux, au fait. pic.twitter.com/a2JOhqJZJM

— Charlie Hebdo (@Charlie_Hebdo_) January 7, 2015
Mission accomplished! MT @Zoefffzoefff "The future must not belong to those who slander the prophet of Islam"-@BarackObama #CharlieHebdo

— Mark Steyn (@MarkSteynOnline) January 7, 2015
Can't sleep tonight, thoughts with my French cartooning colleagues, their families and loved ones #CharlieHebdo pic.twitter.com/LqIMRCHPgK

— David Pope (@davpope) January 7, 2015
American editorial cartoonists org. says newspapers should not avoid publishing #CharlieHebdo cartoons – statement pic.twitter.com/jP5E3Y9Bdd

— Brian Ries (@moneyries) January 7, 2015
Don't forget U.S. cartoonist Molly Norris is still in hiding over "Everyone Draw Muhammad Day": http://t.co/PpXAmfqAXz #CharlieHebdo

— Anthony Furey (@anthonyfurey) January 7, 2015
#CharlieHebdo editor: 'I'd prefer to die standing than live on my knees' http://t.co/rjHDygS4Ej pic.twitter.com/vLAM0auVCN

— Daily Mail Online (@MailOnline) January 7, 2015
Wow: @FinancialTimes editorial board calls Charlie Hebdo "stupid" for provoking Muslims >> http://t.co/18d70GZZ2S

— Dylan Byers (@DylanByers) January 7, 2015
In Fight Against Extremism and in Defense of Freedom of Expression; Today we too are #CharlieHebdo! #jesuischarlie pic.twitter.com/SJw26844e8

— Indians for Israel (@Indians4Israel) January 7, 2015
A cartoon defying the Paris terrorists http://t.co/ibkPITFnwi pic.twitter.com/RDmeXs3sCT

— Kemberlee Kaye (@KemberleeKaye) January 7, 2015
#CharlieHebdo attackers cried "Allahu akbar" and that they avenged the prophet, Prosecutor Francois Molins said http://t.co/zUfxcG3Rfs

— CNN Breaking News (@cnnbrk) January 7, 2015
Spanish cartoonists: "To arms, companions!" via @theturkishlife @sicevis #CharlieHebdo
pic.twitter.com/r22Atf94AP

— CRNI (@CRNetInt) January 7, 2015
PM on the #CharlieHebdo attack:On behalf of all Israelis,I extend condolences to @fhollande,the bereaved families & to the French people 1/2

— Ofir Gendelman (@ofirgendelman) January 7, 2015
PM Netanyahu to the French people: All of Israel stands with you on this difficult day 2/2 #CharlieHebdo

— Ofir Gendelman (@ofirgendelman) January 7, 2015
12 killed and 11 hurt in #CharlieHebdo shooting, prosecutor says. Gallery of victims: http://t.co/7gphuQgncL pic.twitter.com/IsX2rAMCBA

— CNN Breaking News (@cnnbrk) January 7, 2015
Charlie Hebdo. Nooit opzij. pic.twitter.com/MJwGKPQ8jU

— Joep Bertrams (@joepbertrams) January 7, 2015
Well done Berliner Zeitung. Germany shows some balls. Every newspaper should have gone with this. We're not afraid. pic.twitter.com/FMfyeyIXm7

— Mark Sparrow (@MarkGSparrow) January 7, 2015
——————————-