Posted by
Amy Miller
Tuesday, January 20, 2015 at 3:06pm
| 1/20/2015 - 3:06pm
The hospital urged them to "get out, get out"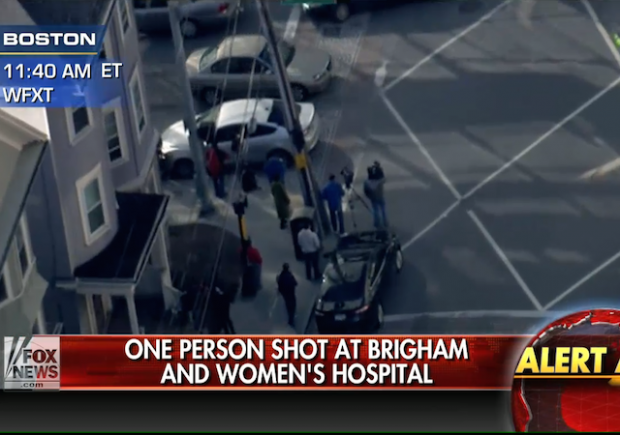 This morning, a lone shooter walked into Brigham and Women's Hospital in Boston and shot a doctor before turning the gun on himself.
Fox News reports:
"[The shooter] came into the hospital asking for this particular doctor," Boston Police Commissioner William Evans said. "We don't know why. That's something we're looking into."

The Boston Globe reported that the hospital was under a Code Black, which means no additional patients were being accepted.

The scene was chaotic, according to one witness. The hospital made an announcement about a situation, without going into details, and told visitors to evacuate. The witness told MyFoxBoston that a few minutes later, the hospital urged them to "get out, get out."

"We knew it wasn't good," he said.

Another witness told The Globe that the hospital made an announcement that there was a life-threatening emergency and individuals should go into a room and lock the doors.
The victim, a prominent surgeon, was shot twice and remains in the hospital in critical condition.
Local authorities took to social media to keep the public updated in real time:
#BPDCommunityAlert: BPD confirming one person shot inside Brigham & Women's Hospital. Suspect has been located & in custody.

— Boston Police Dept. (@bostonpolice) January 20, 2015
#BPDCommunityAlert: BPD confirming 1 person shot at BWH. Injuries life threatening.Suspect in custody.Gun recovered.Situation under control.

— Boston Police Dept. (@bostonpolice) January 20, 2015
The situation at BWH is under control. Boston Police have assured us that the hospital is safe.

— Brigham and Women's (@BrighamWomens) January 20, 2015
We'll keep you updated on the situation, and the shooter's motive.