Posted by
William A. Jacobson
Wednesday, December 24, 2014 at 7:00pm
| 12/24/2014 - 7:00pm
Christmas Eve in the Ardennes.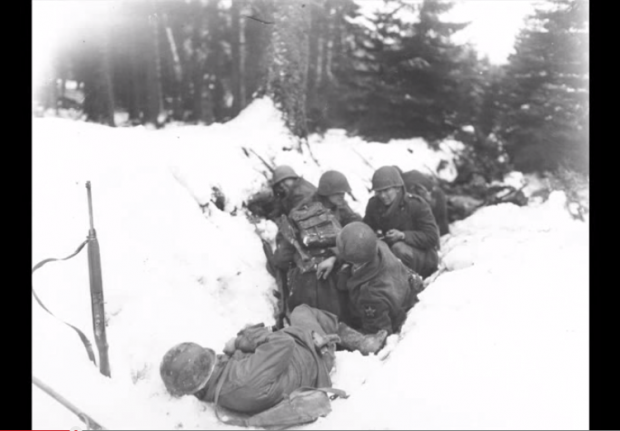 The Battle of the Bulge was a turning point in World War II, when American troops turned back the final Nazi counter-offensive on the Western front. Over 100,000 Americans would be killed or wounded before it was over.
The battle lasted for weeks, but came to a head over Christmas, 1944, 70 years ago.
Christopher Miskimon at Warfare History Network has this account of one Christmas Eve battle.
A Christmas Eve Tank Battle During the Battle of the Bulge: A few American tank crews held off attacking SS troops in a costly fight during the Battle of the Bulge.

The German Ardennes Offensive was in full swing during Christmas 1944. The 2nd SS Panzer Division was pressing its assault around the Belgian town of Manhay. Opposing them were the soldiers of the US 3rd Armored Division. The unit had sent Task Force Kane, a mixed force comprising Stuart and Sherman tanks along with artillery and engineer support, reinforced by paratroopers of the 82nd Airborne. This group took positions in the villages of Lamormenil and Freynaux. They spent December 23rd beating off attacks by German Volksgrenadiers. By the next day, the east side of Freynaux was protected by three Shermans and a pair of Stuart tanks along with 45 dug-in reconnaissance troops from the 83rd Recon Battalion. They sat on the west side of a stream meandering east of the village….

The short duel ended with a German retreat. Four Panthers and one Sherman littered the battlefield. While the Sherman was generally considered inferior to the Panther, the GIs had held through good tactics and solid defensive positions. Though it was not the last attack of the day, at dusk the Americans still held Freynaux. They stood up to the best the Nazis could throw at them; their duel on Christmas Eve was one step toward throwing the enemy back.
On Christmas Eve, General Anthony McAuliffe sent a message to his soldiers, including news of the refusal of American troops to surrender in the surrounded town of Bastogne, better known as "NUTS!":
Gen. McAuliffe's Christmas message to his soldiers, Battle of the Bulge, 70 years ago this week: pic.twitter.com/8q8wrnqSiI

— Michael Beschloss (@BeschlossDC) December 22, 2014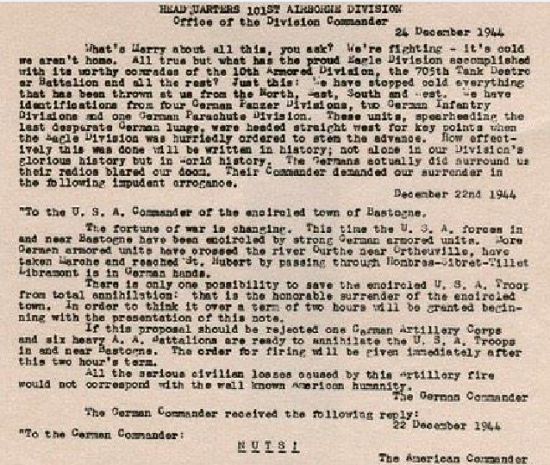 Troops in Bastogne would received relief the day after Christmas 1944.
Military Museum commemorates Battle of the Bulge 70th anniversary with veterans – http://t.co/rnzcvMoCLm pic.twitter.com/uODpCyL4VA

— War History Online (@WarHistoryOL) December 24, 2014
Here's a pic of my grandfather a few months before The Battle of The Bulge: October '44 in Paris. pic.twitter.com/Ps7CRcR8fH

— StevenBayShore (@StevenBayShore) December 24, 2014
Battle of the Bulge Survivor Dies Before The 70th Anniversary Of America's Great Win – http://t.co/TBQQd2XQLS pic.twitter.com/TzMd5w7Rpn

— All The News (@AllTheNewscom) December 24, 2014
70th Annvsry: Battle of the Bulge: Lrgst battle evr fought by U.S. Army: http://t.co/JfOzc4XiPX. #history #USArmy pic.twitter.com/sJ22782Rf8

— R. E. Wilhelm III (@dutchmn007) December 23, 2014