Posted by
William A. Jacobson
Monday, November 24, 2014 at 2:25pm
| 11/24/2014 - 2:25pm
The decision has been made: NO INDICTMENT.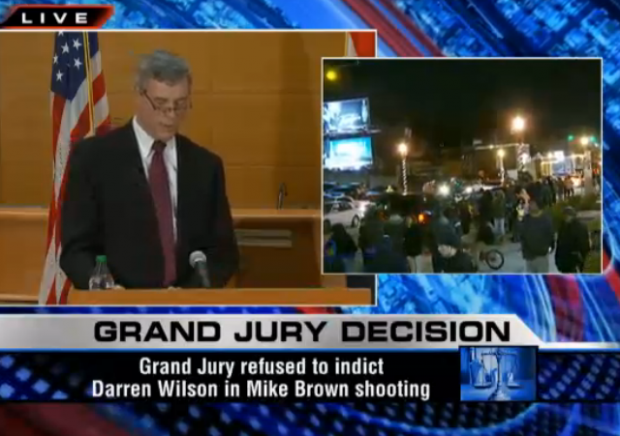 Today may be the day you and the rioters have been waiting for.
The Grand Jury reportedly has reached a decision whether to indict Officer Darren Wilson in the killing of Michael Brown.
But the decision has not yet been announced yet. That is expected to come sometime today.
You can follow the Twitter stream at the bottom of the post. We will embed a live video feed when available.
The announcement could come at any time.
Our custom Twitter Feed:
Tweets from https://twitter.com/LegInsurrection/lists/ferguson

#Ferguson Hashtag Twitter Feed
***UPDATES***
LIVE FEED:


Broadcast live streaming video on Ustream
We're still waiting, but police and activists are on the ready:
St. Louis County police officers stand guard outside of #Ferguson PD ahead of grand jury decision – @HuffPostPol pic.twitter.com/fNT84g1Y17

— NewsBreaker (@NewsBreaker) November 25, 2014
#MikeBrown #Ferguson action in NYC has already took the streets, nypd is trying to get everyone on the sidewalk pic.twitter.com/KkyPhtgt7S

— Luke Rudkowski (@Lukewearechange) November 25, 2014
We've had the "no indictment leak," and Twitter has officially broken the internet. We also have an alternate live feed you can check out for the latest updates:



Broadcast live streaming video on Ustream
Prosecutor McCulloch is reading his statement.
"The most significant challenge of this has been the 24-hour news cycle," Prosecutor McCulloch says.

— Matt Viser (@mviser) November 25, 2014
#Ferguson crowd is quiet as a pin drop. Prosecutor's voice heard over a loud radio: https://t.co/mGNVtLKURZ

— Micah Grimes (@MicahGrimes) November 25, 2014
McCulloch would've made this night so much easier if he had simply delivered the verdict and the documents

— Ezra Klein (@ezraklein) November 25, 2014
NO INDICTMENT.
"No probable cause exists to file against Darren Wilson," McCulloch says.

— Matt Viser (@mviser) November 25, 2014
#Ferguson Some eyewitness testimony was completely refuted by the physical evidence pic.twitter.com/xfklt0ZBFS @WayneDupreeShow @FTR__Radio

— We Are America Radio (@WAAR_Media) November 25, 2014
The grand jury spent over 70 hours over 25 days and interviewed 60 witnesses before coming to a decision after 2 days of deliberations

— Adam Housley (@adamhousley) November 25, 2014
#Ferguson police officer won't face charges in Michael Brown killing, grand jury decides http://t.co/6NxGLgSc7I pic.twitter.com/9xpkfFIr4D

— Wall Street Journal (@WSJ) November 25, 2014
MORE #Ferguson: "Many witnesses took back their original statements, and admitted they didn't see the shooting." -McCullough: #NewsPoint

— Nicole Pence (@NicolePence) November 25, 2014
The Brown Family released a statement:
Brown family statement #FergusonDecision pic.twitter.com/w9YqVRCVE7

— Mike Hayes (@michaelhayes) November 25, 2014
#Ferguson crowd reacts to news of NO INDICTMENT http://t.co/EDYw9CtbIL pic.twitter.com/OZEZVLLawk

— Legal Insurrection (@LegInsurrection) November 25, 2014
Looting store where Michael Brown stole cigars #Ferguson http://t.co/Hw3EccWRcP pic.twitter.com/r9B44wx941

— Legal Insurrection (@LegInsurrection) November 25, 2014
Typo corrected: Seasons Greetings from #Ferguson pic.twitter.com/kMHGZmkY6Y

— Legal Insurrection (@LegInsurrection) November 25, 2014