Posted by
William A. Jacobson
Monday, October 13, 2014 at 6:07pm
| 10/13/2014 - 6:07pm
House Majority PAC to spend about one-tenth of the amount pulled by the DCCC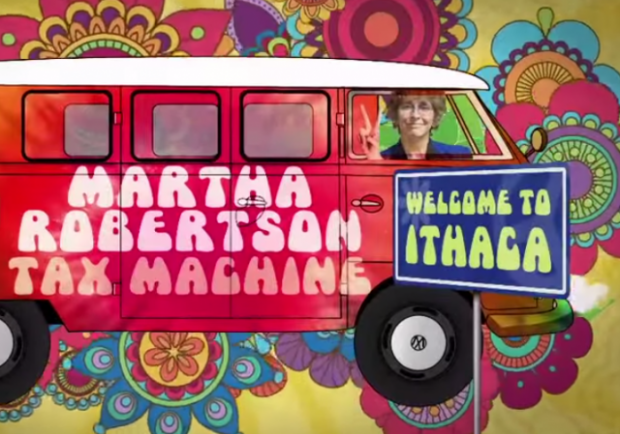 Martha Robertson, once one of the brightest lights in the Democratic theater, long ago lost her shine as a candidate challenging Republican Tom Reed.
The Democratic Congressional Campaign Committee had reserved $465,000 of airtime for the last two weeks of the election, in the hope that Robertson would be competitive.
She's not competitive, having run one of the worst campaigns in the country, and the DCCC pulled the reservation.
But not to worry, Robertson is getting help from the House Majority PAC, to the tune of $49,138, about 1/10th the planned DCCC ad buy. Actually, it's not even new money, just money not being pulled.
Via New York State of Politics:
The DCCC may have abandoned Democratic Tompkins County Legislator Martha Robertson in her quest to unseat Republican Rep. Tom Reed next month, but she isn't completely going it alone.

The House Majority PAC just announced it is releasing new TV ads in 10 congressional districts across the country – including NY-23, where the House Democrats' political arm, led by Long Island Rep. Steve Israel, recently cancelled two weeks worth of reserved air time so it could rededicate resources to protect incumbent Democratic Rep. Sean Patrick Maloney, who is in a tight re-election battle with his 2012 opponent, former GOP Rep. Nan Hayworth, in NY-18.

The ad, which appears below, is airing in the Elmira market only starting tomorrow. And the buy isn't terribly large – $49,138 – although that goes a lot further in the Southern Tier than, say, the NYC media market….

A GOP source insisted that these buys are not new and have been reserved for some time now. But considering the fact that money is being shifted around all over the place, it's a safe bet these candidates consider it a win to have managed to hold on to their planned time slots.
At this point in Robertson's campaign, a little bit of help is about the only good news.
Tom Reed's effort to portray Robertson as an "extreme Ithaca liberal" has had a great effect, as Daily Kos notes:
NY-23: Republican Rep. Tom Reed continues to hit Democrat Martha Robertson as an "extreme Ithaca liberal," while the National Association of Realtors spends $334,000 on his behalf.
The "extreme Ithaca liberal" tag may alienate extreme Ithaca liberals, but they weren't going to vote for Reed anyway, The Ithaca Journal notes:
With a flower power backdrop and soundtrack of bubbling noises, a puff of smoke billows from the cab of Martha Robertson's fictional Volkswagen bus.

That's the scene illustrated in one of Tom Reed's "extreme Ithaca liberal" ads, attacking Tompkins County Legislator Martha Robertson, D-Dryden, and the city she lives near.

Reed, R-Corning, is defending his 23rd Congressional District seat in the Nov. 4 general election.

The ads brand Robertson a "far out Ithaca politician" looking to bring her "extreme Ithaca liberal agenda" to Washington.

"It is unusual to attack a portion of your own district," Ithaca College Politics Professor Donald Beachler said. It's more typical to brand a candidate a "San Francisco" or "Pelosi" liberal, he added.

"I think Reed's not worried about alienating Tompkins County because he knows he won't get very many votes in Ithaca anyway," Beachler said. "The idea is to build up his vote in the rest of the district."