Posted by
William A. Jacobson
Wednesday, August 13, 2014 at 1:04pm
| 8/13/2014 - 1:04pm
Latest: Rocket fire from Gaza followed by reports of extension of truce by another 5 days, but situation unclear as of 5:40 p.m. Eastern.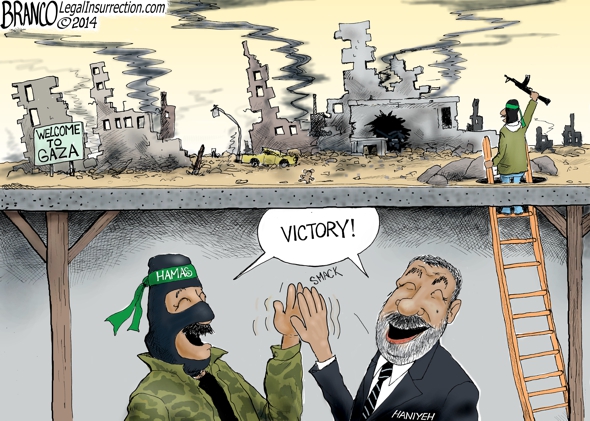 The current 72-hour Gaza truce expires at 5 p.m. Eastern today.
There are completely mixed signals being reported as to whether there is progress on a longer-term ceasefire, and if not, whether Hamas will attack again when the current truce expires.
We will update as events clarify, and you can follow at the live video and Twitter feeds at the bottom of the post.
Following rocket attacks at Israel, the #IDF is targeting terror sites across #Gaza

— Peter Lerner (@LTCPeterLerner) August 13, 2014
Netanyahu and Ya'alon have instructed the IDF to respond in light of the renewed rocket fire (Isr. Ch. 2 News)

— CiF Watch (@CiFWatch) August 13, 2014
Palestinian delegation in Cairo now officially confirming agreement to extend the #Gaza ceasefire by 5 days (until Monday night)

— Anshel Pfeffer (@AnshelPfeffer) August 13, 2014
For the second time this evening, #CodeRed alarms sounding, indicating #Gaza rocket attack at #Israel

— Peter Lerner (@LTCPeterLerner) August 13, 2014
In phone call with Netanyahu, Obama "reaffirmed the United States' support for Egypt's mediation efforts", White House says

— Chemi Shalev (@ChemiShalev) August 13, 2014
Cairo talks failed; Gaza ceasefire collapses. Great danger of serious escalation on the ground

— Barak Ravid (@BarakRavid) August 13, 2014
Confirmed #Gaza terrorists launched rocket at #Israel 2 hours before end of ceasefire. No injuries reported.

— Peter Lerner (@LTCPeterLerner) August 13, 2014
#BREAKING: Rocket from #Gaza hits open area in the Hof Ashkelon Regional Council #Israel. http://t.co/oxh10zdCyD

— Ynetnews (@ynetnews) August 13, 2014
Israel mobilizing its forces near #GAZA border as Hamas promises that it will break the ceasefire at midnight tonight.

— ASoldiersMother (@ASoldiersMother) August 13, 2014
#BreakingNews White House: Obama, Netanyahu talk Gaza ceasefire in phone call http://t.co/Fa9vYoEyCH

— Israel News (@IsraelNewsNow) August 13, 2014
Hamas media reporting that secretive Qassam brigades chief Mohammed Deif to make a statement in the coming hours. #Gaza

— Daniel Nisman (@DannyNis) August 13, 2014
———————-
i24 News live http://t.co/u5Ava7XvMl

— Legal Insurrection (@LegInsurrection) July 17, 2014

Broadcast live streaming video on Ustream Tweets from https://twitter.com/LegInsurrection/lists/gaza-2014