Posted by
Mandy Nagy
Friday, July 18, 2014 at 5:52pm
| 7/18/2014 - 5:52pm
Lawyer: "In much the same way, the press unjustly harassed and hounded Olympic bombing hero Richard Jewell when he didn't behave as some thought he should."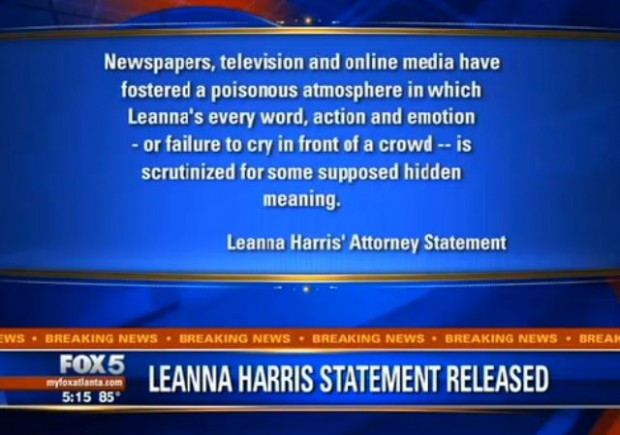 The mother of the toddler who died last month after being left in a hot car by his father says she is mourning the death of her child and asks that she be allowed to grieve privately, away from the eye of reporters.
A statement earlier this week from the attorney representing Leanna Harris said the mother of 22-month old Cooper Harris "is living every parent's nightmare," and also criticized the media for fostering a "poisonous atmosphere in which Leanna's every word, action and emotion – or failure to cry in front of a crowd — is scrutinized for some supposed hidden meaning."
Harris hired Cobb County, Georgia defense attorney Lawrence Zimmerman last week, though she has not been charged in the case and has not been named as a suspect.
Zimmerman compared Leanna Harris' situation to that of Richard Jewell, the man who was working as a temporary security guard during the 1996 Centennial Olympic Park bombing and was wrongly implicated as a suspect then later cleared. It was Jewell who had spotted the bag that contained the bomb, then moved visitors away from the area and alerted authorities. But Jewell had become the subject of intense media focus throughout the ordeal.
The Atlanta Journal Constitution reported on Thursday that Harris and her attorney have also asked to meet with Lin Wood, the attorney who represented Jewell in his subsequent libel cases against several media outlets.
Leanna Harris has herself become the focus of media reports after police had drawn attention to some of her statements and behavior in the case.
From CNN:
Leanna Harris is not a suspect, although police have alleged she behaved strangely in the days before and moments after the death of her boy.

For example, Ross and Leanna Harris took turns dropping off and picking up their son at day care, and on the day Cooper died, Leanna arrived and was told that Cooper hadn't been dropped off that morning.

"Ross must have left him in the car," she allegedly told day-care employees.

The day-care workers told police they tried to tell her that there could be a multitude of reasons that Cooper wasn't dropped off, but she insisted that Ross left him in the vehicle, Cobb County police Detective Phil Stoddard testified at a hearing for Ross Harris.

He also said that Leanna Harris made an odd remark to her husband while the two were in an interview room after Ross Harris' arrest.

"She asked him — she had him sit down, and he starts going through this. And she looks at him, and she's like, 'Well, did you say too much?' " the detective testified.
Leanna Harris' husband, Justin Ross Harris, has pleaded not guilty to murder and child cruelty charges.
The statement from her attorney reflects the first public remarks from Leanna Harris since she spoke at the funeral for her son late last month. The full statement is below, via MyFOXAtlanta:
Leanna Harris is living every parent's nightmare – the child she bore and loved every moment of his life has died. For most parents, it is difficult, if not impossible, to comprehend such a thing. But for Leanna, that nightmare is all too real. She will never again be able to tuck him into bed at night and return later to check on him.

She mourns Cooper's death deeply, in her own private way. She takes comfort from a strong faith in God, but the loss is still overwhelming. Getting through each day seems almost impossible.

Dealing with her grief has become more difficult as the days go on, however, in large part because of the constant speculation and innuendo in the media. Newspapers, television and online media have fostered a poisonous atmosphere in which Leanna's every word, action and emotion – or failure to cry in front of a crowd — is scrutinized for some supposed hidden meaning. In much the same way, the press unjustly harassed and hounded Olympic bombing hero Richard Jewell when he didn't behave as some thought he should.

Reporters have delved into Leanna's upbringing, her employment, quizzed people for information about her marriage, and her sex life. The constant attention has prevented her from returning to work.

For Leanna, Cooper's death has been devastating. She asks that she be allowed to grieve in private without reporters calling, following or watching her home. Since his death, she has been unable to have that time of mourning that every bereaved parent needs. Please allow her the dignity to mourn her son in private.
Video report below from MyFOXAtlanta.
Atlanta News, Weather, Traffic, and Sports | FOX 5
[Featured image: MyFOXAtlanta video, 7/15]