Posted by
William A. Jacobson
Friday, July 25, 2014 at 9:53am
| 7/25/2014 - 9:53am
Updates: Conflicting reports as to whether a formal ceasefire offer even was made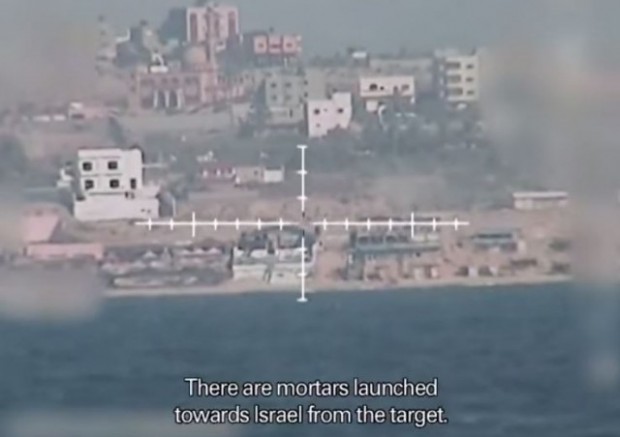 John Kerry has proposed a seven-day truce, during which time there would be negotiations over a longer-term ceasefire.
Hamas reportedly is going to accept the proposal, but that's far from official.
The Israeli cabinet is discussing the proposal as we speak. Concerns are that Hamas, having rejected a ceasefire early on and finally beginning to crumble, will simply use the truce to redeploy and recover.
Israeli media reporting that Hamas is staring to break. Rocket fire down 50%. Gaza neighborhoods captured. Hamas members surrendering.

— Gidon Shaviv (@GidonShaviv) July 24, 2014
We will update when more is known, but you can follow the events in the live video and Twitter feeds at the bottom of the post.
A ceasefire that allows Hamas to rearm and reload likely will be unacceptable to Israel in light of the discovery that Hamas had planned a massive Rosh Hashonah attack through the tunnels that are being destroyed:
Israel's Prime Minster Benjamin Netanyahu revealed on Thursday that Hamas was intending to attack Israel from dozens of tunnels in a coordinated simultaneous attack. At the beginning of Thursday's special cabinet meeting the prime minister said, "These tunnels enable the enemy to open a multi-pronged offensive and carry out a massive terror attack inside Israel."

According to security officials cited by Israeli daily Ma'ariv, the political echelon needs to give the military more time to eliminate the tunnels since "we are now not even halfway through." The attack Hamas was planning, the officials say, "would have made Israel drop to its knees." They added that even the tunnels destroyed until now takes away from Hamas a strategic asset the terror group has been working on for years..
IDF officers estimate that the job of destroying all the tunnel infrastructure will take another ten days to two weeks to complete:
And it's neither a simple mission, nor a short one. If anyone in the political echelon wants to reach a ceasefire under any condition, they should go ahead and do that. It's legitimate. But let us make no mistake: The tunnel threat cannot be removed any time soon.

This view is shared by senior IDF officers. The army opposes a ceasefire without accomplishing the basic mission it has been tasked with: Thwarting the threat of Gaza's offensive tunnels.

And just like Prime Minister Benjamin Netanyahu and Defense Minister Moshe Ya'alon will find it difficult to look the Gaza vicinity residents in the eyes if the threat is not removed, IDF Chief of Staff Benny Gantz will find it difficult to look into the eyes of the commanders and bereaved families of soldiers sent on an unaccomplished mission.
Sergeant Major Bayhesain Kshaun, killed July 21st by an anti-tank missile fired in Gaza, May his memory be blessed pic.twitter.com/RcZL3WvYfj

— Adam Milstein (@AdamMilstein) July 25, 2014
The Israel soldier Hamas claimed to have "captured" has officially been declared dead by Israel:
We can confirm that Staff Sgt. Oron Shaul, 21, was one of 7 soldiers killed in the explosion of an APC on July 20 in Gaza.

— IDF (@IDFSpokesperson) July 25, 2014
IDF Chief Rabbi ruled today that there is sufficient evidence that missing soldier Oron Shaul was killed in Shujaiyeh on Saturday night

— Anshel Pfeffer (@AnshelPfeffer) July 25, 2014
UPDATES:
Channel's 10 @RavivDrucker cites Israeli sources claiming Hamas' Khaled Mashaal has rejected Kerry's cease fire

— Chemi Shalev (@ChemiShalev) July 25, 2014
Channel 2 @usegal confirms: Israeli cabinet rejects Kerry's proposal UNANIMOUSLY. (But seeking improvements, including tunnel issue)

— Chemi Shalev (@ChemiShalev) July 25, 2014
Emerging current narrative is Kerry's offer DID NOT include continued IDF operations against tunnels, and that's what killed it (for now)

— Chemi Shalev (@ChemiShalev) July 25, 2014
Ch10 reporting #Israel viewed @JohmKerry's cease fire plan as "a Qatari proposal with ornaments." Qatar is one of #Hamas main backers.

— Arsen Ostrovsky (@Ostrov_A) July 25, 2014
Channel 10's @MoavVardi cites participants in cabinet: "Kerry's offer seemed like Hamas offer"; no prospects of amending for the better

— Chemi Shalev (@ChemiShalev) July 25, 2014
Egyptian Foreign Minister Shukri stated that both Israel and Hamas did not accept the Kerry ceasefire proposal.

— CiF Watch (@CiFWatch) July 25, 2014
!!??RT @markknoller: Kerrry says Netanyahu tells him reports that Cabinet rejected ceasefire are "not true" & will issue statement on that.

— Chemi Shalev (@ChemiShalev) July 25, 2014
Kerrry says Netanyahu tells him reports that Israeli Cabinet rejected a ceasefire plan are "not true" & will issue statement on that.

— Mark Knoller (@markknoller) July 25, 2014
Kerry denying a ceasefire deal was offered to Israel. Says Israel had nothing reject. "There was no formal proposal submitted to israel."

— Patrick Kingsley (@PatrickKingsley) July 25, 2014
—————————————-
i24 News live http://t.co/u5Ava7XvMl

— Legal Insurrection (@LegInsurrection) July 17, 2014

Broadcast live streaming video on Ustream Tweets from https://twitter.com/LegInsurrection/lists/gaza-2014