Posted by
William A. Jacobson
Monday, April 14, 2014 at 3:50pm
| 4/14/2014 - 3:50pm
Ran his activist law practice off-the-books, including large cash transactions.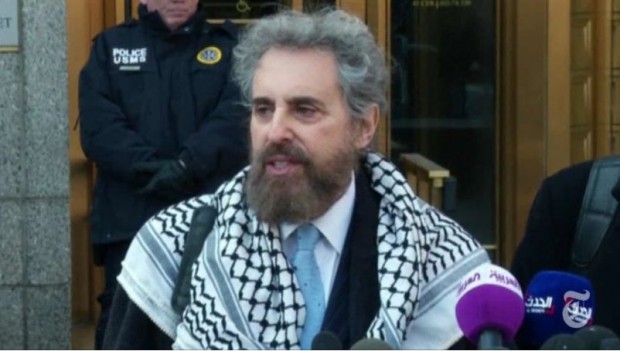 Stanley Cohen is an activist lawyer most identified with Hamas and other anti-Israeli causes and groups.
Late last month The Jewish Daily Forward had an extensive article about Cohen's political journey to anti-Zionism, including representation of Hamas and Osama bin Laden's son-in-law, who was convicted last month. It appears from the timing that Cohen's plea deal was timed to allow him to finish the al-Qaeda trial:
Cohen was indicted in August 2012 in the Northern District of New York on a variety of tax-related charges.  The Indictment is embedded at the bottom of this post, but the gist of the claims is that he ran his law practice off the books, including receiving and paying for services in cash without reporting, and failing to make tax filings and reporting for many years.
When indicted, Cohen was defiant, claiming it was a political prosecution:
…. I am an advocate for many people the government would like to silence or put in jail: Palestinian freedom fighters, Muslim preachers, North American natives living on Indian reservations, marijuana dealers, anti-war protestors, radical squatters, the homeless, "hacktivists", anti-Zionists and everyone in between. I live my ideology in the job I do, and I try to be aggressive in vindicating the rights of clients. I have challenged the state at every opportunity. I'll keep doing this in the Lower East Side, in Washington, DC, in the International Criminal Court in the Hague, in Israel and in the West Bank and Gaza. It is my passion….
Yesterday Cohen released a statement via Twitter to supporters that he would be pleading guilty today.   Once again, Cohen maintained the prosecution was political.  The statement reads in part:
Tomorrow will be a difficult day, but a necessary one for a number of reasons. As many of you know I am currently under indictment in two seperate US federal district courts for essentially the same allegation- impeding or obstructing the IRS. It is not a case, as some have stated, of income tax evasion. Although the government denies it, we know that the investigation began more than 10 years ago when the DOJ began to investigate and tried to charge me with material support for terrorism as a result of my work as an attorney and international law advisor for a number of so-called terrorist groups- most prominently Hamas, who I have had the great honor and privilege of working with as an attorney since 1995; it continues through this day….

Make no mistake about it, this plea will not change my commitment to truth, justice and resistance. Nor should it be seen as acquiesence to the naive and liberal notion that this government and others and their respective criminal justice systems work or are just. The fight will go on but in different ways. I would expect to spend much of my time in prison working with and assisting the unjustly accused and those prosecuted becasue of color, class or politics….
Today Cohen pleaded guilty. Here is the plea agreement, to be followed by a similar plea to other charges pending in the Southern District of New York. Sentencing is in August. In his statement, Cohen indicated he expects to do 1-3 years in prison.
While Cohen claims the prosecution was political, the factual predicate laid out in the Plea Agreement shows a sweeping disregard of the most basic tax law over a decade:
Beginning in at least 2003 and continuing through 2010, in the Northern District of New York and elsewhere, the defendant, STANLEY L. COHEN, corruptly obstructed and impeded, and endeavored to obstruct and impede, the due administration of federal internal revenue laws contained in Title 26 of the United States Code by, among other things:
a. failing to file individual and corporate income tax returns with the Internal Revenue Service, as required by law, for tax years 2005, 2006, 2007, 2008, 2009, and 2010;
b. failing to file, and causing his law practice to not file, a Form 8300 with the Internal Revenue Service, as required by law when he or the law practice received more than $10,000 in currency in one transaction or two or more related transactions in the course of his trade or business;
c. failing to maintain books and records documenting financial information concerning the operation of Cohen's law practice (both before and after it became an LLC), including gross receipts, income, and expenses;
d. failing to provide books, receipts, and records to his tax preparer for his law practice (both before and after it became an LLC):
e. failing to file a Form 1099 or W-2 with the Internal Revenue Service documenting compensation paid to an individual who performed services for the defendant and his law practice business during tax years 2004, 2005, 2006, 2007, 2008, 2009, and 2010;
f. keeping significant amounts of cash in a safe and a safe deposit box;
g. failiag to maintain bank accounts for law practice (both before and
after it became an LLC);
h. making regular deposits of cash into personal financial accounts, often in amounts less than $10,000, thereby avoiding the filing of Currency Transaction Reports with the Internal Revenue Service;
i. instructing an individual to receive cash owed to him or the law practice and then conduct wire transfers with some of that cash in Cohen's name and on his behalf in amounts under $10,000;
J. paying for expenses of the law practice with cash;
k. receiving non-monetary payment in exchange for legal services, and not maintaining business records of such payments and not reporting such payments
as gross receipts or income; and
l. soliciting and receiving cash payments from clients and others acting on behalf of
clients for legal services;
Stanley Cohen Plea Agreement NDNY (1)