Posted by
Mandy Nagy
Monday, March 3, 2014 at 3:24pm
| 3/3/2014 - 3:24pm
How does warm press conference mesh with Obama's warnings yesterday?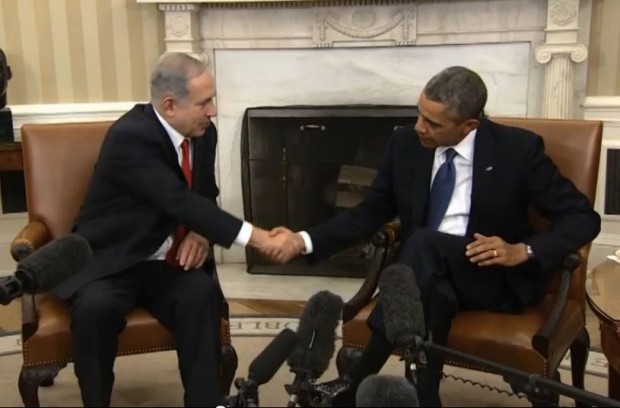 President Obama has been meeting with Israeli Prime Minister Benjamin Netanyahu today.
From the Washington Post:
Seeking to salvage an elusive Middle East peace plan, President Barack Obama pressed Israeli Prime Minister Benjamin Netanyahu Monday to make the "tough decisions" needed to move forward on talks with the Palestinians.But facing a U.S.-imposed April deadline, the Israeli leader declared pessimistically that, "Israel has been doing its part and, I regret to say, the Palestinians have not."

Obama and Netanyahu spoke before an Oval Office meeting on a snowy Monday in Washington. The meeting marked a more direct foray by Obama into the peace negotiations, which he has so far largely ceded to Secretary of State John Kerry.
Barak Ravid, a correspondent with Haaretz Newspaper, posted tweets from the event – a handful are included below.  (Video added — Transcript here)
Obama: the timeframe for talks is coming to its end and tough decision will have to be made

— Barak Ravid (@BarakRavid) March 3, 2014
Netanyahu: we must prevent Iran from achieving nuclear weapons capacity

— Barak Ravid (@BarakRavid) March 3, 2014
Netanyahu: Israel can't permit Iran to get nuclear weapons. I will do whatever I must do to defend Israel

— Barak Ravid (@BarakRavid) March 3, 2014
Netanyahu: 20 years of peace process were mark by many Israeli steps for peace but we got suicide bombers and rockets in return

— Barak Ravid (@BarakRavid) March 3, 2014
Netanyahu: its about time the Palestinians recognize Israel as a Jewish state. We have only been here for 4000 years

— Barak Ravid (@BarakRavid) March 3, 2014
Netanyahu: we are grateful for US support pic.twitter.com/IuNQZyxISS

— Barak Ravid (@BarakRavid) March 3, 2014
Obama: we don't have a closer friend and ally than Israel pic.twitter.com/ww3zzMxE1Y

— Barak Ravid (@BarakRavid) March 3, 2014