Posted by
William A. Jacobson
Tuesday, January 14, 2014 at 11:58am
| 1/14/2014 - 11:58am
"U.S. officials said Sunday that Iran would be allowed to continue existing research and development projects"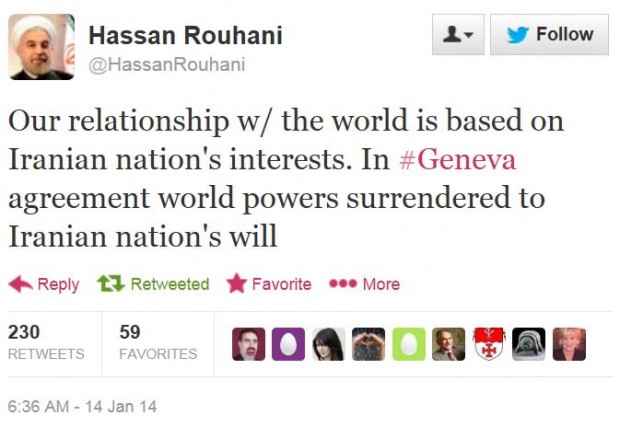 The new "moderate" President of Iran has declared victory and international surrender (featured image above).
But what are the terms of our surrender?
According to Iran, we don't really know; according to the State Deparment, we will find out. Via L.A. Times, New Iran agreement includes secret side deal, Tehran official says :
Key elements of a new nuclear agreement between Iran and six world powers are contained in an informal, 30-page text not yet publicly acknowledged by Western officials, Iran's chief negotiator said Monday….

A State Department spokeswoman, Marie Harf, denied later Monday that there was any secret agreement.

"Any documentation associated with implementation tracks completely with what we've described," she said. "These are technical plans submitted to the International Atomic Energy Agency," the United Nations' nuclear watchdog agency.

"We will make information available to Congress and the public as it becomes available," Harf said.
Remember last fall when the Obama administration insisted it had not consented to Iran's right to enrich uranium, even though Rouhani was claiming we had consented? Q&A: Is there a 'right' to enrich uranium? Iran says yes, U.S. no
How's that looking now? Again from the L.A. Times article:
U.S. officials said Sunday that Iran would be allowed to continue existing research and development projects and with pencil-and-paper design work, but not to advance research with new projects. Araqchi, however, implied that the program would have wide latitude.

"No facility will be closed; enrichment will continue, and qualitative and nuclear research will be expanded," he said. "All research into a new generation of centrifuges will continue."

The research and development issue has been an important one for many U.S. lawmakers, who fear that Iran will try to forge ahead with its nuclear program while the negotiations are underway. At an administration briefing for senators Monday, members of both parties raised concerns about the centrifuge research issue, aides said.
Who has more credibility now?
"We will in no way, never, dismantle our centrifuges, Iran dep FM tells state TV.

— Thomas Erdbrink (@ThomasErdbrink) January 12, 2014
"Iranians endured sanctions for 10 years, resisted, so the world would respect our right to enrichment, this is now the case," Iran dep FM

— Thomas Erdbrink (@ThomasErdbrink) January 12, 2014
Iran dep FM Araghchi tells state TV nuclear rollbacks are temporary: "we can return to the previous situation within a day."

— Thomas Erdbrink (@ThomasErdbrink) January 12, 2014