Posted by
Leslie Eastman
Thursday, December 26, 2013 at 7:30am
| 12/26/2013 - 7:30am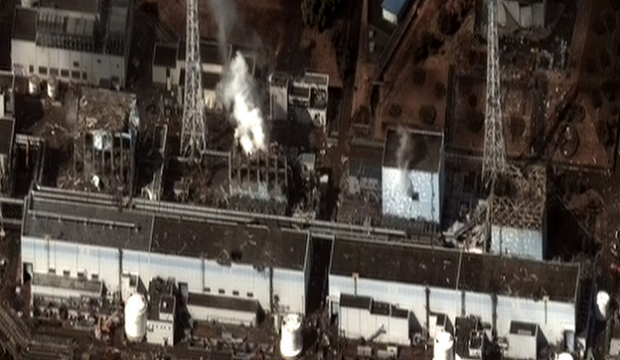 While Japan is continues to cope with the economic fallout from the 2011 earthquake/tsunami disaster that led to Fukushima-Daiichi nuclear power plant catastrophe,it looks like members of the U.S. Navy are still struggling with real fallout.
When the USS Ronald Reagan responded to the tsunami that struck Japan in March 2011, Navy sailors including Quartermaster Maurice Enis gladly pitched in with rescue efforts.

But months later, while still serving aboard the aircraft carrier, he began to notice strange lumps all over his body. Testing revealed he'd been poisoned with radiation, and his illness would get worse. And his fiance and fellow Reagan quartermaster, Jamie Plym, who also spent several months helping near the Fukushima nuclear power plant, also began to develop frightening symptoms, including chronic bronchitis and hemorrhaging.

They and 49 other U.S. Navy members who served aboard the Reagan and sister ship the USS Essex now trace illnesses including thyroid and testicular cancers, leukemia and brain tumors to the time spent aboard the massive ship, whose desalination system pulled in seawater that was used for drinking, cooking and bathing. In a lawsuit filed against Tokyo Electric Power Company (TEPCO), the plaintiffs claim the power company delayed telling the U.S. Navy the tsunami had caused a nuclear meltdown, sending huge amounts of contaminated water into the sea and, ultimately, into the ship's water system.
San Francisco Attorney Charles Bonner subsequently filed a federal suit in the Southern District of on behalf of a dozen sailors…but the number has since expanded to over 50. During a recent interview with Tammy Bruce, Paul Garner (an Encinitas attorney who is also involved with the case) said that number is likely to expand to over 70 claimants in the next few weeks.
Though a San Diego judge dismissed the sailors case against the Tokyo Electric Power Co., operator of Japan's Fukushima Daiichi nuclear plant, that isn't the end of the legal battle on behalf of the sailors. The judge's ruling was based on a technicality and the case will continue in January.
A San Diego federal judge has dismissed a lawsuit alleging that U.S. sailors were exposed to dangerous radiation during the humanitarian response to the March 2011 Japanese earthquake and tsunami.

But Judge Janis L. Sammartino left the door open for a follow-on lawsuit, and the attorney representing several sailors from the San Diego-based aircraft carrier Ronald Reagan said he intends to refile.

The judge dismissed the case Nov. 26 on jurisdictional grounds, saying it was beyond her authority to determine whether the Japanese government had perpetrated a fraud on its American counterpart.
The lawsuit originally argued that power company officials lied about the amount of leakage from the damaged plant, in concert with the government of Japan. Garner said he will refile the case without alleging the conspiracy with the Japanese government.
During the interview Bruce, Garner also indicated an emergency fund is being set-up for to help the sailors with their medical expenses. The website is not currently available (and I will provide an update when it is up). However, those interested can send their donations to the 501(c) organization via the following address:
fukushimaradiationvictims.org
PO Box 2063
Rancho Mirage, CA 92270
(attention Paul Garner, esq.)