Posted by
Mandy Nagy
Monday, September 2, 2013 at 11:56am
| 9/2/2013 - 11:56am
The Syrian Electronic Army is claiming credit for defacing the recruitment website of the US Marines.
The official US marines website was breached to post a message from their bros in Syrian army| http://t.co/qvKXyKB771 pic.twitter.com/3EfHHAFwIu

— SyrianElectronicArmy (@Official_SEA16) September 2, 2013
Marines.com, which is operated separately from the official Marines website, was changed in the early morning hours on Monday to display a message from the hacker(s).  The message told US soldiers that Obama is "a traitor who wants to put your lives in danger to rescue Al Qaeda insurgents," and encouraged Marines to defy orders and concentrate on defending their homeland instead.  It also suggested that the army of the Syrian government should be considered an ally to Marines, rather than an enemy.
The defacement also included several photos purporting to be those of US military personnel, holding messages opposing military intervention in Syria (it should be noted the authenticity of these photos has not been verified anywhere that I could locate at the time of this writing).  The same photos have been circulating around corners of the internet for days on social media and sites like Reddit.  The Syrian Electronic Army has also been tweeting those photos for the last several days as well.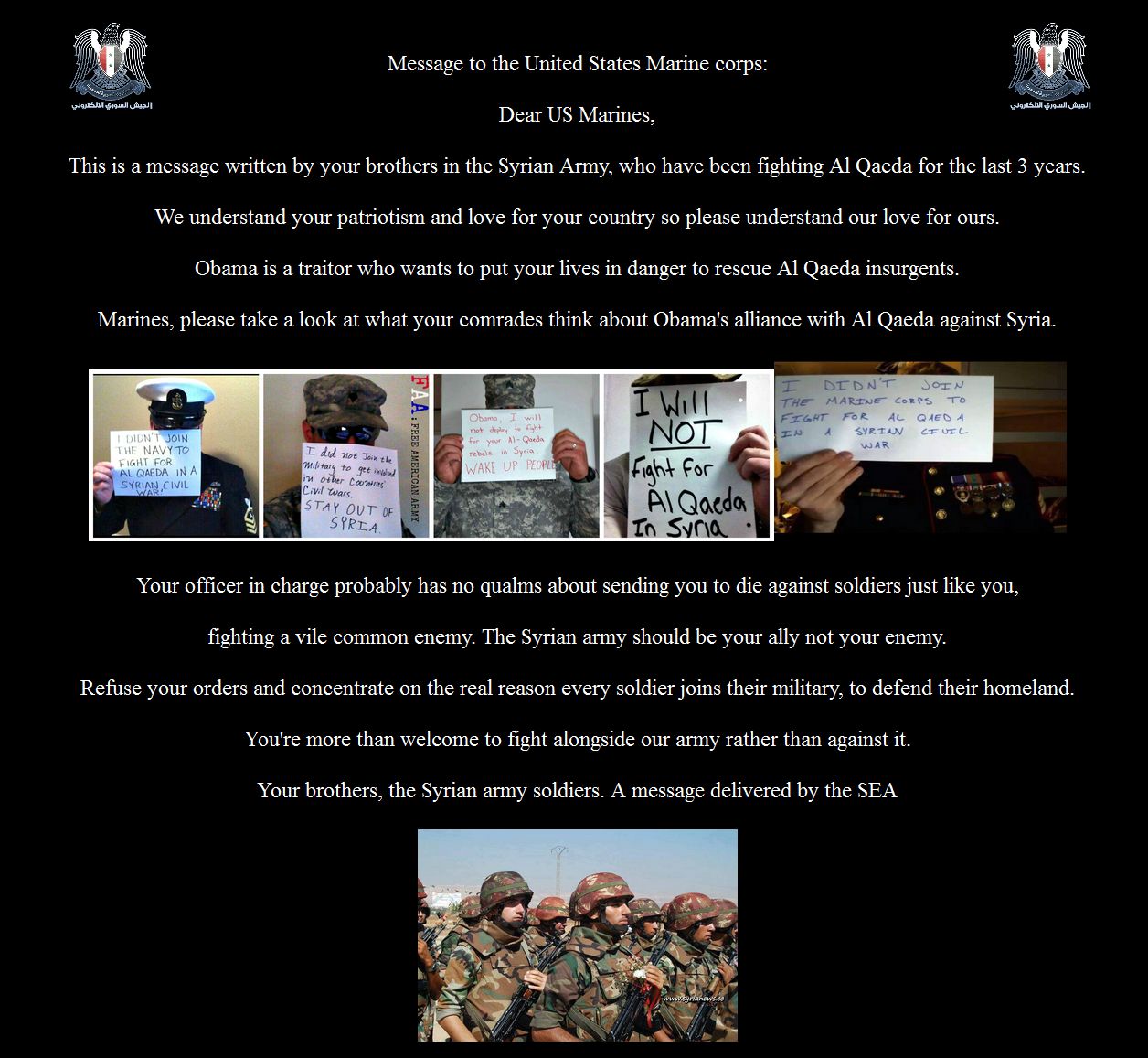 Of course, no military action has been ordered yet, while the Obama administration awaits authorization from Congress.
The Syrian Electronic Army most recently disrupted the websites of the NY Times and Twitter after it carried out a phishing attack on the registrar of those sites' domains.  The hacking group has said it may retaliate if the US does carry out a strike on Syria.
The full text of the message on the defaced website read as follows before the site was returned to normal:
Message to the United States Marine corps:

Dear US Marines,

This is a message written by your brothers in the Syrian Army, who have been fighting Al Qaeda for the last 3 years. We understand your patriotism and love for your country so please understand our love for ours. Obama is a traitor who wants to put your lives in danger to rescue Al Qaeda insurgents.

Marines, please take a look at what your comrades think about Obama's alliance with Al Qaeda against Syria. Your officer in charge probably has no qualms about sending you to die against soldiers just like you, fighting a vile common enemy. The Syrian army should be your ally not your enemy.

Refuse your orders and concentrate on the real reason every soldier joins their military, to defend their homeland.

You're more than welcome to fight alongside our army rather than against it.

Your brothers, the Syrian army soldiers. A message delivered by the SEA