Posted by
William A. Jacobson
Thursday, August 15, 2013 at 12:27pm
| 8/15/2013 - 12:27pm
We predicted this would happen when Hezbollah intervened on behalf of Assad in Syria, including the conquest of Qusayr, and the ongoing battles in Homs and Aleppo.
Hezbollah's chief, Hassan Nasrallah, openly bragged that Hezbollah was in Syria to the bitter end.
The death toll is rising at this writing, so keep track at the Twitter feed at the bottom of the post.
From The Daily Star of Lebanon, Car bomb kills 10 in Beirut southern suburb:
A car bomb killed at least 10 people in the southern suburb of Beirut Thursday, a stronghold of Hezbollah, security sources told The Daily Star.

The sources said at least 30 people were also wounded in the blast on the main road between Rwais and Bir al-Abed, a neighborhood of the southern suburb that in July was the target of a similar car explosion.

Caretaker Interior Minister Marwan Charbel confirmed that the blast was the result of car explosion.

TV footage showed scores of residents screaming while trying to flee the carnage with dozens of cars in flames and other extensive damage in the area.

Emergency response teams rushed to the scene of the blast that caused thick plumes of smoke to fill the sky over the Lebanese capital.

Over 50 people were wounded on July 9 after a car bomb ripped through the Bir al-Abed neighborhood of the southern suburb of Beirut, in an incident widely linked to the crisis in neighboring Syria.
NOW Lebanon has live coverage.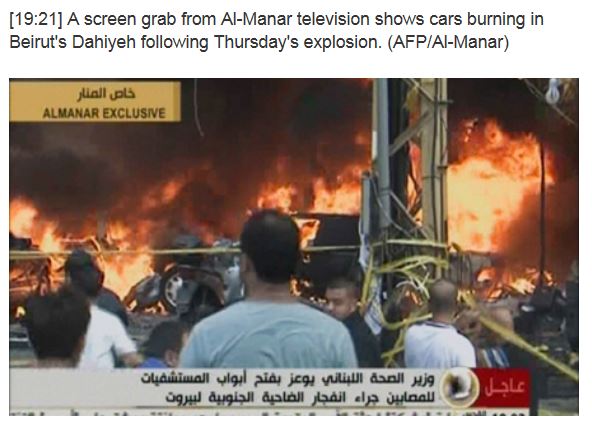 #BEIRUT: At least 10 dead, 30 wounded in blast, dozens of cars & buildings damaged – security http://t.co/mq3lhxDZnv pic.twitter.com/CYeaTv8cja

— RT (@RT_com) August 15, 2013
AlManar TV showing pics from the explosion site of number of people stuck inside buildings #Beirut #Lebanon pic.twitter.com/QDFvXHBc0T

— Yesim Comert (@yesimcf) August 15, 2013
VIDEO: Al-Nusra Front Terrorists claiming responsibility of explosion in Roueis of Beirut southern suburb. http://t.co/wnIEsVyAXF #Lebanon

— Jean (@jeanassy) August 15, 2013
Smoke rising over #Beirut pic.twitter.com/bRgY7QOcTY

— Lebanese Problems (@LebaneseProblem) August 15, 2013
#Hezbollah's channel al-Manar primary coverage of the car bomb in #Beirut http://t.co/KgFDSsvSzt

— Shiapulse (@hamoshia1) August 15, 2013
And the obligatory suggestion from a HuffPo blogger that it might be retaliation by Israel:
And don't forget last wk Hezbollah foiled a secret Israeli military op in Leb, sending more than a few IDF soldiers back in tatters. #Beirut

— Sharmine Narwani (@snarwani) August 15, 2013