Posted by
William A. Jacobson
Wednesday, November 14, 2018 at 5:44pm
| 11/14/2018 - 5:44pm
Judge adjourns to Thursday at 3 p.m. at which point he will render his decision on the request for a Temporary Restraining Order restoring Jim Acosta's White House "hard pass"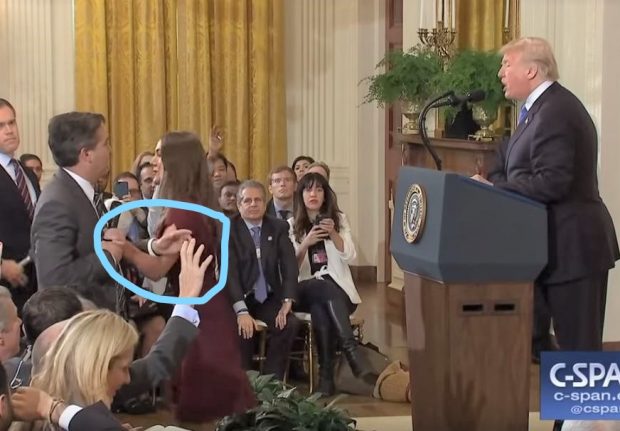 UPDATE: The Judge has postponed the decision from 3 p.m. Thursday to 10 a.m. Friday.
A federal District Court Judge in D.C., Timothy Kelly, heard two hours of argument today on the motion for a temporary restraining order requested by CNN and Jim Acosta regarding his White House "hard pass".
The hard pass was revoked after an incident on November 7, 2018, when Acosta refused to yield the microphone when Trump wanted to move on to other reporters. Acosta physically blocked a White House intern from retrieving the microphone.

For background, see these prior posts:
Also today, Fox News announced that it would file a brief supporting CNN:
Fox News will file an amicus brief in support of @Acosta and CNN. Thank you @FoxNews! Statement from Jay Wallace below: pic.twitter.com/1EyRkho0TK

— CNN Communications (@CNNPR) November 14, 2018
We don't have a transcript of the argument, but Erik Wemple of The Washington Post was in the courtroom, and tweeted the proceedings. His tweets, below, give a sense that the judge does not see this as a clear cut case for Acosta, and may accept the White House view that this is an issue of disruptive conduct, not protected speech or protected press actions.
Others in the courtroom came away with the same impression:
Story coming, but a few quick takeaways:
– Robust questioning of both sides, but judge's Qs suggested skepticism about CNN's First Amendment args
– DOJ argued broadly that the president basically has total discretion when it comes to press access, could kick out anyone/everyone

— Zoe Tillman (@ZoeTillman) November 14, 2018
Even CNN is reporting that the Judge was skeptical of the CNN and Acosta positions:
Kelly expressed skepticism that this proves the Acosta ban is "content-based discrimination," as CNN is alleging.

Kelly said there is some evidence that Acosta's conduct — not his content — led the White House to suspend his press pass.

But Boutrous disputed that and said there "never will there be more evidence of facial discrimination and animus against an individual reporter" than in this case.

Kelly said "we've all seen the clip" of the White House press conference where Trump and Acosta had a combative exchange last week. Kelly said that Acosta "continued speaking after his time expired" and "wouldn't give up his microphone" — points that the Trump administration made in its briefs earlier Wednesday.

Under questioning from the judge, Boutrous cited Trump's words to Acosta from the press conference, and said, "'Rudeness' is really a code word for 'I don't like you being an aggressive reporter.'"

Kelly peppered CNN's attorney with hypotheticals as he tried to determine what a lawful move by the White House, responding to Acosta's actions, would look like.
"Could they let him keep the pass but tell him he couldn't come to presidential press conferences?" Kelly asked.
Wemple Tweets
Kelly says there is some evidence that it was Acosta's behavior and not viewpoint that triggered revocation. Says there is "evidence on both sides"

— ErikWemple (@ErikWemple) November 14, 2018
Judge Kelly wants to know why, if Trump is perpetrating content discrimination, why didn't such a credential revocation happen before Nov. 7

— ErikWemple (@ErikWemple) November 14, 2018
Boutrous saying there are much more "tailored" ways of dealing with Acosta, like not calling in him at briefings

— ErikWemple (@ErikWemple) November 14, 2018
Judge Kelly asks why revocation process wasn't sufficient. Boutrous responds that THERE WAS NO PROCESS

— ErikWemple (@ErikWemple) November 14, 2018
Boutrous says that since WH has opened itself to media with credentialing process, the act or revoking a particular reporter's access triggers First Amendment protections

— ErikWemple (@ErikWemple) November 14, 2018
USG lawyer says WH argument doesn't depend on the "places his hands on an intern" point initially put forth by @PressSec. And he relies on argument that @Acosta conduct wa such that WH couldn't run an orderly press briefing

— ErikWemple (@ErikWemple) November 14, 2018
Burnham: "A single journalist's attempt to monopolize a press conference is not a viewpoint."

— ErikWemple (@ErikWemple) November 14, 2018
Also: "Grandstanding…is not a viewpoint."—-USG lawyer Burnham

— ErikWemple (@ErikWemple) November 14, 2018
Burnham: "what happened was good enough to satisfy due process" for revocation of @Acosta credentials

— ErikWemple (@ErikWemple) November 14, 2018
Burnham: "As for CNN, I don't think there's any harm at all,"
Citing all the other journos with hard passes

— ErikWemple (@ErikWemple) November 14, 2018
And Burnham says harm to @Acosta is "narrow" bc Trump doesn't ever have to call on him at press events or talk to him even if he had a hard pass for access to the grounds. Comment: Burnham doesn't get journalism

— ErikWemple (@ErikWemple) November 14, 2018