Posted by
Fuzzy Slippers
Sunday, February 21, 2021 at 6:00pm
| 2/21/2021 - 6:00pm
"The school board forgot who it works for," said Jonathan Zachreson, founder of Reopen California Schools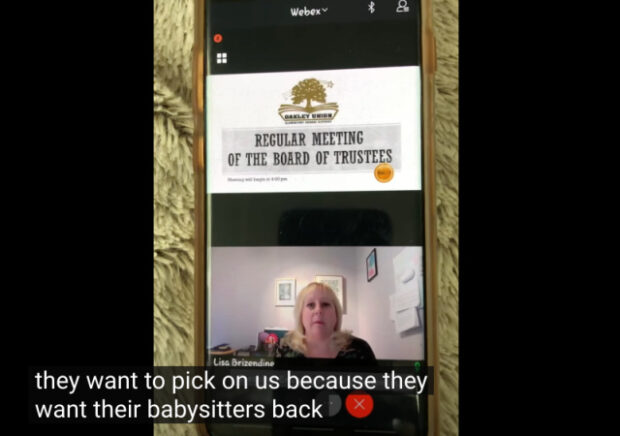 On Friday, Mary blogged that "A California School Board is in Hot Water After Mocking Parents for Wanting Kids in Class (Update: School Board President Resigns).  During a meeting the board members apparently believed was private, board members insulted, ridiculed, and mocked parents for wanting schools open.
As a result, the school board president resigned immediately, and then in short order, the rest of the board members who took part in the public meeting resigned.
The president and three other members of a Northern California school board resigned Friday after reports that they made mocking comments about parents during a public video meeting about reopening schools.

The resignation of President Lisa Brizendine of the Oakley Union Elementary School District was confirmed to Fox News by Schools Superintendent Greg Hetrick.

The other members — Kim Beede, Erica Ippolito and Richie Masadas — who constitute the rest of the board, resigned later Friday, FOX 2 of the Bay Area reported.

. . . . Brizendine issued an apology after announcing her resignation. "I am raising a 10-year-old with special needs and having him home during this pandemic, while also holding down two jobs to support my family has been a huge stress," she said. "I suffer with many of the same things that parents are going through from mental health issues to regression. My remark was callous and uncalled for and for that I am truly sorry."

The recorded meeting from Wednesday night was posted on social media and shows board members who appeared to believe the meeting was private. Brizendine appeared to mock parents who "want their babysitters back."
The Charlotte Observer has more:
Beede said a parent had attacked her on social media for attending a party while schools are shut down, The Mercury News reported.

"B—, if you call me out, I'm going to f— you up," Beede said, according to the publication.

. . . . "The school board forgot who it works for," said Jonathan Zachreson, founder of Reopen California Schools, according to the publication. "It works for the parents and the children."

"To hear that, it was appalling," said parent Jennifer Cardinale, KGO reported.

An online petition calling for the board to resign collected 7,000 signatures.

"My remark was callous and uncalled for and for that I am truly sorry," Brizendine said, noting that like other parents, trustees also have been under great stress, KTVU reported.

"I was frustrated and I apologize for that," Beede said, KNTV reported. "I apologize (that) everybody had to hear that but again it was supposed to be a private conversation."

. . . . The county Board of Education named two of its members to serve as interim trustees for the district until a new board can be chosen, The Mercury News reported.
Beede's non-apology apology illustrates Zachreson's point. She's not sorry for being so hateful and disrespectful toward the parents for whom she works; she's sorry she was frustrated.
She further has no understanding of the problem with her and the others' comments. Threatening to "f—" up a concerned parent who has every right to "call out" a public servant who attends parties while keeping schools closed is horrifying behavior.
She, like far too many of our elected officials and appointees, had certainly forgotten who works for whom.