Posted by
Mike LaChance
Wednesday, January 13, 2021 at 3:30pm
| 1/13/2021 - 3:30pm
"stepping up to champion diversity by updating shelf labels to help customers identify goods from minority-owned businesses"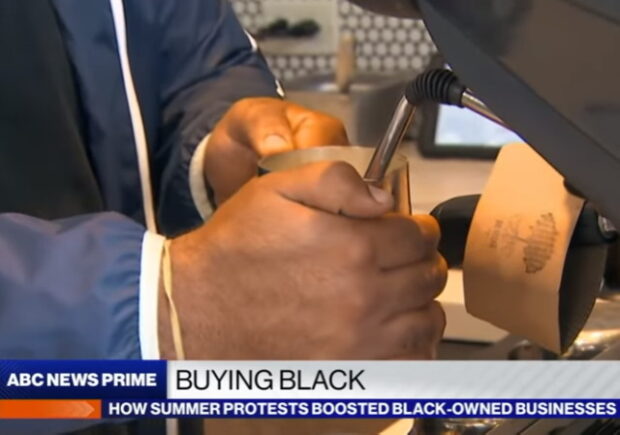 The supermarket chain Giant Food began adding labels to products on their shelves, indicating which items are from black-owned businesses.
This is just the latest example of how the progressive concept of social justice is encroaching on every aspect of our daily lives.
Just imagine walking into a grocery store and seeing these tags.
This takes us backwards.https://t.co/W4MygQT8Yl

— Abigail Shrier (@AbigailShrier) January 11, 2021
From WDVM News:
Giant Food launches campaign displaying minority-owned business tags on products

Giant Food is launching a new initiative to highlight minority-owned business providers in their stores.

Over 3,000 products in Giant stores will feature updated shelf labels. There are over 218 businesses in Giant's vendor partnerships.

The labels represent businesses that are Women, Black, Asian-Indian, Hispanic, LGBT, Asian-Pacific, or Veteran owned. The program is part of the store's efforts to promote diversity.
The Washington Informer has more:
Giant Food Spotlights Products from Minority-Owned Businesses

Giant Food says it's stepping up to champion diversity by updating shelf labels to help customers identify goods from minority-owned businesses.

Starting this month, all 164 Giant stores will use shelf labels to inform shoppers of products offered by businesses that are women, Black, Asian-Indian, Hispanic, LGBT, Asian-Pacific, or veteran-owned.

Over 3,100 products in Giant stores will fall under the new initiative that the Washington area grocer says will strengthen relationships with shoppers.

"Giant Food is proud to better highlight our diverse suppliers," said Ira Kress, president of Giant Food.

"We're committed to making it easier for customers to identify product attributes that are important to them by fostering a diverse and inclusive network of suppliers that reflects the unique backgrounds and experiences of our Giant family, our customers and our communities."
This isn't necessarily new. Back in October, ABC News did a report highlighting the idea of 'buying black.'
Just two days ago, Joe Biden announced that priority would be decided based on skin color when it comes to COVID relief for small businesses.
"Our priority will be Black, Latino, Asian, and Native American owned small businesses, women-owned businesses, and finally having equal access to resources needed to reopen and rebuild." — President-elect Biden pic.twitter.com/pIyDuhf5pH

— Biden-Harris Presidential Transition (@Transition46) January 10, 2021
When left-wing groups like Black Lives Matter and Antifa march, they will often line people up in order of their perceived levels of oppression and privilege. Joe Biden is now about to use the same method to distribute relief funds during an economic and health emergency.
America's transformation into a giant, left-wing college campus is almost complete.
Featured image via YouTube.