Posted by
Kemberlee Kaye
Wednesday, December 2, 2020 at 6:00pm
| 12/2/2020 - 6:00pm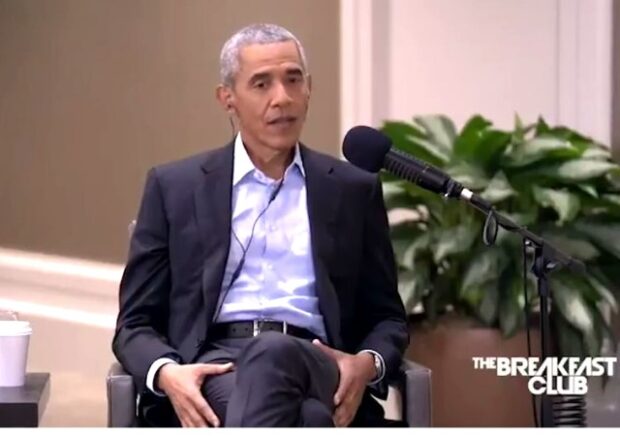 I do love the young progressive/Democrat establishment fights, especially because the younger crowd does not care and is more than willing to air alllllllllll the dirty laundry in front of the whole neighborhood.
In today's drama, the Rep. Ilhan Omar's of the party are mad at Obama for publicly criticizing the Defund the Police movement.
During an interview with Snapchat, Obama explained that pursuing defunding of police departments meant the loss of large audiences and therefore, leverage. He never disagreed with defunding the police, only that the slogan wasn't the route to go.
Obama didn't say he opposes "defund the police."

He said he opposes the SLOGAN because it turns people off & makes it harder to achieve policy wise.

He's literally giving advice on how to achieve.. defunding police.

So stop praising him for pushing back on the Squad. He's not.

— Liz Wheeler (@Liz_Wheeler) December 2, 2020
From Fox News:
Obama made the comments during an interview with Peter Hamby on the Snapchat original political show "Good Luck America" that aired Wednesday morning.

"You lost a big audience the minute you say it, which makes it a lot less likely that you're actually going to get the changes you want done," Obama said. "The key is deciding, do you want to actually get something done, or do you want to feel good among the people you already agree with?"
Which prompted Rep. Ilhan Omar to chime in:
We lose people in the hands of police. It's not a slogan but a policy demand. And centering the demand for equitable investments and budgets for communities across the country gets us progress and safety. https://t.co/Vu6inw4ms7

— Ilhan Omar (@IlhanMN) December 2, 2020
See also:
The murders of generations of unarmed Black folks by police have been horrific. Lives are at stake daily so I'm out of patience with critiques of the language of activists.

Whatever a grieving family says is their truth.

And I'll never stop fighting for their justice & healing.

— Ayanna Pressley (@AyannaPressley) December 2, 2020
And:
With all due respect, Mr. President—let's talk about losing people. We lost Michael Brown Jr. We lost Breonna Taylor. We're losing our loved ones to police violence.

It's not a slogan. It's a mandate for keeping our people alive. Defund the police. https://t.co/Wsxp1Y1bBi

— Cori Bush (@CoriBush) December 2, 2020
This is a very similar discussion to one that took place among House Democrat Caucus following the election — wherein Democrats who should've easily won re-election barely eked out a win and blamed the anti-police and pro-socialism messaging for their large electoral losses. And then too, the younger crowd rebuffed the feedback and said they would proceed with the fringe messaging. So… ¯_(ツ)_/¯
Live footage of me: