Posted by
William A. Jacobson
Tuesday, November 24, 2020 at 8:30pm
| 11/24/2020 - 8:30pm
"some prominent progressives are pushing for Whitehouse to get the job due to his reputation as a political brawler"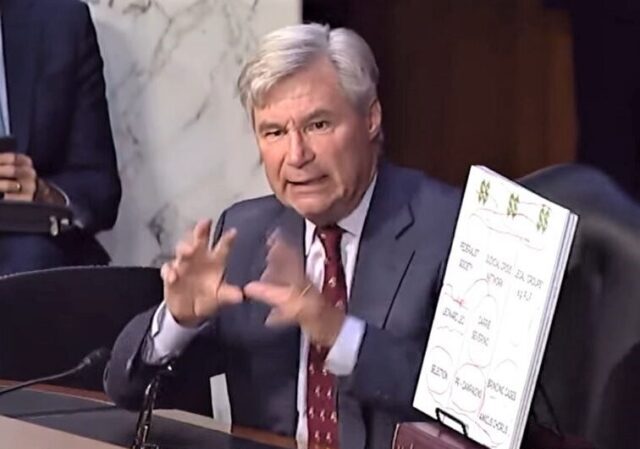 Dianne Feinstein recently announced that she would not seek to remain the top Democrat on the Senate Judiciary Committee for the next congressional term starting in January 2021.
Feinstein came under a lot of fire from fellow Democrats for not savaging Amy Coney Barrett the way Democrats savaged Brett Kavanaugh. Feinstein was practically burned at the stake as a heretic for a modest embrace of Lindsey Graham at the end of the Barrett hearings.
Feinstein's departure has set off a scramble to replace her on the Committee. If Democrats win both Georgia Senate Runoffs, that would mean Chairmanship of the powerful committee, including control over judicial nominations.
Dick Durban from Illinois is the most senior Democrat on the committee after Feinstein, so by seniority the slot should go to him. In the Senate, seniority counts for a lot. But Durbin is a blowhard. No one fears him.
A lot of liberals are not happy with Durbin's claim to slot, he's viewed as not sufficiently progressive and not enough of a fighter. Durbin is a blowhard, but not a blowtorch, and Democrats want a blowtorch.
Politico reports, Liberals blanch at Durbin's Judiciary power play:
The Illinois Democrat was just re-elected as his party's whip, the No. 2 leadership job, after handily winning his fifth term in the Senate. He already oversees billions in spending on the Senate Appropriations defense subcommittee. And now he is seeking to succeed Sen. Dianne Feinstein (D-Calif.) atop the Senate Judiciary Committee.

That's fueled some grumbling about whether that's too much for one senator to take on, though Durbin currently has no challenger for the Judiciary Committee post. The next Democrat in line, Sen. Sheldon Whitehouse of Rhode Island, said Tuesday he looks forward to the question of succession being decided by the caucus, adding, "I will abide by the caucus's decision."

Durbin is popular in the caucus and may already have the job locked down because of his seniority. But some prominent progressives are pushing for Whitehouse to get the job due to his reputation as a political brawler — the latest instance of the party fighting over its future in the post-Trump era.
It's hard to sum up Sheldon Whitehouse in just a few words. So read my recent detailed account of his persona, Sen. Sheldon Whitehouse Is A Conspiracy Nutter.
Whitehouse is a conspiracy nutter who rants about Republican "dark money" (while accepting leftist dark money himself). Whitehouse also lacks self-awareness and the ability to understand when people are laughing at him, not with him. He embarrassed himself, but no doubt thought he did a great job, during the Kavanaugh hearing by grilling the now-Justice over entries in his high school yearbook.
He's also a bully who threatened the Supreme Court, earning a rebuke not only from all corners of the legal community, but also recently from Justice Samuel Alito.
Sheldon Whitehouse appears to be just what Democrats want. But he's playing a little coy.
In the wake of Ranking Member Feinstein's announcement, I look forward to the question of succession on the Senate Judiciary Committee being decided by the caucus. I will abide by the caucus's decision.

— Sheldon Whitehouse (@SenWhitehouse) November 24, 2020
Local Rhode Island news knows that for Whitehouse, playing coy about the top Dem Judiciary spot means he wants it bad. Real bad.
🚨 NEW: @SenWhitehouse takes on @SenatorDurbin in fight to be top Dem on Senate Judiciary

"I look forward to the question of succession on the Senate Judiciary Committee being decided by the caucus"

Comes amid grumbling over Durbin already being the whip https://t.co/KiHSZ9JEQE

— Ted Nesi (@TedNesi) November 24, 2020
Can they both lose? Don't wish too hard for that, you might get a surprise.