Posted by
Mary Chastain
Monday, October 12, 2020 at 12:23pm
| 10/12/2020 - 12:23pm
"You have been nominated by a president who shows contempt for the Constitution…You cannot feel good about a president cheapening this historic moment"."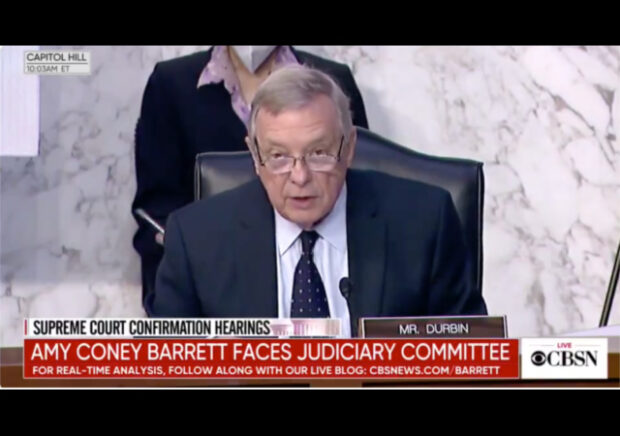 I swear, these hearings serve no purpose other than for politicians to hear their own voice and put on a show.
They always have to use kids to push their agenda. You don't hate kids, do you?!
Sen. Dick Durbin (D-IL) used COVID-19 victims to shame Republicans and claim they want to pack the court.
Again, the Democrats have changed the definition of "court-packing" because their nominee refuses to say if he will pack the court.
Sen. Dick Durbin tells Amy Coney Barrett that her Supreme Court nomination comes "under a cloud"

"You have been nominated by a president who shows contempt for the Constitution…You cannot feel good about a president cheapening this historic moment" https://t.co/uScvfX9o80 pic.twitter.com/EpCFawunBt

— CBS News (@CBSNews) October 12, 2020
Durbin actually told Barrett she "cannot feel good" because President Donald Trump only nominated her "to the bench to do his political chores."
Plus, he described the hearing as "a shameless, self-serving, venal reversal." From USA Today:
Durbin said the reason could be summed up in two dates: Election Day on Nov. 3, and the high court's Nov. 10 date with the Affordable Care Act. It is then that the justices will consider killing the law.

"In the midst of the pandemic, the Republicans want to strike down a law that 23 million Americans rely on," Durbin said.

Like other Democrats on the panel, Durbin displayed a large photo of a family from his state that has depended on the health care law for crucial insurance coverage. In his case, it was a young boy who went on to play baseball after receiving the care he needed.

Durbin quoted the boy's mother: "Kenny is a real person whose life depends on the Affordable Care Act."