Posted by
William A. Jacobson
Friday, August 7, 2020 at 9:20am
| 8/7/2020 - 9:20am
"These improvements in the labor market reflected the continued resumption of economic activity that had been curtailed due to the coronavirus…."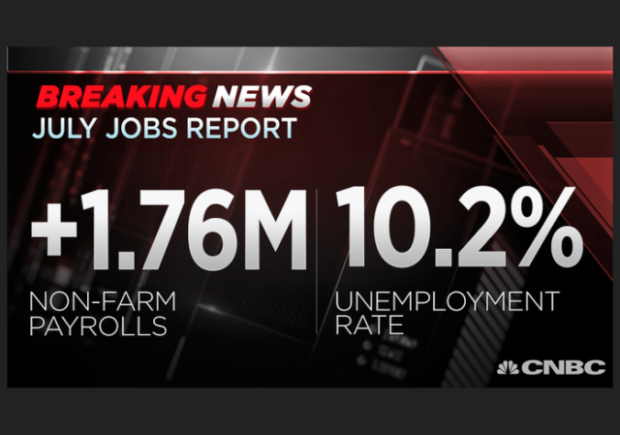 The economy added 1.8 million jobs in July 2020, exceeding the 1.7 million predicted. The unemployment rate dropped to 10.2% from the 11.1% in June, and from the peak 14.7% in April.
BREAKING: U.S. jobs rise by 1.763 million in July, vs 1.48 million expectedhttps://t.co/00g17SCZ5T pic.twitter.com/K0bpTKd7DM

— CNBC Now (@CNBCnow) August 7, 2020
From the Bureau of Labor Statistics Release:
Total nonfarm payroll employment rose by 1.8 million in July, and the unemployment rate fell to 10.2 percent, the U.S. Bureau of Labor Statistics reported today. These improvements in the labor market reflected the continued resumption of economic activity that had been curtailed due to the coronavirus (COVID-19) pandemic and efforts to contain it. In July, notable job gains occurred in leisure and hospitality, government, retail trade, professional and business services, other services, and health care….

In July, the unemployment rate declined by 0.9 percentage point to 10.2 percent, and the number of unemployed persons fell by 1.4 million to 16.3 million….

Among the major worker groups, the unemployment rates declined in July for adult men (9.4 percent), adult women (10.5 percent), teenagers (19.3 percent), Whites (9.2 percent), Asians (12.0 percent), and Hispanics (12.9 percent). The jobless rate for Blacks (14.6 percent) showed little change over the month….

The number of unemployed persons who were on temporary layoff decreased by 1.3 million in July to 9.2 million, about half its April level. In July, the number of permanent job losers and the number of unemployed reentrants to the labor force were virtually unchanged over the month, at 2.9 million and 2.4 million, respectively….

The labor force participation rate, at 61.4 percent, changed little in July, following increases in May and June….
Fox Business: July jobs report beats expectations pic.twitter.com/P3rqTjBDGg

— Steve Guest (@SteveGuest) August 7, 2020
Some context on today's payrolls report:
March -1.3 million
April -20.8 million!
May +2.7 million
June +4.8 million
July +1.8 million

We lost 22 million jobs at the outset of this thing.
We've since recovered 9 million jobs.
More than half of the dramatic job loss remains.

— Justin Wolfers (@JustinWolfers) August 7, 2020