Posted by
William A. Jacobson
Monday, June 1, 2020 at 8:00pm
| 6/1/2020 - 8:00pm
Promises to use "all available federal resources" if Governors fail to call out the National Guard.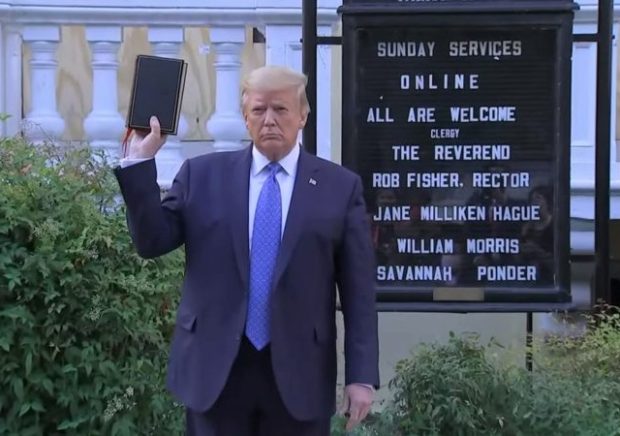 Donald Trump just gave one of the strongest speeches of his career.
He promised to protect peaceful protesters and to seek justice for George Floyd, but demanded that Governors deploy the National Guard to stop the rioting, looting, and destruction of neighborhoods.
Trump said that if Governors did not act, he would invoke his federal authority to send in the National Guard and other military assets. He didn't indicate which authority he was invoking, but contrary to popular belief, a president has fairly wide power to put down an insurrection.
I'll post the transcript as soon as I can find it.
After the speech, Trump walked across Lafayette Park, the scene of violent riots and assaults on Secret Service officers protecting the White House, to historic St. John's Church, which suffered fire damage during the riots.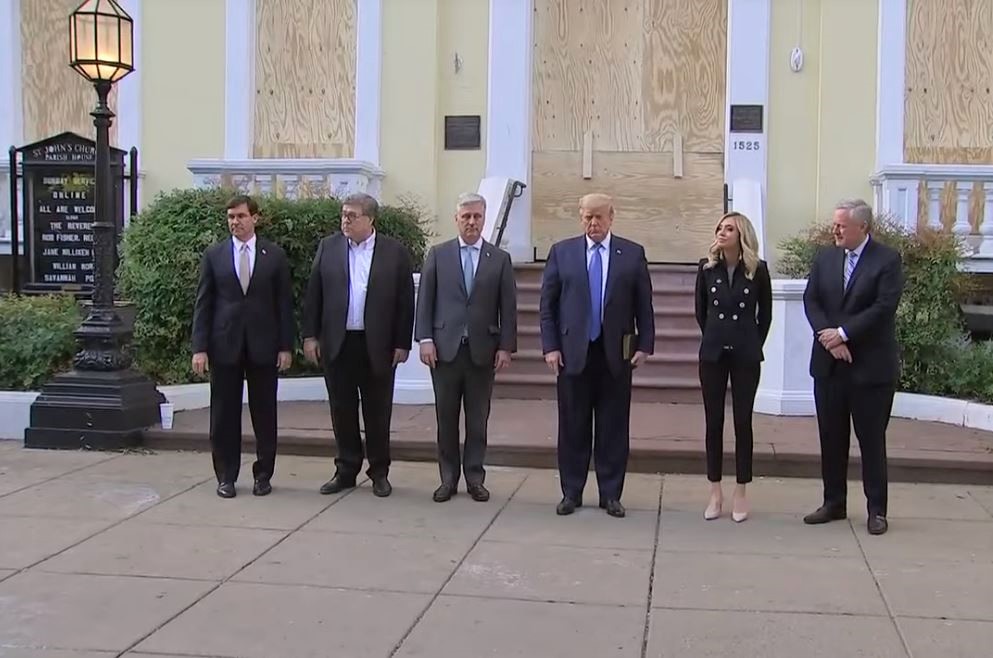 Not surprisingly, the media hated the speech, almost in unison complaining that "peaceful protesters" had been cleared from Lafayette Park to make way for Trump to walk through the park.
NOTICE — this is the OFFICIAL MEDIA TALKING POINT https://t.co/HhJeSBfnp1

— Legal Insurrection (@LegInsurrection) June 1, 2020
But it appears people were given warning to leave, and the police moved in only against those who didn't move.
The park police is now warning the protesters to leave. They have given three warnings over a loud speaker, and moved up to the barricade. Several rows of officers in the far part of this picture — mounted on horses and on foot. pic.twitter.com/KboSkSQ75x

— Kaitlan Collins (@kaitlancollins) June 1, 2020
REACTIONS:
The President of the United States @realDonaldTrump has just walked from the White House to St John's Church where rioters set fire last night. It's a triumphant moment of hope over fear.

— Richard Grenell (@RichardGrenell) June 1, 2020
The president's walk through Lafayette Park, controlled the night before by rioters, to the burned out St. John's Church, holding his bible in his hand, was truly historic. A fabulous moment of enormous important.

— Mark R. Levin (@marklevinshow) June 1, 2020
I've been critical of the President's response to these riots, but I must say, @realDonaldTrump walking through Lafayette Park en route to St. John's Episcopal is a fairly stunning show of strength.

— Rob Smith 🇺🇸 (@robsmithonline) June 1, 2020
These are not the words of a president. They are the words of a dictator.

— Kamala Harris (@KamalaHarris) June 1, 2020
That peaceful protesters were tear-gassed in our nation's capitol, for no other reason than that Trump wished to have a photo op in front of a church, looking like Mussolini, standing beside his coterie, was perhaps the most despicable moment in these awful four years.

— Joy Reid (@JoyAnnReid) June 1, 2020
Why did he yell out the part about "YOUR SECOND AMENDMENT RIGHTS"?

The point of the speech was for the president to announce that he would deploy "heavily armed" soldiers inside the US.

Then he urgently shouted out the part reminding people that American civilians can be armed?

— Rachel Maddow MSNBC (@maddow) June 1, 2020