Posted by
Fuzzy Slippers
Sunday, March 22, 2020 at 4:30pm
| 3/22/2020 - 4:30pm
Glenn Greenwald: "So basically, @ewarren — who mocked "wine cave funderaisers" — had her campaign crash when it was running on the fumes of venture capitalist oligarch wealth, delivered in the form of $14.5m dark money SuperPAC contributions from a single donor. Sounds like the right ending."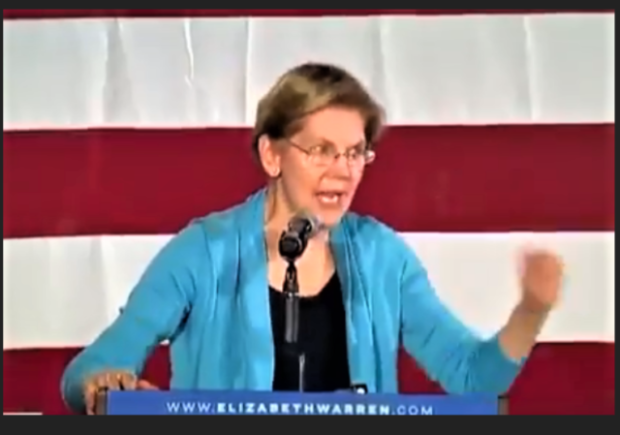 One of Elizabeth Warren's key 2020 presidential campaign pledges was eschewing big money donors and PACs, claiming they were dangerous to democracy.
Of course, this didn't stop her from transferring over from her Senate campaign big money from big donors, nor did it stop her campaign from holding big dollar fundraisers with a cardboard cutout in place of Warren herself.
Even these shady moves didn't help her fundraising coffers as her campaign started bleeding donors and her numbers tanked in the polls, so Warren flipped on the issue of accepting PAC money.
In typical Warren fashion, however, she refused to name the donor who had plunked down $14 million for her Persist PAC . . . until after Super Tuesday.  Her campaign had previously stated that all such donors should be revealed prior to Super Tuesday.
The name was finally released by Warren's now-defunct campaign due to campaign finance filing laws.
The vast majority of the super PAC millions backing Elizabeth Warren in the final days of her presidential campaign came from one person: Karla Jurvetson, a wealthy doctor based in the Bay Area who donated a massive $14.6 million to the main group that supported Warren.

In the last weeks of Warren's struggling presidential bid, a super PAC called Persist PAC hastily formed and then swooped into Nevada, South Carolina and Super Tuesday states to run over $14 million in ads trying to resuscitate Warren's campaign. Warren was in trouble after third and fourth place finishes in Iowa and New Hampshire.

Jurvetson is one of the biggest donors in the Democratic Party and has spoken openly about what she feels is her obligation to support female candidates. "I feel like it's our moral duty, if we're not going to run ourselves, to support the women who are brave enough to put their name on the ballot," she told the Mercury News  in 2018. Jurvetson also hosted a fundraising luncheon for Warren in 2018 — before the Massachusetts senator disavowed in-person fundraising events altogether during her presidential run.
Through a spokesperson, Jurvetson declined to comment on her involvement in Persist PAC, which only collected a half-million dollars from other sources in February, according to a new campaign finance filing. Warren did not respond to a request for comment.
There is a profile of Jurveston you can read here, if you are interested.
So basically, @ewarren — who mocked "wine cave funderaisers" — had her campaign crash when it was running on the fumes of venture capitalist oligarch wealth, delivered in the form of $14.5m dark money SuperPAC contributions from a single donor.

Sounds like the right ending.

— Glenn Greenwald (@ggreenwald) March 21, 2020
"This is the problem with issuing purity tests you cannot yourself pass."

– Pete Buttigieg in the November debate.

— Julian Rüther ?? (Zuhause bleiben/Stay home!) (@Julian81295) March 21, 2020
Just read this profile of the billionaire who we now know funded Warren's Super PAC. Such a bland, diminished, and politically unimaginative vision of women's empowerment. Some megarich donors are craven, others like this one are just vapid and bored https://t.co/d6pNzWUqsk

— Meagan Day (@meaganmday) March 21, 2020
What was really disappointing about this Super PAC development—and Warren's sprouted up 11 days after this—was that this line of attack unfairly put groups like the a nurses union & @sunrisemvmt in the crosshairs. pic.twitter.com/iRcGx2nsux

— jordan (@JordanUhl) March 21, 2020
Yep, Warren tried to fake it, but America wasn't buying it.  Except for Jurvetson, apparently.