Posted by
Kemberlee Kaye
Tuesday, November 12, 2019 at 5:00pm
| 11/12/2019 - 5:00pm
"Unfortunately with gun violence in the U.S., there was some concern that we would cause a panic if someone heard gunshots on grounds"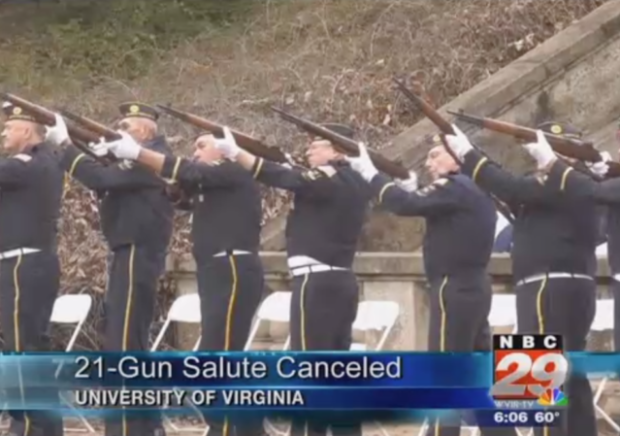 The University of Virginia nixed a 21-gun salute, which has historically marked the conclusion of the campuses annual Veteran's Day celebration.
The Provost's office cited 'gun violence in the US' as a reason for cancelling the salute.
"One is that it would be disruptive to classes and two, unfortunately with gun violence in the U.S., there was some concern that we would cause a panic if someone heard gunshots on grounds," said UVA President Jim Ryan.
WVIR NBC29 Charlottesville News, Sports, and Weather
Understandably, veterans are upset. More from local news:
The university will still hold a Veterans Day ceremony on Monday, but it will no longer include the 21-gun salute. It's a decision UVA leaders say will not change.

The Provost's office, in conjunction with the colonel of UVA's ROTC program, made the decision. The ceremony marks the conclusion of a 24-hour vigil by ROTC cadets and has included the 21-gun salute for more than a decade.

"One is that it would be disruptive to classes and two, unfortunately with gun violence in the U.S., there was some concern that we would cause a panic if someone heard gunshots on grounds," said UVA President Jim Ryan.

Veterans like Jay Levine are upset with the decision. Levine went through the ROTC program at UVA and says the 21-gun salute is the ultimate salute to those who have served and passed away.

"I am very disillusioned, very upset, and very surprised that they would make such a decision," Levine said.

Levine says he will write an email to UVA about his concerns. He hopes talking in a more public setting will help entice more veterans to take action.

"Freedom isn't free," Levine said. "There's a cost and that cost is born by the veterans and the families of those veterans."

[h/t Cam Edwards at Bearing Arms]