Posted by
Vijeta Uniyal
Saturday, October 12, 2019 at 12:00pm
| 10/12/2019 - 12:00pm
"Hey EU, wake up. I say it again: if you try to frame our operation [against Kurds] as an invasion, our task is simple: we will open the doors and send 3.6 million migrants to you,"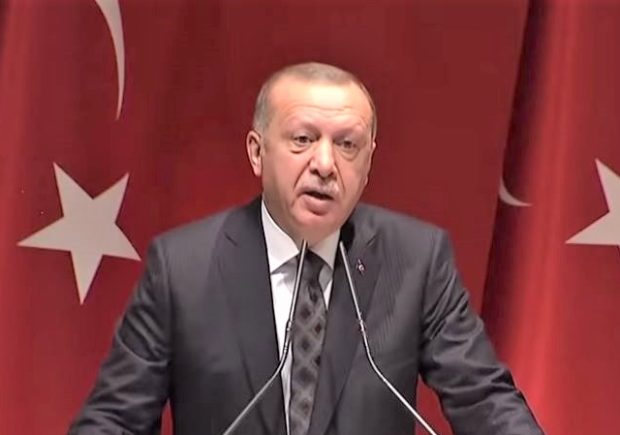 The European Union has accused Turkey of 'weaponizing' migrants to intimidate the 27-member bloc. Brussels "will never accept that refugees are weaponized and used to blackmail us," EU Council President Donald Tusk said on Friday.
The statement came after Turkish President Recep Tayyip Erdogan threatened to overrun Europe with "millions" of illegal immigrants if the EU dared to criticize his invasion of Kurdish-held northern Syria. "Hey EU, wake up. I say it again: if you try to frame our operation there as an invasion, our task is simple: we will open the doors and send 3.6 million migrants to you," Erdogan threatened Thursday.
Following the U.S. troops withdrawal from northern Syria earlier this week, Turkey launched a military offensive against the Kurdish-led Syrian Democratic Forces in the region. Kurdish-led Syrian Democratic Forces, an alliance made up of Kurds, Arabs and Assyrian Christians, played a key role in pushing back Islamic State in Syria and Iraq. Some 100,000 civilians have reportedly been displaced since Turkey started shelling Kurdish strongholds and population centers on Wednesday afternoon.
German public broadcaster Deutsche Welle reported top EU officials remarks:
Outgoing European Council President Donald Tusk has sharply criticized Turkish President Recep Tayyip Erdogan's threat of "opening the gates" and "sending 3.6 million refugees your way" if the EU labels Turkey's incursion into Syria as an "invasion."

"Turkey must understand that our main concern is that their actions may lead to another humanitarian catastrophe," Tusk said at a press conference in Nicosia and on Twitter.

"And we will never accept that refugees are weaponized and used to blackmail us," he added, referring to an EU agreement with Ankara on refugees, struck in March 2016 as a result of a wave of migration to the bloc.

"President Erdogan's threats of yesterday are totally out of place," he added.
Erodan isn't making empty threats. Europe is already seeing a massive rise in illegal immigrants along the Turkish coast. Greece is witnessing a huge surge in the number of migrants crossing over from Turkey in recent months. The Greek "islands right now are suffering from strangulation due to overcrowding at the facilities, and there is a need for more effective border guarding, and concern over possible increased flows in the coming period," the government in Athens admitted in August.
The ongoing migrant surge is a breach of the 2016 EU-Turkey deal reached between German Chancellor Angela Merkel and Erdogan. Under the agreement, EU pledged billions of euros in return for Ankara's vague promises to stem unregulated flow of illegal immigrants. a part of the pact, Merkel also agreed to settle 150,000 to 200,000 migrants from Turkey annually into the EU, a move bitterly oppose by Austria, Hungry and other eastern European member states.
Many migrants also feel encouraged by Germany's recent promise to take in a large portion of those landing illegal on Europe's southern coasts.
While the EU, backed by France and Germany, pursues for an open border migrant policy, Erdogan has long seen uncontrolled Muslim immigration into Christian Europe as a form of demographic warfare. He has repeatedly called upon Turks living in Europe to increase their birth rates. "I am calling out to my citizens, by brothers and sisters in Europe," he said in 2017. "Have not just three but five children."
Turkish President's latest threat exposes Europe's voluntarily to uncontrolled influx of illegal immigrants. Four years since the migrant crisis began, Europe is unprepared, or rather unwilling, to repel the waves of migrants crossing over from Muslim-majority North Africa and the Middle East. Earlier this week, German Interior Minister warned that his country could face a migrant wave bigger than the one in 2015, when estimated one million asylum seekers entered Germany in the span of a couple of months, resulting in a string of deadly Islamist terror attacks and a migrant crime wave. Despite these warnings, country's police remains short-staffed and ill-equipped to patrol country's border, German police union chief said last week.

[Cover image via YouTube]