Posted by
Mary Chastain
Tuesday, October 8, 2019 at 6:00pm
| 10/8/2019 - 6:00pm
The police union took Trump's side, claiming the mayor is trying to "bully" Trump and confirmed the government has "not charged nearly that much for other events."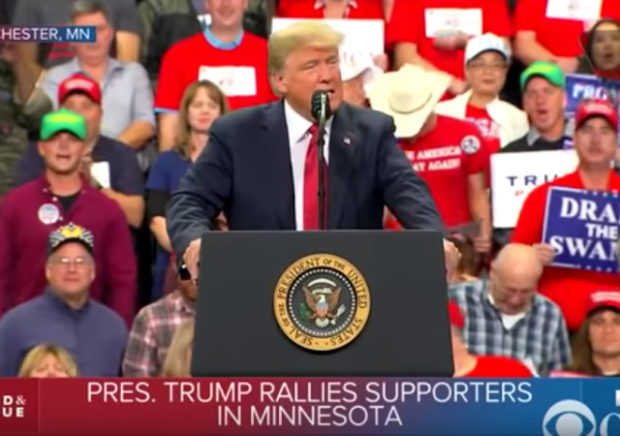 President Donald Trump's 2020 campaign released a scathing statement accusing Minneapolis Mayor Jacob Frey of extortion to stop Thursday's rally at Target Center.
Frey voiced his opposition to Trump's rally in September. He said he would normally welcome a sitting president, but Trump's "rhetoric has made it clear that he does not value the perspectives or rights of Minneapolis' diverse communities."
Frey declared that the day of the rally the "entire city will not stand behind the President, but behind the communities and people who continue to make our city – and this country – great."
The mayor promised to keep people safe at the rally while admitting it "will be a large scale and potentially hectic event."
It looks like Frey has chosen another route to stop Trump's rally. He provided the Target Center with a security bill for $530,000. Trump's campaign said the total "is more than 26 times the estimated security costs for a 2009 Target Center health care rally held by President Barack Obama."
Security for Obama's rally totaled only $20,000.
The campaign wrote:
Democrat Mayor Frey is using the bogus security charges to pressure the Target Center, site of the contracted October 10, 2019 rally, into preventing Minnesota residents from exercising their First Amendment rights in support of President Trump.

Frey's city government preemptively informed the Target Center that it would be responsible for $530,000 in security and other costs related to the event. The Target Center attempted to pass the costs on to the Trump campaign under threat of withholding the use of the arena.

The Trump campaign informed the Target Center that the U.S. Secret Service is solely responsible for coordinating security and that withholding the use of the arena would be viewed as a breach of contract and result in court action. Additionally, the ridiculous sum of $530,000 is more than 26 times the estimated security costs for a 2009 Target Center health care rally held by President Barack Obama. Police officials estimated that the costs then were around $20,000. Again, the costs are a matter between the city and the Secret Service.

"We are well aware of Mayor Frey's vocal partisan opposition to President Trump and calls to disrupt the rally," read a letter from Trump law firm Jones Day to the Target Center's management firm. "This last-minute squeeze seems to be nothing but a pretextual political effort with serious First Amendment ramifications."
Campaign manager Brad Parscale slammed Frey for his "outrageous abuse of power" in an attempt "to deny the rights of his own city's residents just because he hates the President."
The radical Mayor of Minneapolis, @Jacob_Frey, is abusing his power in an attempt to block the President's supporters from seeing him speak on Thursday.

We refuse to be bullied by a left-winger resister & won't let him stifle the speech of @realDonaldTrump or his supporters! pic.twitter.com/ATnJNBRvFG

— Brad Parscale (@parscale) October 8, 2019
Of course, Trump spoke out against Frey on Twitter:
The lightweight mayor is hurting the great police and other wonderful supporters. 72,000 ticket requests already. Dump Frey and Omar! Make America Great Again! https://t.co/ibTqvSbsbn

— Donald J. Trump (@realDonaldTrump) October 8, 2019
Someone please tell the Radical Left Mayor of Minneapolis that he can't price out Free Speech. Probably illegal! I stand strongly & proudly with the great Police Officers and Law Enforcement of Minneapolis and the Great State of Minnesota! See you Thursday Night!

— Donald J. Trump (@realDonaldTrump) October 8, 2019
Frey shot back:
Yawn… Welcome to Minneapolis where we pay our bills, we govern with integrity, and we love all of our neighbors. https://t.co/v1cXvoD9uR

— Jacob Frey (@Jacob_Frey) October 8, 2019
Frey and Police Chief Medaria Arradondo recently implemented "a new rule barring off-duty officers from appearing in uniform at political rallies or events." Arradondo insisted it was not a political move because the rule "has been under consideration for a year after local constituents protest officers in uniform endorsing local and state politicians."
The police union immediately fired back.
Police Officers Federation of Minneapolis President Lieutenant Bob Kroll told Fox News that Frey is trying to "bully" Trump from coming to the state. He also confirmed the government has "not charged nearly that much for other events."
In fact, the police union is selling "Cops for Trump" t-shirts for $20:
"In compliance with policy, we don't want any issue," Kroll noted. "So, we just thought you know what we'll turn the place into a sea of red with the shirts we designed. And, they're available and we can't keep them on the shelves. They've been selling out as fast as they come in!"

Kroll pointed out that, under previous administrations, officers in Minneapolis were ordered to stand behind presidents, calling out local politicians as "very left."
Trump thanked Kroll and the union for their support:
Thank you to Lt. Bob Kroll of the great Minneapolis Police Department for your kind words on @foxandfriends. The Police are fighting the Radical Left Mayor, and his ridiculous Uniform Ban. Actually, I LOVE the Cops for Trump shirts. Want to bring some home. I am with you 100%!!!!

— Donald J. Trump (@realDonaldTrump) October 8, 2019
Get your great T-Shirts, "Cops for Trump," at https://t.co/pmhDDXsIlx REALLY NICE! Thank you to Minneapolis Police Officers & Union! @foxandfriends

— Donald J. Trump (@realDonaldTrump) October 8, 2019
[Featured image via YouTube]