Posted by
Fuzzy Slippers
Sunday, September 29, 2019 at 4:00pm
| 9/29/2019 - 4:00pm
Ed Henry: "So, you're okay with the president asking another president to dig up dirt on a candidate, you're okay with that?" Levin: "Your question is not honest!"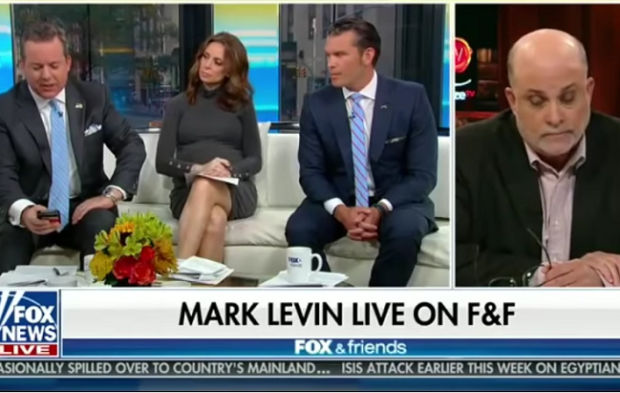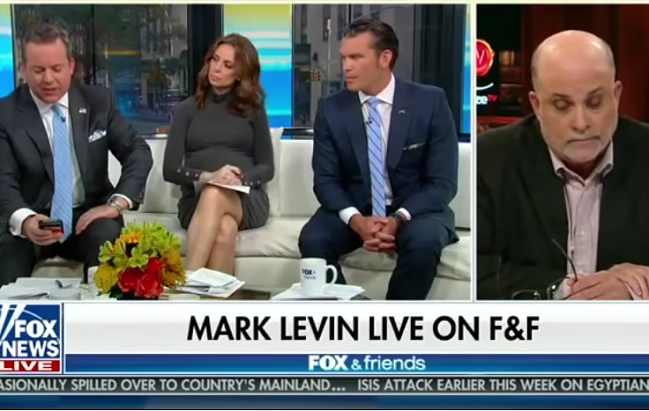 Mark Levin was on a roll Sunday when faced with a claim from Fox & Friends co-host Ed Henry about Trump supposedly asking Ukraine to "dig up dirt" on Joe Biden.
In a video that is quickly going viral, Henry badgers Levin about whether or not he's "okay with the president asking another president to dig up dirt on a candidate."  Levin disputed that such a request was made and called the framing of the question "not honest."
The Washington Examiner reports:
Conservative commentator Mark Levin accused Fox News anchor Ed Henry of being dishonest about President Trump's controversial phone call with Ukrainian President Volodymyr Zelensky during his appearance on Fox & Friends Sunday.

Trump, during the July 25 phone call in question, requested that Zelensky open up a new investigation into Vice President Joe Biden and his son, Hunter Biden, who worked for Burisma, a Ukrainian energy company. The company has been investigated for corruption in the past, but the younger Biden was never implicated in any wrongdoing.
Watch the clip:
Mark Levin just owned Ed Henry?
"Why is Joe Biden above the law? Where is Hunter Biden" pic.twitter.com/EN8L37Jbpx

— TrumpPatriot???? (@TrumpPatriotPL) September 29, 2019
The Washington Examiner continues:
Levin was quick to point out during his appearance that the president "didn't do anything illegal."

"So, you're okay with the president asking another president to dig up dirt on a candidate, you're okay with that?" Henry asked.

Levin responded, "Dirt on a candidate? What dirt are you talking about? He didn't ask for it — are you reading the same …"

The host repeated his question, "Are you okay with a president asking his counterpart — this is a simple yes or no — to dig up dirt on former vice president Joe Biden and his son? Are you okay with that?"

"Your question is not honest," Levin shot back.
Needless to say, the president did not ask Zelensky to "dig up dirt" on Biden, so Levin was correct, the question was dishonest.  Trump asked Zelensky to look into the allegation, one that then Vice President Biden bragged about, that Biden had threatened to withhold $1 billion in U. S. aid if the prosecutor was not fired.
I AM DRAINING THE SWAMP! pic.twitter.com/U7WxKrO6Kx

— Donald J. Trump (@realDonaldTrump) September 27, 2019
At the end of the full clip (embedded below), Henry reads the following from the transcript:
"There's a lot of talk about Biden's son, that Biden stopped the prosecution and a lot of people want to find out about that so whatever you can do with the Attorney General would be great," Trump said in the phone call. "Biden went around bragging that he stopped the prosecution so if you can look into it…It sounds horrible to me."
Levin responds, "I don't have a problem with that. What's the problem with that? Do you have a problem with that?"  To which, Henry responds by mumbling that he didn't say there's a problem.
President Trump was quite pleased with Levin's exchange with Henry and tweeted not only his own response but those of many others.  Here's a sampling:
So great Mark! https://t.co/GbwEnkFmwe

— Donald J. Trump (@realDonaldTrump) September 29, 2019
Ed Henry just got his ASS handed to him by Mark Levin. Yes Ed, go ask Joe Biden

— Joe (@nallieman) September 29, 2019
Mark Levin @marklevinshow really let Ed Henry @EdHenryNews on @foxandfriends have it about corrupt news media. Ed Henry [email protected] he was on CNN

— robert.moore (@rmooredenton) September 29, 2019
Mark Levin took Ed Henry, Fox News, to school and exposed Henry's fake reporting and his misrepresentation of contents of document.

— Petrizzi (@ep2one) September 29, 2019
@foxandfriends A Sunday Morning; Amen Mark Levin, Preach Brother! You shut down Ed Henry and the fake news with the facts.

— Derek English (@BulldawgDerek) September 29, 2019
Watch the whole segment (you won't be sorry):