Posted by
Mike LaChance
Thursday, October 18, 2018 at 9:00am
| 10/18/2018 - 9:00am
"dramatic arrest late Tuesday came on the heels of other high-profile, leak-related prosecutions under the Trump administration"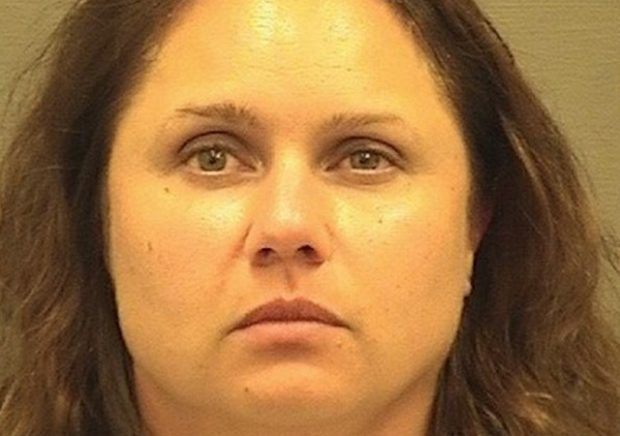 Another government worker has been arrested for leaking sensitive information to the media. Natalie Mayflower Sours Edwards, a senior employee at the Treasury, allegedly leaked financial documents about people investigated by the Mueller probe to BuzzFeed.
Matt Naham reports at Law & Crime:
Our First Look at the Senior U.S. Treasury Official Accused of Leaking Confidential Bank Records to the Press

We now have our first look at the senior advisor at the Financial Crimes Enforcement Network (FinCEN) who has been arrested and charged for the unauthorized leak of confidential bank records to a BuzzFeed reporter.

Natalie Mayflower Sours Edwards, 40, is pictured above in her mugshot down at the Alexandria Sheriff's Office.

According to the Washington Post, Edwards has already been released on $100,000 bond and will be expected to appear for a Nov. 2 court date in the Southern District of New York. Edwards has been barred from speaking to reporters or FinCEN officials, and it's not hard to see why given the charges against her.

Edwards is accused of disclosing "suspicious activity reports" (SARs) related to former Trump campaign chairman Paul Manafort and former Manafort associate Rick Gates to a BuzzFeed reporter, starting in Oct. 2017. The laws on SARs and what employees may and may not do with them is abundantly clear.
According to Gregg Re of FOX News, Edwards was arrested with a flash drive in her hand:
Treasury employee charged with leaking financial info on Trump team was arrested with flash drive in hand, prosecutors say

The top Treasury Department employee who was charged Wednesday with leaking confidential financial documents pertaining to former Trump officials was apprehended the previous evening with a flash drive containing the allegedly pilfered information in her hand, prosecutors said in court papers.

The dramatic arrest late Tuesday came on the heels of other high-profile, leak-related prosecutions under the Trump administration, which has pledged to go on the offensive against leakers that the president has called "traitors and cowards."

Natalie Mayflower Sours Edwards, 40, a senior official at the department's Financial Crimes Enforcement Network (FinCEN), is accused of illegally giving a reporter bank reports documenting several suspicious financial transactions, known as Suspicious Activity Reports ("SARs"), from October 2017 to the present.

The financial transactions involved Trump campaign chief Paul Manafort, campaign official Richard Gates, accused Russian agent Maria Butina and the Russian Embassy, federal law enforcement officials said Wednesday.
Sounds awful, right? It gets worse:
The flash drive contained not only SARs, but also "highly sensitive material relating to Russia, Iran, and the terrorist group known as the Islamic State of Iraq and the Levant," prosecutors said.
Sean Davis of The Federalist has been following this case closely on Twitter:
The woman arrested for criminally leaking confidential bank information on Trump associates isn't the only leaker. The DOJ complaint notes that HER BOSS at FinCEN is a criminal co-conspirator. There are only six positions at FinCEN with that title (associate director). pic.twitter.com/KadGyWrkz4

— Sean Davis (@seanmdav) October 17, 2018
FBI affidavit: "I have learned that [co-conspirator 1] is an Associate Director of FinCEN to whom NATALIE MAYFLOWER SOURS EDWARDS, the defendant, reports." That Treasury official exchanged 301 messages with Jason Leopold, the BuzzFeed reporter publishing their illegal leaks.

— Sean Davis (@seanmdav) October 17, 2018
It sure is strange how incurious blue checkmark firefighters are about which top Treasury official was illegally leaking confidential financial information to reporters. It reminds one of the dog that didn't bark in the night. https://t.co/PE9naSk6Iz

— Sean Davis (@seanmdav) October 17, 2018
Treasury's FinCEN refuses to disclose which division its alleged leaker works in, or which of the agency's six associate directors (AD) has been pegged by DOJ/FBI as one of her co-conspirators. One of FinCEN's ADs, Thomas Ott, worked for Fusion GPS collaborator Bruce Ohr at DOJ. pic.twitter.com/An2C2URoqX

— Sean Davis (@seanmdav) October 17, 2018
Given FinCEN's ongoing role in the Mueller probe, the public deserves to immediately know which of its top staff, per DOJ's own charging documents, are involved in an ongoing criminal leaking conspiracy against targets of that probe. No more cover-ups. https://t.co/CxLWAQSV6k

— Sean Davis (@seanmdav) October 18, 2018
CBS News has the potential penalties Edwards faces:
According to the criminal complaint, Edwards admitted to the FBI agents who interviewed her that she was a "whistleblower" but that she only gave the journalist the reports for the purpose of "recordkeeping." Prosecutors allege Edwards saved the sensitive reports on a flash drive and sent photos of the documents to the reporter over an encrypted app. They add that she was in possession of the flash drive when she was arrested, and her cellphone contained her communications with the reporter.

Edwards is charged with one count of unauthorized disclosures of suspicious activity reports and one count of conspiracy to make unauthorized disclosures of suspicious activity reports, both of which carry a maximum sentence of five years in prison and a $250,000 fine.