Posted by
Mike LaChance
Saturday, September 1, 2018 at 12:00pm
| 9/1/2018 - 12:00pm
"half of the staff, which is around 15 to 20 people, will remain on to "wind things down"
The Village Voice was a weekly tabloid style newspaper which focused on arts, culture, and progressive politics. It was launched in 1955 and featured contributions from various cultural luminaries over the years. In 2017, it shut down production of its print edition and now has ceased all operations.
Christopher Robbins reports at Gothamist:
The Village Voice Is Officially Dead

Three years after buying The Village Voice, and a year after the paper shut down its print edition, owner Peter Barbey told the remaining staff today that the publication will no longer be posting any new stories.

"Today is kind of a sucky day," Barbey told the staff, according to audio obtained by Gothamist. "Due to, basically, business realities, we're going to stop publishing Village Voice new material [sic]."

Barbey said that half of the staff, which is around 15 to 20 people, will remain on to "wind things down," and work on a project to archive the Voice's material online.

The rest of the staff will be let go today.

"I bought the Village Voice to save it; this isn't exactly how I thought it was going to end up. I'm still trying to save the Village Voice," Barbey told the staff.
Alexandria Neason of the Columbia Journalism Review has more:
It's unclear how many employees will lose their jobs today, or for how long those who remain will keep theirs. Barbey refers to a digital archiving project on the conference call and says that work will continue. Barbey also refers to meetings with "other entities" and suggests that suspending editorial content was a condition of the continuation of those meetings. It's unclear if he is planning to sell the company.

"I've been having conversations with other entities for months now and it all depends, but [ending editorial content] is something we have to do before they could talk to us any further," said Barbey. "I bought the Village Voice to save it. This isn't exactly how I thought it was going to end up, and I'm still trying to save the Village Voice."
Starting in the Obama years, the Village Voice began a regular feature called "Right Bloggers" which examined the conservative blogosphere and usually attempted to criticize and discredit the content. The screen cap below shows you how they imagined all right leaning writers as angry white men: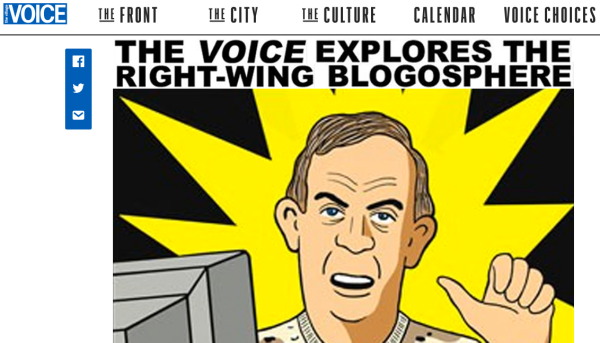 The most recent and presumably final entry for "Right Bloggers" focused on the hiring and firing of writer Kevin Williamson by The Atlantic:
Conservatives Cry for Kevin Williamson's Right to a Job at the Atlantic

American conservatives often act the bully while playing the victim. On one hand, they believe their creed is the only true American one — often referring to themselves as "center-right" rather than "conservative" to make it seem more so — and dismiss any liberal principles as absurd, adding the ominous refrain, "This is why Trump won."

On the other hand, when liberals strike back at them or even just tell them to go away, they flop like Fonseca and scream they've been fouled, oppressed, no-platformed, etc.

There have been many fine examples of the conservative victimhood reflex, but none more absurd than the Kevin D. Williamson affair.
From there, the post goes on to ridicule the opinion of writers at American Thinker, Instapundit and the Daily Wire, all of which, I am happy to report, are still in business.
Featured image via YouTube.