Posted by
Mary Chastain
Tuesday, March 13, 2018 at 1:00pm
| 3/13/2018 - 1:00pm
DHS supposedly investigating him for serious financial crimes.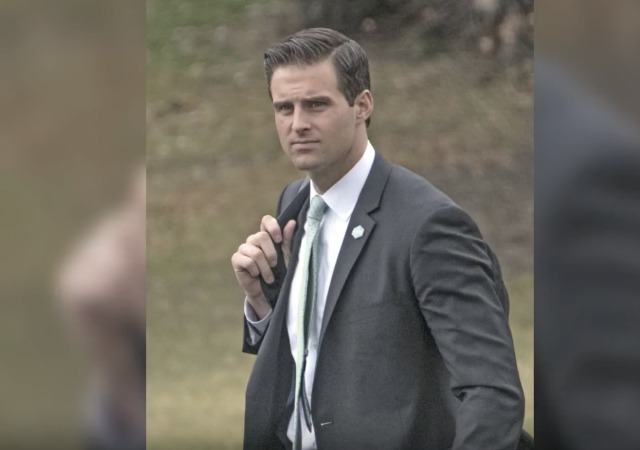 President Donald Trump's longtime personal assistant John McEntee has left the White House and will join the president's 2020 re-election campaign.
The Wall Street Journal reported the White House fired him over security issues. Other reports indicate the firing happened because he is under investigation for serious financial crimes.
Officials escorted McEntee out of the White House on Tuesday and did not allow him to collect his belongings. WSJ wrote that the aide "indicated to colleagues that it was an issue in his background."
White House Chief of Staff John Kelly implemented "a stricter security-clearance policy" when he took over the role. Kelly said last summer that "he realized a large number of staffers still held interim clearances after more than seven months in the administration."
He discovered "at least 35 officials" who "inappropriately" received top secret clearance.
Other reports indicate an investigation by the Department of Homeland Security "for serious financial crimes" that "are not related to the President"  led to McEntee's firing.
The firing came moments after The Washington Post broke the news that Trump fired Secretary of State Rex Tillerson. He nominated CIA Director Mike Pompeo to take over the role. It also comes after communications director Hope Hicks and economic advisor Gary Cohn left their posts.
McEntee joined Trump's campaign in 2015 and remained a strong figure next to the president. He was one of the president's longest serving aides and the entire family loves him. He made sure Trump was prepared when he met with people, delivered messages to the president in the residence portion of the White House.
An official told WSJ that his firing is "not going to be great for morale."
They won't be completely without him. McEntee will remain in Washington to work on Trump's re-election campaign for 2020 along with former Trump spokeswoman Katrina Pierson. From Business Insider:
The Trump campaign released a statement soon after McEntee's firing from the White House announcing that McEntee will join its ranks, serving as a "senior advisor for campaign operations."

"As we build out our operations for the 2018 mid-term elections and the 2020 reelection campaign, we are pleased to welcome back two outstanding members of our 2016 team," campaign manager Brad Parscale said in a statement. "We need the help of proven leaders such as Katrina and John to promote the President's growing portfolio of achievements across the country."
[Featured image via YouTube]