Posted by
Kemberlee Kaye
Thursday, September 28, 2017 at 1:18pm
| 9/28/2017 - 1:18pm
"I'm a living example that miracles really do happen"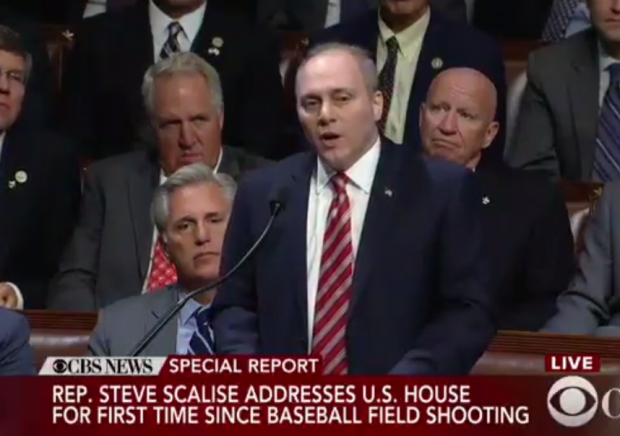 After suffering a critical gun shot wound to the hip during a June Congressional baseball practice, Rep. Steve Scalise returned to Congress Thursday.
As disheartening as the events leading to his months-long absence were, his return was nothing short of inspirational.
A hero's welcome:
House floor gives standing ovation to Rep. Steve Scalise who returned to Capitol Hill after being shot in the Alexandria shooting in June. pic.twitter.com/QwlGQcwabI

— ABC News (@ABC) September 28, 2017
Scalise thanks Capitol Hill PD who saved his life:
"David, you are my hero. You saved my life," Scalise says, pointing out officer David Bailey in chamber crowd https://t.co/WP46NOB19g pic.twitter.com/UuSk7WHyIh

— CBS News (@CBSNews) September 28, 2017
Speaker Ryan was more than a little happy to see Scalise back at work:
We knew @SteveScalise would recover because he's a fighter. His return to the people's House today is the best gift we could have received. pic.twitter.com/py2yRsj5gw

— Paul Ryan (@SpeakerRyan) September 28, 2017
Steve Scalise returned to the House today after attempted murder by those who disagree w/him.

He was greeted by an embrace from Paul Ryan.???? pic.twitter.com/WwPbjxehRo

— Devin Sena (@DevinSenaUI) September 28, 2017
And amazingly humble words from someone who almost lost his life:
Rep. Steve Scalise returns to House after shooting, says, "I'm a living example that miracles really do happen" https://t.co/Xw8OnTsB4T pic.twitter.com/iAwuXIFzYz

— CNN Breaking News (@cnnbrk) September 28, 2017
WATCH: Rep. Scalise: Some might remember the evil act, but "all I remember are the thousands of acts of kindness." https://t.co/DWwVypd4MF

— NBC Nightly News (@NBCNightlyNews) September 28, 2017
His full speech here:
Welcome back, Rep. Scalise.
Follow Kemberlee on Twitter @kemberleekaye