Posted by
Kemberlee Kaye
Friday, May 26, 2017 at 6:30pm
| 5/26/2017 - 6:30pm
"I was a ghoul. I was a thief. I stole peoples' lives."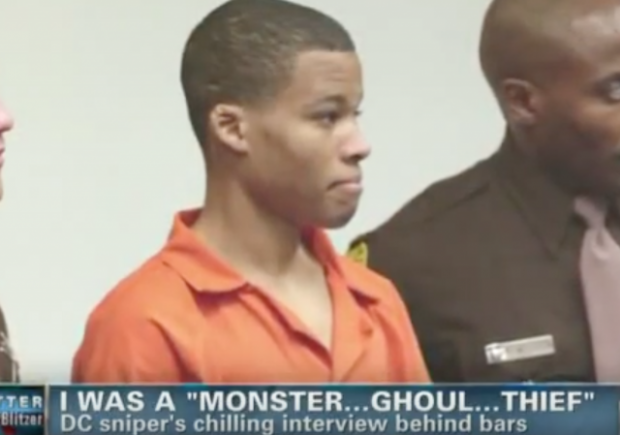 A ruling released by a federal court Friday overturned the two life sentences of DC Sniper Lee Boyd Malvo. Malvo was one of two shooters who killed ten people and injured three others in October of 2002. The sniper-style attacks had the entire District of Columbia on edge for three weeks until the shooters were apprehended.
"Malvo's case has been remanded back to Spotsylvania County Circuit Court to issue a new sentence," reports Fox News' DC affiliate.
Malvo appealed his life sentences on the premise that he was seventeen-years-old at the time of the murders, making him a minor exempt from a life sentence (based on Miller v. Alabama).
The other shooter, John Allen Muhammad, was executed for his crimes in 2009.
Fox News reports:
The decision in the Supreme Court case ruled juveniles are constitutionally different from adults for the purposes of sentencing "because juveniles have diminished culpability and greater prospects for reform," which makes them "less deserving of the most severe punishments." Judge Raymond Jackson agreed and made his ruling to vacate Malvo's sentence.

Malvo was convicted in one trial in Virginia and entered an Alford plea in another. He had previously filed two motions for writs of habeas corpus that failed.

Now, Malvo's case has been remanded back to Spotsylvania County Circuit Court to issue a new sentence.
Malvo is currently 32-years-old.
In an interview with the Washington Post a few years back, Malvo said, "I mean, I was a monster. If you look up the definition, I mean, that's what a monster is. I was a ghoul. I was a thief. I stole peoples' lives."
Malvo claimed a long history of sexual abuse, starting at the age of six and also said the other shooter, John Allen Mohammad sexually abused him for years:
https://youtu.be/kMJkFaPrGC4
In the decision, the court found Malvo had not been made fully aware he was waiving his Eighth Amendment rights to a sentencing hearing: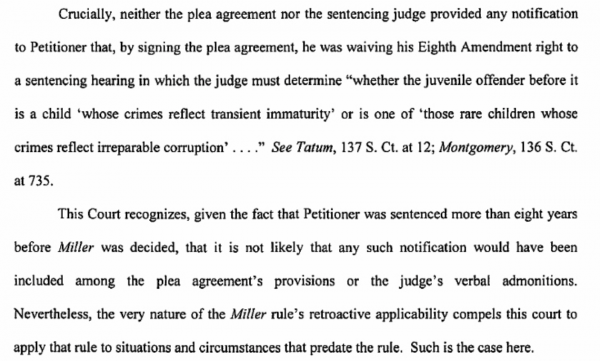 The court concluded that while the convictions would stand, the life sentences would be tossed out, and Malvo would be resentenced.

Full decision here:
Lee Boyd Malvo – Court Decision Throwing Out Life Sentence Without Parole by Legal Insurrection on Scribd
Follow Kemberlee on Twitter @kemberleekaye