Posted by
William A. Jacobson
Monday, March 7, 2016 at 2:30pm
| 3/7/2016 - 2:30pm
"When there was no Jewish justice on the Supreme Court, I considered myself the Jewish justice"
A reader sent me a post from a Chabad publication which sheds light on an aspect of Justice Antonin Scalia's career I did not previously know. But it doesn't surprise me.
I'm a big fan of Chabad, as I've previously mentioned:
Chabad, the Lubavitch Orthodox Jewish organization, has emissaries and houses on campuses and locations around the world. It is not a proselytizing group. It doesn't seek to convert anyone, focusing instead on bringing Judaism to Jews.

"Everything in this world was created for a divine purpose. All forms of modern technology can and should be harnessed to make the world a better place and, in the case of Jews, to spread Judaism in the widest possible manner." as quoted in The New York Times

"No Jew should ever be lost to the Jewish people, no Jew must ever be lonely." as quoted in The Jewish Week

The campus Chabads are particularly fantastic, in my experience. Non-judgmental, welcoming, and enthusiastic (that's an understatement). Major shout out to the folks at Cornell Chabad and the recently opened Chabad of Clinton (NY), servicing my alma mater, Hamilton College.
The article sent to me by the reader is Antonin Scalia Remembered as an Advocate for Religious Freedom:
Justice Antonin Scalia, left, with Rabbi Adin Even-Israel (Steinsaltz) at a 2014 dialogue at the Jewish Heritage Museum in New York, moderated by Professor Noah Feldman, right, of Harvard Law School. (Photo: Aleph Society)

Justice Antonin Scalia, left, with Rabbi Adin Even-Israel (Steinsaltz) at a 2014 dialogue at the Jewish Heritage Museum in New York, moderated by Professor Noah Feldman, right, of Harvard Law School.

U.S. Supreme Court Justice Antonin Scalia, who passed away on Feb. 13 at the age of 79, is being remembered as a champion of freedom of religious expression with a deep appreciation for Jewish law, who was a thoughtful and enthusiastic participant in legal symposia on Jewish and American jurisprudence during his tenure on the court.

"When there was no Jewish justice on the Supreme Court, I considered myself the Jewish justice," Scalia once told legal scholar and attorney Nathan Lewin….

Lewin said that after Scalia's appointment by President Ronald Reagan in 1986, he saw himself as "the guardian of the Jewish heritage within the Supreme Court" since no Jewish justice sat on the court between the resignation of Justice Abe Fortas in 1969 and the 1993 appointment of Ruth Bader Ginsburg by President Bill Clinton…..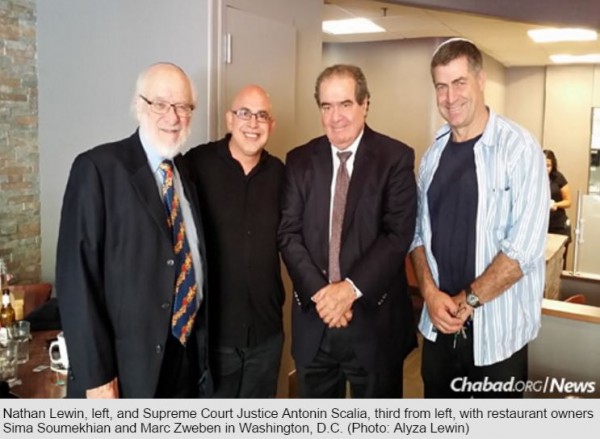 Scalia, famous for phrases such as "argle bargle", "kulturkampf", and "jiggery-pokery", was also the first Justice to use the Yiddish phrase "chutzpah" in an opinion. The Chabad article further points out:
Scalia's interest in Jewish law was longstanding. Lewin said Scalia believed that much of Lewin's legal acumen was rooted in a lifelong study of the Talmud. He also pointed out that "the justice's admiration for Jews and Jewish learning explains the frequent references in his opinions to the Talmud and other Jewish sources, and the significant number of Orthodox Jewish law clerks he hired."

"I recall a 2009 decision (Caperton v. A.T. Massey Coal Co., 556 U.S. 868, 901)," continued Lewin, noting that Scalia occasionally cited the Talmud in his opinions, "where Justice Scalia concluded a dissent by quoting the English translation of 'hafoch ba ve-hafoch ba, ki kulo ba'–'Turn it over, and turn it over, for everything is in it' (Avot 5:24)."
Then this was this anecdote about unanimous juries, from someone who attended Sabbath dinner with Sclaia at a conference:
"I asked one of the judges at the Shabbat table how many jurors would need to vote guilty for O.J. Simpson, who was then on trial for murder, to be convicted," recalled Levine. "The Jewish judge said it would need to be unanimous. I said that in Jewish law, if the verdict was unanimous, then the plaintiff would walk."

The judge called out, "Nino! [Justice Scalia's nickname] You hear that? In Jewish law, if the jury is unanimous, he walks!"

"Scalia slapped the table so hard that the gefilte fish flew and said, "I like that! Let me think it through … of course: It's a Jewish court. If everyone agrees, something is wrong!"
Read the whole thing.
What a learned and wonderful man.